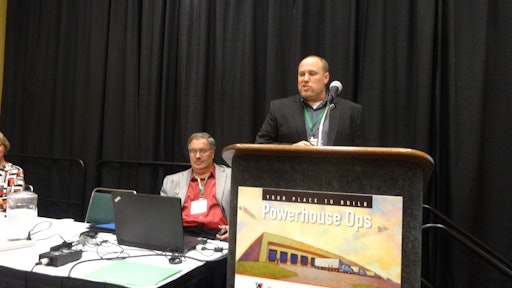 Foodservice distributors are always on the lookout for new ways to reduce their fleets' delivery miles while sustaining or improving customer service. Those attending the International Foodservice Distribution Association's recent solutions conference at the Indiana Convention Center in Indianapolis got an update from two distribution companies on how they achieved these goals.
Sean Jones, senior vice president of transportation at Naperville, Ill.-based Eby-Brown and Matthew Granlund, vice president of operations and logistics at Hattiesburg, Miss.-based Merchants Foodservice described how their companies accomplished these goals.
Jones first explained how Eby-Brown, a convenience store distributor, introduced routing and fleet management software over the years in servicing 13,500 retail locations. The company serves 18 states from plants in Eau Claire, Wis., Montgomery, Ill., Ypsilanti, Mich., Springfield, Ohio, Plainfield, Ind. and Rockmart, Ga.
In 2008, Eby-Brown hired a routing manager and began using Appian DirectRoute, a software designed to automatically schedule and optimize routes. In 2009, the company rerouted the deliveries at its Rockmart, Ga. facility and saved 16 routes per week, which translated into 5,000 miles, with little impact on customer relations, Jones said.
The next year, 2010, the company began a seasonal rerouting process. This required a lot of internal and external communication, Jones said. "Customers and internal resources are now very used to it," he says. The company now performs two seasonal reroutes per year at its plants.
Eby-Brown uses Appian DirectRoute for consolidating small routes and for handling special deliveries. The company is currently looking to integrate DirectRoute with the SAP enterprise software that the company uses.
Jones said most customers are on fixed routes, but the software will allow for dynamic routes.
Granlund of Merchants Foodservice noted that the company uses an excel spreadsheet and tracks gross profits, fixed costs per case, variable mileage costs and back hauls for every route. Serving nine Southeastern states from DCs in Jackson, Miss., Clanton, Ala.; Newberry, S.C., and Tifton, Ga., the company does no seasonal or dynamic routing.
A team consisting of the division president/general manager, the sales director, the operations director, the transportation manager, the route manager and the backhaul logistics manager meet weekly to review the fixed routes.
Each route has a profitability report that includes the following metrics: stops, cases, miles, gross profit, fixed cost per case, variable mileage and back haul revenue.
The team looks to improve margins, add stops per route and add cases per route, Granlund said. "It takes more than one person to reduce miles and improve route profitability," he said.
Finding additional back hauls has been an important part of improving route profitability, he said. "Back haul to me is not only stuff coming back to us, but also private fleet loads," he said.
In October of 2013, the company began a process of identifying the 20 most unprofitable routes for every DC per week. Granlund noted that every DC had at least 20 routes that were unprofitable. The review team and its subordinates received a bonus for making losing routes into winners.
"Transportation grabbed the ball and started making adjustments to the routes," he said. The sales people began working with customers to allow for some delivery adjustments. There were some customers that wanted deliveries at a certain time and day.
The initiative has improved route profitability, Granlund said. The original 20 routes have been removed from the list of the 20 least profitable routes; other routes have replaced the original 20 for scrutiny. The lost route dollars on the original 20 routes are now 44.7 percent of what they once were, meaning the losses have been reduced by 55.3 percent, Granlund said.
"I think we scored a touchdown on this program," Granlund said.