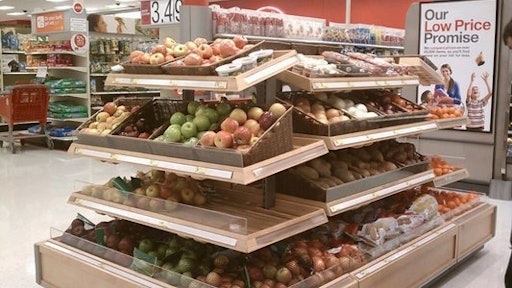 Target Corp. is partnering with the MIT Media Lab and global design firm Ideo on a multi-year collaboration, known as the Food + Future coLAB, to explore the future of food, according to Chain Store Age. The work will focus on areas such as urban farming, food transparency and authenticity, supply chain and health.
The partnership will kick off this month with intensive data analysis. Working with MIT Media Lab's Laboratory for Social Machines, Target will collect and analyze billions of public data points. These will include brand communications, traditional and social media messages and supply chain information, in an effort to map the global conversations related to food.
Later this year, Target will launch a website with Ideo to identify trends and ultimately explore how food will be grown, sold and consumed in the next 15 years.
"By combining the boundless curiosity and discovery of MIT's Media Lab and IDEO's human-centered approach to design with Target's knowledge of retail, we can reimagine the future of food," said Greg Shewmaker, one of Target's Entrepreneurs-in-Residence, who is leading the Food + Future coLAB. "We know more about what's in our smartphones than we do in the last meal we ate. And that's something we want to change. This collaboration will help to unlock more options and create more transparency not just for Target's guests, but consumers everywhere."
To read more, click HERE.