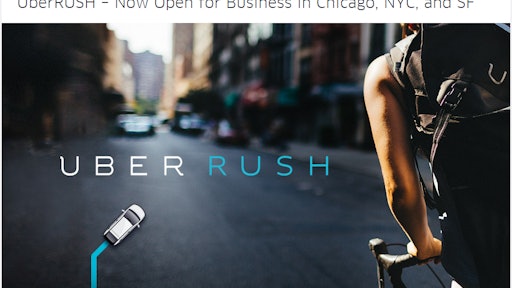 In hundreds of cities across the globe, you can press a button and get a ride in minutes. Now, through UberRUSH, business owners can use that same technology to get customers pretty much anything in minutes.
Blockheads, Indie Fresh, Sam & Lex, and hundreds of other businesses are already using UberRUSH to make faster, cheaper, and more reliable deliveries. With help from business platform partners Shopify, Clover, ChowNow, Bigcommerce and BloomNet as well as local on-demand ordering platforms like delivery.com, businesses can integrate on-demand delivery into their businesses. Here's what UberRUSH helps them do:
Order and track deliveries instantly: Ken and Don Sofer, owners of NYC burrito favorite Blockheads, use UberRUSH to follow thousands of lunch and dinner orders from kitchen to customer every day. "It allows us to do what we do best. Before we even make the food, the UberRUSH guys are sitting here with a backpack on, ready to take it."
Expand delivery zones: Healthy food spot Indie Fresh delivers nutritious, chef-prepared meals on demand and maintains product quality while serving all of Manhattan from one brick and mortar location. CEO Shom Chowdhury has been able to expand business "without the cost and infrastructure needed to grow it."
Integrate with existing tools and platforms: Sister-owned boutique Sam & Lex uses

Shopify

to process online orders and UberRUSH to deliver them. The sisters say their clients are "obsessed with UberRUSH" because they are able to see an item online and "try it on at home 20 minutes later."
Editors Insight: This offering certainly doesn't surprise anyone; it only makes sense for Uber to offer its innovative service to businesses. Especially now that it has established a reputation for individual transportation.
The impact on the food and beverage supply chain – and for any industry supply chain – will be marginal. Businesses require partners that can manage large volumes of goods and be able to adjust to last minute order changes. This is a level of professionalism that tried and true transportation players have taken years to master.
UberRUSH will bring a welcome option for last-minute, same-day deliveries, which play a marginal role in the food and beverage supply chain. That role is growing as e-commerce expands, but it is mainly confined to consumer-placed orders. 10-15-15 By Elliot Maras