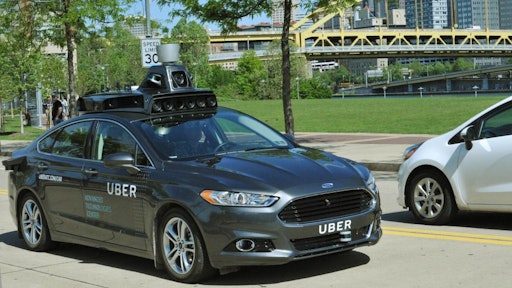 Uber Technologies have begun testing self-driving Ford Fusions in Pittsburgh, Pa., which the company plans to use for delivering food and other packages, according to The Wall Street Journal. On Monday, autonomous vehicles manned by a backup driver and an engineer in the front seat rolled through some of the city's neighborhoods as pedestrians curiously looked on. During a demonstration ride for The Wall Street Journal, a vehicle obeyed speed limits, stayed in its lane and never sped through yellow lights. The vehicle struggled with some obstacles and once jarringly hit the brakes.
The test represents Uber Chief Executive Travis Kalanick's vision to have a fleet of autonomous vehicles replace the company's roughly 1.5 million drivers and to ferry food, packages and commuters around urban centers.
Uber is using Pittsburgh as an experimental lab, inviting the public to participate before any laws are written for the autonomous vehicles. The company invited up to 1,000 of its most loyal customers to test the self-driving.
To read more, click here.