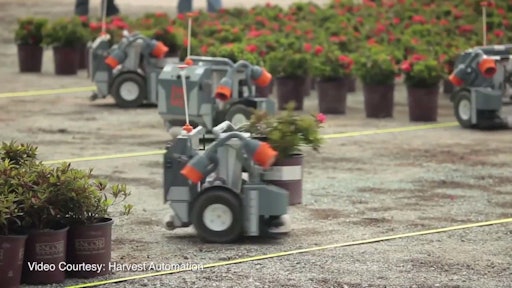 With a growing produce demand and a shortage of farm workers, agricultural areas like Salinas Valley, California are tuning to technology investment programs like Thrive Accelerator to improve farming practices. These farming innovations are featured in this week's The Lempert Report Innovation Series.
"The world population is expected at 9 billion people in 2050 and we need to create more food to feed everyone," says Phil Lempert, CEO and editor of The Lempert Report. "To meet future food demands, global production will have to increase by 70 percent and applying technology is key."
One program called Thrive Accelerator is highly selective for technology-enabled startups in the "Precision Agriculture space." Ten startup companies are selected to gather and connect in the Salinas area for mentorship, collaboration, and direct access to the top fresh agriculture companies in the world. One of the chosen is Harvest Automation from Boston.
Harvest Automation created robots that help automate and mechanize labor in nurseries and greenhouses. These robots navigate autonomously, and help farmers move goods and gather information within existing and some unstructured environments.