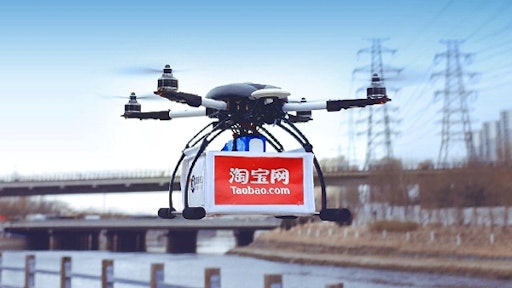 Alibaba Group Holding Ltd. is making its first trial drone deliveries in China, as e-commerce rival Amazon.com Inc. struggles to start a similar program in the U.S., according to Bloomberg News.
Asia's largest Internet company is partnering with Shanghai YTO Express Logistics Co. to deliver ginger tea packets to 450 Chinese customers who volunteered for the one-time drone tests, according to an e-mailed statement from Alibaba. Remote-controlled helicopters are expected to distribute 50 parcels from Alibaba's Taobabo Marketplace in Beijing Wednesday, before moving to Shanghai and Guangzhou.
The flights, if successful and uncontested by authorities, would give the budding commercial drone industry a boost in China, where the military allots only a fifth of the airspace to civilian use. Amazon – the largest Internet retailer by sales – has begun testing remote deliveries abroad after asking the U.S. Federal Aviation Administration to speed approvals for drones tests in Washington state.
"China is still in the initial phase of establishing regulations on commercial usage of drones, a lot of areas are still completely blank," Zhang Qihuai, an attorney at the Beijing-based Lanpeng Law Firm, said by phone. "Key regulations regarding flight altitude, accountability for accidents have not been established yet. There's still a long way to go before drone can really be commercial used in China."
Alibaba and YTO said they have notified Chinese aviation authorities about the flights as required by regulation and believed that the deliveries complied with all existing rules.
To read more, click HERE.