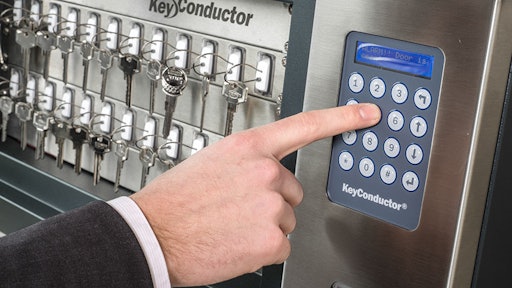 Barcoding, Inc., a provider of enterprise-wide mobility solutions, announced earlier today the introduction of their new CaptureTech Key Management Solution, a system using radio frequency identification (RFID) and barcode technology to enable users to more efficiently, securely, and reliably manage keys.
CaptureTech automated Key Management Solution is considered an ideal system for any organization that issues and collects keys on a regular basis by providing greater organization, accountability and chain of custody assurance for these important assets.
"While typical electronic key cabinets provide security, our RFID-enabled key management system adds a new level of accuracy and efficiency to the process," said Maarten Anderson, CEO, CaptureTech. "With use cases in a wide range of industries, including facility management, healthcare, government, and transportation, the Key Management Solution provides users with a cost-effective, easy means of tracking and tracing keys and offers the peace of mind that only authorized personnel have access to particular items or areas."
"CaptureTech has already demonstrated its Key Management Solution's viability in the UK market, so as a long-time partner, we jumped on the opportunity to bring the technology to our U.S. customers," said Jay Steinmetz, CEO, Barcoding. "The beauty of the Key Management Solution is its flexibility. Every implementation begins with the KeyCop, but from there, we are able to use our systems integration and automated data capture expertise to build a unique solution that meets clients' needs."

For more information,click HERE.