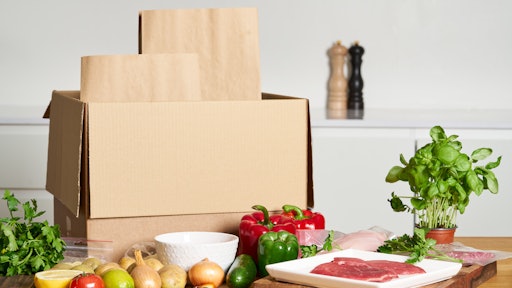 Anna/Adobe Stock
It is a crucial time for e-commerce right now, and the cold chain is now a part of this industry as consumers become more comfortable with purchasing food and beverages online. Customer expectations for shipping times also rose dramatically in the last few years, as major retailers can deliver within just a few days and sometimes even the same day the order placed. This means that to keep up with efficiency and quality customer service, retailers and their partners need to invest in more than just consumer-facing solutions. E-commerce solutions need to reach all the way through the supply chain.
"Many retailers are unable to keep up with the high demand for products coupled with consumers' urge for shorter shipping times," says Fergal Glynn, VP of marketing at 6 River Systems. "To remedy the situation, companies are turning to third-party logistics companies to help offset the cost of building out their own logistics and fulfillment operations. These 3PLs often invest in and deploy fulfillment automation technologies, which allow them to be flexible while meeting SLAs for the brands they complete orders for.
"Customer expectations for convenience have also heightened, causing more retailers to prioritize automation to meet the growing demand. Buy online pickup in store (BOPIS) and buy online pickup at curb (BOPAC) have become go-to solutions in the past year when store capacity and consumer fears around COVID halted normal shopping routines. In addition, we've seen emerging growth in micro-fulfillment centers and dark stores, as many retailers are adding smaller warehouses in locations closer to their customers," adds Glynn.
"All of these fulfillment methods require advanced wall-to-wall automation solutions to run efficiently, ensure accuracy and empower employees. Flexible automation solutions that can be scaled as needed, like collaborative robots, allow businesses to remain agile in the face of surging demand," Glynn says.
Another growing solution in e-commerce is buy anywhere deliver anywhere (BADA) in an effort to reduce bottlenecks in the supply chain on the logistics side of things, says Brenda Stoner, founder and CEO of PICKUP. She explains that these heightened consumer demands are only likely to increase, and that fulfillment needs to be front-and-center in terms of strategy. BADA fulfillment solutions allow retailers full inventory visibility in real time to ensure availability to fill orders.
"A unified platform able to provide accurate information on inventory and store availability will help businesses understand which items are available in proximity and how to route orders quickly to the customer," she says. "This allows for a BADA model that helps meet retailers' needs at scale."
For grocery and cold chain items specifically, dark stores increase in addition to micro-fulfillment centers. These solutions focus on technology and proximity so that grocery items are delivered fresh. Temperature monitoring and attention to detail with timing help combat food waste. Software solutions here focus on proper visibility into demand, as well as the ability to automate and track inventory, according to Patty McDonald, head of solution marketing at Symphony RetailAI.
The pitfalls
But, with this growth in e-commerce demands for the cold chain comes new problems.
For instance, shortages in product as well as labor puts added troubles on this sector, making inventory monitoring and visibility tracking crucial here. To the customer, these widespread problems are not at the forefront of their mind, and they expect timely and quality service despite these ongoing disruptions in the supply chain. Stoner explains that shoppers may want a local product but are unaware of where that product is located. These are issues retailers need to look out for.
Stoner also explains that customers feel more comfortable ordering big and heavy items, but expect the same type of delivery experience when it comes to smaller goods. This means shippers and retailers need to determine a streamlined manner of delivery for bulk items with quality service.
Another pitfall that is important to pay attention to when it comes to e-commerce is the reverse logistics aspect. Since online items are more likely to be returned, it is important for warehouses to have supreme technology and solutions in place to handle incoming items and restock them in a timely, safe and effective.
"Just as retailers strive to create an exceptional customer experience when products are delivered, the return process must be just as efficient and convenient," Stoner says. "While omnichannel retailers are investing in solving for speed and flexibility to deliver products when and how customers want them, there is still work to be done to achieve the same process with returns and reverse logistics."
For the cold food sector, it is less about accepting returns because the product will need to be discarded but the focus here is offering a fast and convenient method for customers to submit a claim for a refund. A cumbersome returns process can turn off possible returning customers.
Unfortunately, the software and technological solutions needed to support the demand for e-commerce is often costly upfront, which pushes high level executives off the idea to adopt them.
"One challenge we are seeing with customers looking to improve their supply chain is a hesitancy to invest in improved software and automation technology due to the upfront costs and unpredictable ROI," says Glynn. "Without reliable tracking, sorting and scanning capabilities, customers feel a lack of trust and control in the situation and warehouses become reliant on old-school methods of packing; something that has proven to slow fulfillment.
"As we enter the holiday season, companies are beginning to think about, and even implement, fulfillment solutions to meet peak demands. The issue is that a majority of companies are implementing solutions that require expensive, permanent infrastructure changes and aren't scalable based on demand and employee count. Once peak season ends, many warehouses will be stuck with 'solutions' that are now a hindrance to workflow and financially irresponsible as they were built for higher volumes," Glynn adds.
Moving forward, e-commerce solutions will continue to advance in inventory monitoring, location tracking and push faster and more flexible delivery options. The more demand and pressure from others creating as well as investing in these technologies will prompt others to follow suit. Retailers will implement forward-deployed inventory, same-day or scheduled delivery within a single dashboard.