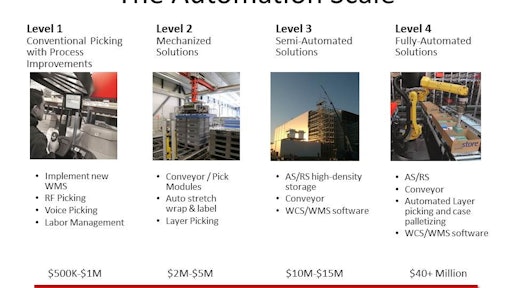 It sounds too good to be true, doesn't it? That an automation installation could pay for itself in just 36 months—or sooner?
But it's true. Depending on the level of automated system installed and the specific circumstances surrounding an operation's current mode of operation, an investment in automated material handling systems and technologies could very well produce a three-year return on investment (ROI).
The viastore Automation Scale - The four levels of automation defined.
The Automation Scale
In fact, the timeliness of the payback can be much quicker than three years for some of the lowest level automation installations. Consider the four levels of automated solutions most typically implemented by warehouses and distribution centers:
Level 1: Conventional Picking with Process Improvements
Starting at a baseline cost of $500,000 to $1 million, a Level 1 automation installation improves picker productivity and inventory/order accuracy through:
Warehouse management system (WMS)
Radio-frequency (RF) or voice-directed picking
Labor management system (LMS)
When it comes to ROI with these types of installations, payback can be as fast as 6 to 12 months.
Level 2: Mechanized Solutions
Ranging from a $1 million to $5 million price tag, this type of installation features enhancements to existing Level 1 operations by automating horizontal transportation, reducing staffing levels by up to 10-20%, and improving inventory/order accuracy through technologies such as:
Conveyor and/or pick modules
Automatic stretch wrap and label print-and-apply
Layer picking equipment
ROI payback for these types of mechanized solutions can be as quick as 1 to 2 years.
Level 3: Semi-Automated Installations
Expect to spend between $5 million and $15 million to reduce staff by as much as 25-50% while minimizing travel time with "goods to person" SKU deliveries, and to gain greater storage density and by leveraging a new or existing building's height. Technologies include:
High-density automated storage and retrieval systems (AS/RS)
Conveyor and sortation
Warehouse control software (WCS) to connect equipment and direct its operation in line with the WMS
Payback on semi-automated solutions tends to be in the 3-4 year range for ROI.
Level 4: Fully-Automated Solutions
These are the big boys. Costing $50 million or more, these completely integrated, virtually operator-free installations cut labor requirements by more than 50% and offer high-speed, high-volume and high-accuracy throughput. Often engineered as part of greenfield construction, they feature:
AS/RS
Extensive conveyor and sortation
Automated layer picking and case palletizing
WCS and WMS
With a large investment comes a long ROI. These longest-term investments have an ROI in the 5-10 year or more range.
Getting your ROI-Your mileage may vary
A number of factors will impact the time frame for an automation installation ROI calculation. When estimating your ROI time frame, here are a few potential criteria to evaluate:
Process improvements
Order accuracy improvements
Inventory accuracy
Operational efficiency gains
Labor costs – higher savings in high-cost labor markets
Labor availability
Number of cases or pallets handled daily, both inbound and outbound
Outbound order profiles, such as individual parcels, mixed SKU pallets, or store-friendly sequencing
Pick profiles: piece, cases or pallets
Order volumes
Real estate costs - high cost areas can better justify building up and not out
Facility retrofit versus greenfield expenses
In general, the cost savings gained from each level of automation investment—and speed to attain them—will increase relative to the operational improvements made.
To view the entire blog, please click on: http://blog.viastore.com/a-three-year-payback-on-an-automation-installation/.
Companies in this article