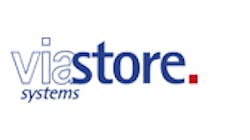 Viastore systems, a material handling automation systems and software company, announced that Americold, provider temperature-controlled warehousing for the food and beverage industry, worked with viastore to modify an existing system viastore implemented at Americold's Indianapolis, Ind., facility.
As a third party logistics (3PL) provider, Americold provides the highest levels of storage and distribution performance, quality and innovation for its customers. It is constantly reviewing solutions that will enable greater efficiencies and advancement to meet customer demands; automated storage and retrieval systems (AS/RS) play an increasing role in improving capabilities.
Recognizing a change in requirement from customers in one of its Indianapolis facilities, Americold identified the need to enhance its current AS/RS to improve case and pallet picking rates. Americold approached viastore to implement this project.
The viastore retrofit comprises software and mechanical changes related to the handling and separating of double-stacked pallets, including de-coupling for single or half-pallet picks that can then be delivered directly to the shipping floor. Additionally, the design repurposes the pick tunnels to accommodate pack and hold orders ready for shipment.
For Americold, an effective AS/RS encompasses its strategy to ensure state-of-the-art operations for repeatable value-added services at its facilities. "This automation retrofit reduces manual case picking by as much as 50 percent," commented Jason DeLoach, senior director of engineering at Americold. "These changes will increase our overall system effectiveness by reducing cycle time and the putaway of residual pallets."
For viastore, the Americold Indianapolis facility installation represents the company's full range of capabilities. "viastore's offering of AS/RS, conveyor, software and controls come together at Americold," said William Ostermeyer, vice president of sales, viastore. "Our experience in cold storage automation solutions with companies like Americold offers a complete solution from a single source."
Companies in this article