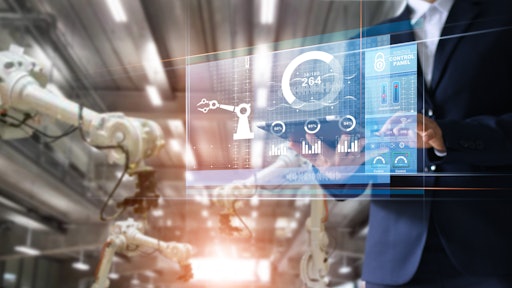 ipopba/adobe.stock.com
Nearly 30% of food in U.S. grocery retail stores is thrown away each year equal to about 8 million tons of waste and $18 billion in lost value. All this food waste is bad for the environment and bad for business. While we see a variety of contributing factors, one major problem that generates waste is the premature spoilage of fresh produce and perishable foods.
To minimize the risk of spoilage, fresh foods need to move from farm to store as quickly and efficiently as possible. All the while, that food needs to be kept at optimal temperatures for maximum freshness and shelf life. When handled inefficiently and exposed to poor conditions, fresh food quickly spoils. In fact, the USDA reports that every 10.8 degrees in temperature rise decreases the shelf life of stored food by half.
While speed and proper handling are important at every step in the fresh food supply chain, one of the most critical points is the warehouse or distribution center.
Tackling inefficiencies at the distribution level
Warehousing and distribution facilities must receive fresh products, move them into a temperature-controlled storage area, pick orders and then finally load shipments onto refrigerated trucks. The faster they can do it all, the fresher goods will be when they reach the grocery store shelf.
Fresh food handling is often the least efficient and most labor-intensive area of the warehouse. In most facilities, fresh food orders are still picked and prepared by hand and is a process that is slow and prone to human error and accidental damage. Fulfillment speed depends entirely on the physical endurance of employees. They often work in cold and cumbersome conditions where it's extremely difficult to maintain productivity. Couple that with ongoing labor shortages and most facilities are under incredible strain just to keep orders moving out the door.
That's why forward-thinking grocery retailers are now taking a more modern approach with automation.
Meeting the need for speed in fresh food distribution
Previous generations of automated systems just weren't designed with the needs of the fresh food industry in mind. Older systems were set up with storage and picking as separate functions, making the overall process far too slow for fresh food handling.
Today innovative robotic solutions are available that integrate product handling and picking into one fast and seamless system. When installed within cold storage facilities or in designated climate-controlled areas of distribution centers, this new breed of robotic order fulfillment solutions can manage the entire fresh food distribution process.
All product handling is performed with high speed and accuracy, optimizing everything from product receipt and storage buffering to picking, palletizing, loading and dispatch. Fresh produce and perishables can enter the facility at any time and be picked immediately, enabling very short lead times.
Managing product variety and SKU growth
Order fulfillment speed also depends on how quickly and easily facilities can access the right products. And as consumers demand for more product variety, warehouses and distribution centers must house more SKUs than ever before. Automation can help with this.
Many facilities are finding that gantry-based automated solutions are the best way to maximize storage space while ensuring all products are accessible. In this type of setup, all SKUs are housed in plastic crates, totes or cases and then stacked directly on the warehouse floor in high density storage areas. Gantry robots can then access any SKU at any time from overhead. No racks, shelving or aisles are needed. Which also offers the added benefit of easy cleaning.
Preparing for demand highs and lows
When handling fresh and perishable foods, warehouses and distribution centers need to maintain that high level of speed and efficiency even when business fluctuates. A modular and scalable automated system can help facilities quickly adapt to any demand changes, whether they're due to seasonal peaks, unexpected spikes or overall business growth.
A modular system is built using pre-engineered, standardized cells of automation. These modules are like building blocks. They can be implemented at a level that satisfies current business needs and then scaled up or down as demand changes. This kind of scalability ensures that companies can keep fresh food orders flowing out the door at all times.
Maintaining product quality
Beyond speed, product quality is also a crucial element of the fresh food distribution process. No one wants to buy bruised or crushed produce at the grocery store. Today's automated systems enable gentle handling for virtually any packaging type or size, which reduces damage to sensitive products. This includes common packaging types that are tricky to handle like clamshell cases or open top containers.
With all these benefits of automation combined, companies can reliably and rapidly move fresh food through their facilities, even when orders flood in during peak seasons, when demand spikes unexpectedly or when labor is scarce.