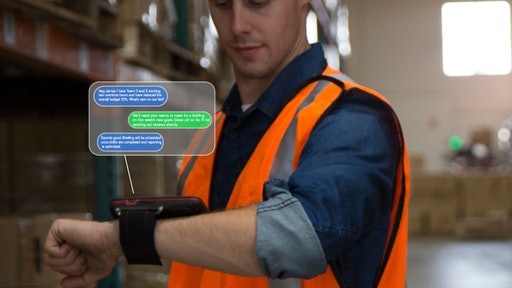 Rufus Labs
In the first half of 2022, we've experienced a frightening trend in grocery stores -- empty shelves, bins, refrigerator cases and freezers. While consumers experienced a bit of this back in 2020 at the beginning of the pandemic due to panic buying, the reasons for today's shortages are more complicated and varied. Here's what's causing these issues and how the use of wearable technology can help prevent them.
3 factors currently causing supply chain issues
The problem facing grocers isn't a lack of products available. Instead, empty store shelves have been caused by three separate issues -- the Great Resignation, sick workers and supply chain irregularities.
1.
The Great Resignation
The Great Resignation isn't just a hyped-up news story; it's a real phenomenon that's affecting businesses all across the country. For eight months in a row, the number of workers quitting has consistently exceeded the record for most resignations set before the pandemic began. These resignation rates are unprecedented and are primarily affecting frontline industries. Unfortunately, grocery stores are also included in these highly affected industries.
And that's not the only bad news; in addition to those who have already resigned, a large number of those currently working in grocery stores have plans to quit. In fact, more than half of them—56% to be exact—intend to quit their jobs, citing reasons such as burnout, poor compensation and a lack of appreciation from management and co-workers. With workers resigning in such large numbers, it's hard for grocery stores to keep shelves stocked, which explains in part why we're experiencing shortages.
2.
Illness
Supply chain issues have also been partially caused by illness among workers. Despite the fact that the Coronavirus disease (COVID-19) first appeared more than two years ago, the pandemic is far from over. With countries around the world currently experiencing a wave of illness caused by the Omicron variant, rates of infections are reaching record levels once again.
This, of course, also affects essential workers like those in the meatpacking and food manufacturing industries. According to a study conducted by Purdue University, it's estimated that more than 80,000 meatpacking employees had COVID-19 within the past year. And that's just one section of the food manufacturing industry; if you look at others, such as manufacturers of baked goods, beverages and dairy products, you'll see similar numbers with tens of thousands of sick employees in each sector.
These high rates of illness have clearly had an effect on manufacturers' production capabilities. With so many workers out sick, production has slowed down, making it impossible to keep up with consumers' demands.
3.
Backlogs from ports
Another issue contributing to empty grocery store shelves is the backlog in shipping ports. While this problem was first reported in the media months ago, it continues to be an ongoing issue. This backlog isn't just making it difficult to get foods imported from other countries, it's also creating problems for American food producers and manufacturers who rely on supplies from abroad.
For example, baking companies are struggling to import spices and seasonings, including cinnamon, pepper and salt they typically purchase from India. Fruit and vegetable farmers are also having difficulty procuring the supplies they need; while it used to only take a day to replace a damaged tractor tire, they now have to wait at least a week due to supply chain issues. Fertilizer, tractor parts and crop protection products are also taking between 3-7 times longer to acquire than they used to. All of these delays in the supply chain are also leading to reduced stock on grocery store shelves.
How wearable technology can help offset grocery stockouts
While food manufacturers and grocery stores are facing considerable challenges, there is a solution readily available through wearable technology. Here's how wearables can help offset out of stock events.
Efficiency boost. Grocery stores, warehouses and food manufacturers are struggling to find and keep enough employees. With so many people quitting their jobs and calling out sick due to COVID-19, production numbers decrease, which directly correlates to empty store shelves. While it may be tempting to push the extra workload onto remaining employees, this only leads to greater burnout and more resignations.
To increase efficiency and productivity with fewer employees, companies need to start adopting wearable technologies. Just by switching from paper processes and handheld barcode scanning to wearables, grocery stores and warehouse operations can improve productivity up to 50%. That significant increase in productivity can help make up for a weakened workforce and improve stockout issues.
Better analytics. Wearable technologies also provide management with better analytics to give better insight into worker activity and help make improvements. For example, the sensors in wearables make it possible to use proximity alerts, which help workers maintain a safe distance from one another and decrease the spread of COVID-19. Productivity metrics also help improve functionality and streamline operations.
Wearable technology is essential to the future of logistics
Retailers, food manufacturers and logistics professionals are starting to recognize the need for wearables. The COVID-19 pandemic has made it all too apparent that new strategies and technologies are needed to improve efficiency and productivity. To keep store shelves full and production lines running, companies need to leave behind outdated, inefficient methods and embrace the future of logistics by adopting wearable technology.