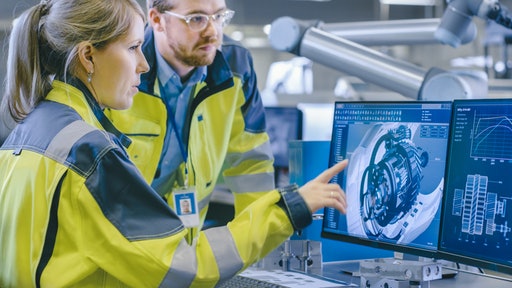 Getty Images
When the calendar turned to 2022, it's like it flipped a switch in the job market. After two years of Americans facing lockdowns, furloughs, business closures and having to choose between their job or kids' e-learning, the New Year meant New Opportunities.
And, for the supply chain industry, the New Year also brought New Jobs for a marketplace still plagued by the driver shortage and a plethora of other bottlenecks. The turning of the calendar signified the turning of a corner where the grimness of a pandemic brought to light the importance of frontline workers and supply chains overall. It highlighted the need for supply chain jobs, skills and workers, and accelerated adoption of cloud-based solutions to automate to a more digital transformation.
In fact, a recent report from the Conference Board forecast a U.S. job growth rate of 3.8%, up from its annual average growth of 1.8% each year.
What's more is, employment of supply chain management professionals is expected to grow by 30% from 2020-2030, which is faster than the average for all professions, according to the U.S. Bureau of Labor Statistics.
Enter the Year of The Great Reshuffling, where the job market opened up and folks transitioned into and within the logistics segment.
"Whether you want to call it The Great Resignation, The Great Reshuffling, The Great Contemplation or The Mass Exodus, employees are questioning why they're at companies that don't make them feel appreciated, connected or able to have greater control over their work/life balance. People reevaluated and found that better experiences and flexible schedules are the focus of the new value proposition they seek from their employers. Many are willing to move around in order to find a better company to call home," says Sandra Moran, chief marketing officer for WorkForce Software. "I think 'The Great Contemplation' more accurately describes what is happening. Employees are asking themselves, 'is this the work I want to do,' 'is this where I want to live,' 'am I paid enough,' 'do I have a good work/life balance?' etc. Sometimes this line of questioning leads them to join the Great Resignation or The Great Reshuffling, completely changing not only the work they do, but where they do it and where they live."
Bridging the labor gap
According to the Bureau of Labor Statistics, the average age of a commercial truck driver in the United States is 55 years old. While that age may not seem too concerning at first, the current law requires truckers to be at least 21 years of age in order to cross state lines, which means that 18- to 21-year-old gap forces young professionals to look at other job options, which could turn into other, sometimes non-supply chain-related careers by the time they're of age to enter the trucking profession. Simultaneously, the current driver pool continues to age out.
That's why the federal government is piloting a program, where for the next three years, 3,000 truckers 18-20 years of age and with a safe driving record, can cross state lines as long as an experienced driver is in the passenger seat. This program is designed to help bridge the gap where the trucking industry is still 80,000 drivers short.
Other programs put into motion consist of the 90-Day Trucking Apprenticeship Challenge, which was created to get more well-trained drivers on the road.
The challenge asked employers to commit to accelerating the development of new apprenticeship programs and help expand existing ones through new employer and labor partnerships to support recruitment, retention and return on investment in the trucking industry.
Now, more than four months later, over 100 employers across trucking, food and grocery and the oil and gas industries launched Registered Apprenticeship programs resulting in more than 10,000 new registered apprenticeships.
Incorporating more women into the mix also remains a solution to the ever-growing labor challenge.
Last year, women comprised 41% of the supply chain workforce, up from 39% in 2020, according to Gartner, Inc., but only accounted for 15% of executive level roles, down from 17% in 2020. Women also make up 47% of the nation's workforce but only account for 6% of commercial truck drivers.
"Contrary to other industries, supply chain's mission-criticality during the COVID-19 pandemic has meant that many sectors did not reduce their workforce, but rather continued to hire and even faced talent shortages, especially in the product supply chains," says Dana Stiffler, VP analyst with the Gartner Supply Chain practice. "This resulted in many women not only standing their ground in supply chain organizations but [also] increasing their representation in organizations. We also recorded a record number of specific commitments and supply chain-led actions and saw existing programs starting to pay off."
Furthermore, research from the Association for Supply Chain Management (ASCM) found that women under 40 are out-earning men in supply chain roles.
"While headed in the right direction, more needs to be done to level set salaries for women over 40," says Abe Eshkenazi, CEO of ASCM. "Having women in supply chain leadership positions is essential, and if we keep up this momentum and commitment to DEI, it's something we will see much more of in the future."
It's also important for supply chain companies to recognize that employees seek and want different things from a career than they did 10, 5, even 2 years ago, pre-pandemic.
For example, survey data from WorkStep shows that the No. 1 reason for driver turnover driver is career growth.
"Hourly workers want more than a clock-in, clock-out role – they want a career with promotions, development and more. Pay is a priority, but it isn't everything," says Dan Johnston, co-founder and CEO of WorkStep. "Until companies start listening to what their workforce really wants, retention rates will continue to suffer."
Meanwhile, other industries saw folks leave to seek more fulfilling roles with greater work-life balance and flexibility, says Eshkenazi.
"What our report showed is that two-thirds of supply chain professionals work in a hybrid or permanent work-from-home setting. Nearly half (48%) of supply chain professionals receive four weeks or more of paid time off. In addition, an overwhelming majority of those surveyed (88%) love their supply chain jobs despite ongoing disruptions and would recommend supply chain as a career," he adds. "But now we're seeing a more nuanced effort by people to seek more fulfilling roles with greater work-life balance and flexibility. In terms of improving employee experience, this shift is definitely moving the needle in the right direction. In supply chains, talent is the most important resource of all, and unfortunately, the recent labor shortages have exacerbated ongoing disruptions."
"For manufacturing workers, for example, work-life balance is the No. 2 priority, behind pay. Companies need to offer better pay, benefits and educational opportunities for existing employees while also revamping hiring strategies for prospective employees and looking at a broader range of candidates," Eshkenazi adds. "Additionally, companies should explore adopting advanced technologies, such as automation, artificial intelligence and machine learning to create digital and agile supply chains that can help save time and move workers into more interesting and higher value roles. Talent is the most important resource of all, companies need to invest in their people or else new technologies are meaningless."
Other young professionals (58% to be exact) pursued a supply chain career because of it its beneficial societal impact, according to a survey presented by the Council of Supply Chain Management (CSCMP), Korn Ferry and Penske Logistics.
"These future leaders are looking to develop within the fast-paced and challenging environment that makes up the complex supply chain industry," says Korn Ferry senior client partner Melissa Hadhazy. "Now more than ever it's critical to nurture future supply chain leaders and equip them with skills that can meet the challenges of today and tomorrow."
Ninety-nice percent of those surveyed agreed being part of the supply chain is a quality career choice, with 95% expressing excitement for their development track and training opportunities. Respondents became interested in a supply chain career because it deals with business.
In response, companies created new roles, augmented existing ones and strived to better "speak" to a younger generation of professionals who may or may not completely understand how "sexy" the supply chain industry can be.
That's because the supply chain is now considered to be the pandemic's must-have college degree, according to Bloomberg.
According to the Florida Atlantic University College of Business, existing professions benefitting from a supply chain management degree include purchasing agent, operations manager, logistics analyst, production, planning and expediting clerk, storage and distribution manager and more. And, supply chain graduates are among the most versatile and mobile professionals, transferrable among industries and locations.
And, the industry responded. For instance, Walmart raised pay for its private fleet, where drivers can now make up to $110,000 in their first year.
Foodservice truck drivers saw a salary increase, reaching above-market wages, according to a survey conducted by the International Foodservice Distributors Association (IFDA).
"Workers are realizing they have leverage," says Jaime Urquidi, regional VP and CPG lead at Parsable. "The pandemic has shown how important frontline workers' roles are while also revealing the fragility of current supply chains. Workers are speaking out with their actions in terms of choosing the best job that suits both their needs and beliefs. This year, more workers are willing to 'reshuffle' rather than leave the workforce and are reconfiguring their careers by seeking better positions with higher pay, more valuable benefits and career growth opportunities."
Smart technology that improves worker safety
From driver-assistance solutions, GPS tracking, vehicle safety features or even distracted driver awareness programs to warehouse automation, innovative ergonomics and more, many of today's technology advancements target worker safety in all facets of the supply chain – truck, rail, dock, line and more.
That's because employee safety needs to be the No. 1 priority for supply chain organizations. Period.
"We're seeing more organizations take steps to ensure that their teams feel secure and supported, which will in turn grow the workforce and improve global supply chain operations," adds Eshkenazi. "In warehouses especially, autonomous robots will play a huge role in ensuring employee safety. The autonomous robot market is projected to be worth $8.7 billion globally by 2028. Robots will save time and take over certain tasks — such as lifting and transporting heavy objects — minimizing the risk of overuse, burn-out and injuries. And for truck drivers, we're seeing an increase in all-seeing cameras, intelligent videos and apps that can monitor conditions, engage drivers during their journeys and evaluate the functionality of their vehicles."
"Robots will only excel with proper human support, so organizations will need to re-skill their workforce to keep up with this technology-driven evolution to Industry 5.0," he adds. "Organizations will need to launch formal automation technology training programs for all existing and new employees so that they are equipped to maintain and manage the robots. Ultimately, artificial intelligence and machine learning will integrate people, processes and systems, fostering collaboration and the partnership between humans and robots. As robots learn and gather insights, there will be a great impact on supply chain functions such as planning, demand management and fulfillment.
Logistics leaders are also making sizable investments into smart technology designed to improve worker, operator and driver safety, says Steve Anevski, CEO of Upshift.
"Investing into worker safety is the smartest investment a company can make in the wake of the Great Resignation. Smart technologies like driver fatigue monitoring, improved VR-based worker training and operator fail safes that protect employees on the floor are important ways in which companies can look out for their team members. Competent workers are looking for those kinds of solutions to already be in place," he adds.
Motor carriers are also implementing more cloud-based technology to better onboard and train drivers.
"Scaling safety across operations is critical, and companies will need to uplevel frontline safety protocols to enable the visibility needed to reduce the rate of preventable accidents, provide effective near miss reporting and eliminate repeat incidents," says Urquidi. "This all ties back to the need for more companies to implement digital tools this year. Technology like connected worker platforms allow supply chain workers to make changes to standard operating procedures (SOPs) at any time so that the most up-to-date safety policies, steps and checks are integrated into the work itself. Every time a policy is revised or a new regulation is issued, those updates can be immediately pushed out to the entire team and plant, and across multiple sites with a digital record to ensure compliance. This can't be done as effectively with paper processes, so end-to-end supply chain technology will be crucial this year."
"For the younger generations entering the workforce, these digital natives are easily adaptable to new technologies in the supply chain and can play an important role in helping older generations get up to speed," he adds. "Reverse mentorship programs can be implemented to ensure older generation frontline workers and legacy employees feel empowered in these evolving work environments. The truth is recent research from Parsable revealed older generations are more receptive to digital tools and technology than many people may think. By deploying reverse mentoring programs, supply chain companies become more inclusive, helping older, legacy workers realize their role, value and potential in the industry, at a time when so much change is happening in the supply chain."
Despite the many efforts to curb the labor shortage, there's still uncertainty as to if and how soon things will turn around.
Transportation costs are still on the rise, supply chain disruptions continue to rattle the industry, leaving behind a path of idle trucks, ships stuck at sea and unfulfilled orders across the board. And, the driver shortage still persists.
But how ever the Year of The Great Reshuffling unravels, companies will strive to find that perfect balance between legacy and new employees, while still adhering to diversity, equality and inclusion efforts. Technology will be key to many of the onboarding and training challenges the industry faces today. And, programs will be the necessary next step in bridging the age gap.
Check out SupplyChainLearningCenter.com to learn more about continued education courses for every skill level.