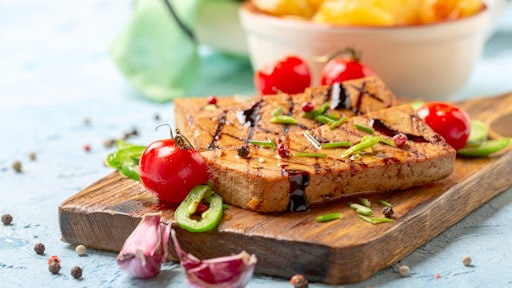 sriba3 AdobeStock_439074822
Picture this: It's the holiday season and it's time to share a traditional celebratory ham dinner with the family. But as you settle in at the table, you notice ham is missing from the table, and has instead been substituted with non-traditional holiday fixings.
While this may be an extreme example of the swaps that'll have to be made this holiday season, it's the reality many households across the United States will face as supply chain delays and inflation challenges continue to create disruptions across the country.
How did we get here, and - more importantly - how do we respond?
Global geopolitical disruption
The Russia-Ukraine war continues to have an undeniable impact on the global supply chain, impeding the flow of goods, fueling dramatic cost increases and product disruptions and creating shortages around the world.
Ukraine is a top wheat grower globally, so the amount it produces will be key to determining global supplies, an important driver of world food prices. The 2023 crop is typically planted around September, but about one-third of last year's cropland has been lost due to the invasion. Not to mention, many port cities have been unreachable during the conflict, making it difficult to export goods.
Plus, Russia's ability to sustain agricultural production amid sanctions on critical imports of farm production is questionable. In fact, 99% of poultry production and 30% of Holstein dairy cattle output from the country depends on imports, while seeds for staple products like sugar, beets, and potatoes are mostly brought in from outside the country, as are soil additives that are essential for the healthy production of wheat.
It should be no surprise that as we look to the holiday season, rising economic uncertainty and geopolitical tension will continue to cause disruptions. As companies grapple with ongoing delays, they must embrace digital technologies to help them better design supply chains and outsmart disruption by building optionality in their sources of supply and modes of transportation.
Inflationary impacts at home
In addition to disruptions on a global scale, retailers will also face challenges in the United States as businesses are becoming more conservative in terms of their capital investments and consumers are downtrading for more affordable brands or private label products.
Discount retailers saw an influx of middle-income and wealthier shoppers in September, stretched thin by inflation, for essentials and discretionary items.
These trends are largely driven by inflation and rising costs. Notably, the Consumer Price Index (CPI) indicated in July prices were 8.5% higher than they were 12 months prior. To combat these inflationary pressures, consumers are looking for cost-saving opportunities like trading down from premium meat to a lower cut for their holiday meals.
Inventory challenges cross industries and geographies
A number of companies are also warning of a slowdown in demand, citing reductions in both corporate and consumer spending. While late arrivals of seasonal merchandise may be specific to retail, the challenges impact packaged food goods as well and not just in the United States.
For example, inventory build-up has been observed in China, due to the closure of various regions and ports due to their zero-COVID-19 policy. Even Europe is experiencing challenges with excess inventory as shippers are delaying or canceling import orders. A growing number of stores across the continent are loaded with unwanted inventory, as a result of warehouses and deteriorating consumer demand.
How to best prepare for the holiday season
Ditch the historical data. Typically, suppliers and retailers can look at historical data and make a projection for consumer behavior based on the year prior. The COVID-19 pandemic demonstrated how quickly and dramatically business operations can be disrupted in a complex and interconnected way. When a highly disruptive event like this occurs, historical data can be insufficient - even irrelevant - for modeling future demand to make accurate forecasting, resource allocation, and capacity planning decisions.
The consequences of this temporal break are far-reaching. Traditional time series forecasting methods, a mainstay of the demand forecaster's toolkit, may no longer be viably predictive, as they rely on the assumption that the past is indicative of the future. The radical shift in this year's economy - consumers are facing record inflation and a looming recession simultaneously - means organizations need to rethink their approach to predicting demand.
Start by collecting and analyzing point-of-sale (POS) or end consumer-buying data from the commercial team or customer. Businesses can even take this a step further and also monitor changes weekly or even daily as needed to identify short-term vs. long-term customer behavior changes and pivot their selling strategies accordingly.
Incorporate design technology. One critical component of supply chain preparedness is the use of digital supply chain design technologies, such as a digital twin. This technology offers a digital replica of a physical supply chain that helps recreate a real supply chain in a virtual world so companies can test scenarios and understand how decisions and disruptions will impact their supply chains and business overall.
Such technology allows organizations to cut through the functional silos and build end-to-end visibility into their supply chain. While these tools don't inherently eliminate risk, they do provide very robust scenario planning with end-to-end considerations - reducing potential delays and constant firefighting. By mitigating the risks, companies can ring in the holidays with confidence and - ultimately - lessen the negative impacts on customers.
Conclusion
While we may be traveling a rocky road through the holiday season littered with challenges for companies trying to understand, manage and predict demand, there is light at the end of the tunnel. By incorporating the right tools coupled with the best combination of data, technology, people and processes, businesses will be empowered to adapt, evolve and stay resilient through challenging times.