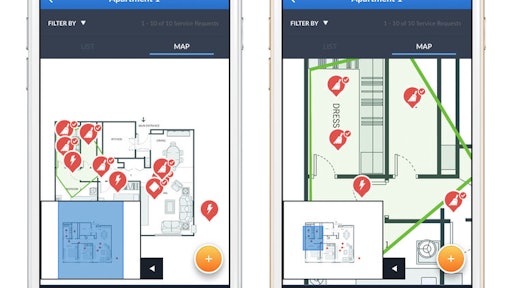 The first thing many of us do each morning is reach for our smartphone. Whether it is to catch up on email, check for rain or see what we missed on Instagram while we slept, the applications downloaded onto our mobile devices have infiltrated every aspect of our lives. In today's increasingly tech-savy workforce, it only makes sense mobile apps have found their way into the workplace, too.
Companies across the food supply chain are now turning to low-cost or free mobile apps to increase efficiency and provide real-time visibility into their operations. Below Food Logistics highlights just a few mobile apps (out of thousands) that provide strong use cases for the food and beverage industry.
Curo
Curo is an application designed to identify tasks and streamline work within a jobsite, whether that is inside of a warehouse or off-site delivery and maintenance. Created initially to help project managers at Amazon manage and oversee the construction of three or four large distribution centers at one time, the mobile app captures every needed activity, delegates to the right workers and provides communication and workflow guidance, while confirming and offering proof of completion that the job was done correctly.
For food and beverage companies that have processing plants, distribution and logistics centers, the Curo app can define USDA compliance and cold chain verification for a shipment or equipment implementation, as well as verification via video or photo evidence when the project and/or shipment is completed.
For example, Greg White, CEO of Curo, explains "you would be able to have checkpoint verifications that allow you to say the temperature was maintained or temperature was above optimal for some period of time."
Anywhere where you can't misstep, this is a perfect application, he adds.
"Whether it is field workers, dirty jobs or whether it's office jobs, if you have to hit every step perfectly, this is the perfect solution for that. With the capability to show somebody precisely how to do it, to capture every single step in the task, and then to visually verify, it gives the assurance that companies need for those kind of compliance issues," White explains.
Curo also has potential application during food recalls.
"Imagine a scenario where you simply import the data that says, 'this is who all got this product,' and Curo drops a bunch of icons out there that say, 'because we know where it's been delivered to, these are the places we need to go to retrieve it.' [The app can help] you start scheduling, routing and assigning or notify customers what they need to do in their part of the recall. There are endless possibilities from that standpoint," White continues.
While Curo is not currently used in the food and beverage space, the possibility is promising due to tis three primary pillars: GPS capability, in-app communication and the ability to work in a way that is attractive to an increasingly younger workforce.
Curo's patented GPS capability is like Google Maps within the warehouse. Users have the ability to identify or import the floor plan of their facility, so the app can help you identify where the work needs to be done and what type of work needs to be done on the floor plan. Features also include in-app messaging, video or photo verification and more.
In addition, White notes that because millennials (who in the next few years will make up more than 50 percent of the workforce) prefer to work and feel like their work is done better through technology; Curo is also helping to solve the skilled jobs gap.
"It's [Curo] is actually facilitating higher quality work with less effort and in less time in a way that the new work generation wants to work and with the accountability that the leadership generation wants to see.
"It's really doing exactly what technology ought to be doing; it's making us more efficient without conducting unnecessary work. To me, that is the higher purpose here," White adds.
Workwave
WorkWave, a provider of cloud-based software solutions for the field service, last mile delivery and logistics industries, recently launch its mobile app, WorkWave: GPS Track, which allows businesses to see their entire fleet's location from any mobile device.
"With many business owners spending time both in and out of the office, it is important to be able to access their fleet's live activity, events and functions, even when they step away from their desk," says Mike Profit, WorkWave's chief product and service officer. "WorkWave is empowering business owners and fleet managers to make better informed business decisions through live GPS tracking that's easily accessible, reliable and accurate."
Adds Kevin P. Haley of Squier Lumber & Hardware Inc., an initial user of the mobile app, "It [WorkWave] provides that extra layer of visibility into our mobile workforce."
With quick access to GPS tracking, businesses gain visibility and have insight into their day, increasing productivity, accountability and enhancing their customer service. From the app, users can:
View breadcrumb trail activity
Instantly confirm live and historical vehicle position
Filter vehicles for fast lookup
Choose between a map or list view
Visualize events and driver behavior alerts through the notification area (speeding, braking, geofence, ignition on/off alerts, etc.)
"WorkWave's mission is to provide companies with the software they need to efficiently run their businesses and provide exceptional service to their customers," says Chris Sullens, CEO of WorkWave. "With enhanced mobility features, they can now run their businesses with increased visibility and peace of mind, whether at the office or on-the-go."
SureCheck
ParTech's PAR SureCheck Food Safety Solution 10.0 is designed to offer users an easy-to-use enterprise mobile application specifically for food safety and task management. The new platform allows users to quickly and efficiently conduct, monitor, document and trend operations that affect food quality, temperature monitoring and HACCP compliance, which are necessary to protect brands and increase consumer confidence.
Originally introduced in 2009, PAR is supporting some of the world's largest companies to improve food safety and operational efficiencies in thousands of food service locations, with more than 35 million observations a month.
Key features of this latest release include:
Advanced functionality that enhances the user experience when automating food safety and task management operations
Auto advancement workflow for QSR operations
Provides customized software that allows organizations to personalize checklist workflow to achieve internal food safety requirements
Ability to capture photo/video proof with notes for recordkeeping and reporting purposes
Allows the flexibility to alert one or more users when an observation triggers a corrective action
Rich reporting and cloud data storage that provides information that can assist organizations in establishing best practices for food safety and task management
ComCheck Mobile
For shippers, brokers and 3PLs, security, transparency and time savings are extremely important. Launched in 2017 by Comdata and designed specifically for the trucking industry, Comchek Mobile is a digital payments platform and the first peer-to-peer (P2P) payment platform.
Once an individual or business downloads the app and completes registration, they receive a unique Comchek Mobile ID number that is securely linked to a Comdata debit card. Upon card receipt and validation, customers can distribute funds electronically to other users with a Comchek Mobile account by entering their unique username (recipient banking information is not required). Funds are received and made available for use in real-time.
Similar to PayPal or Venmo, users can make PIN based point of sale or fuel purchase payments via the Comchek Mobile debit card or send funds to other registered users via a P2P transfer.
"In an industry where time is money, mobile app users who receive a traditional Comdata Express Code can use the mobile app to quickly check the balance and transfer those funds directly to their Comchek Mobile account, making funds immediately available for use. It's a quick and easy way to receive funds that eliminates the need to make an extra stop at a truck stop or other cashing location," explains Terrence McCrossan, senior vice president and GM of Comdata North American Trucking (NAT).
For drivers, McCrossan says the speed and simplicity of the system makes it easy to use while out on the road.
"Drivers are often on the road for many days or weeks at a time, which means having liquid funds available is critical to their day-to-day life," he adds. "Comchek Mobile significantly reduces the amount of time it takes to distribute funds to drivers."
Current industry regulations, such as the ELD mandate, also mean that drivers and owner-operators must focus on maximizing the amount of time they spend on the road every day. McCrossan notes that Comchek Mobile's ability to facilitate load payments and fuel advances helps keep drivers on the road.
Small carriers and independent owner operators are using Comchek Mobile to receive funds directly from customers. They can then transfer those funds to other users who can use the funds for purchases via their associated Comdata debit card or deposit into their personal bank accounts.
"All users on the network are authenticated and approved through Comdata. The unique user IDs ensure that all funds sent and received are tracked digitally. Additionally, the app's reporting functionality provides total visibility into how, when and where funds are used," says McCrossan.
Follow Amy Wunderlin on Twitter.