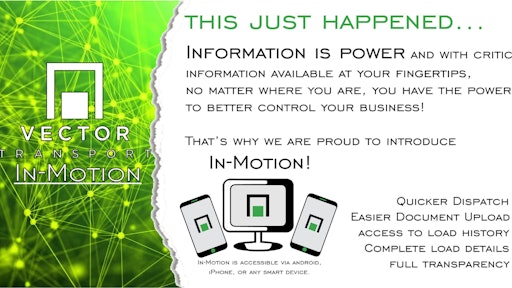 Vector announced the release of the Vector App, In-Motion, on the Google Play Store and the App Store.
"We are constantly striving to provide our carriers with the most simple, transparent, and advanced experience possible," says Josh Taylor of Vector, "and we're confident In-Motion will help put the power of action in your hands."
With In-Motion, the entire process of transporting one of our shipments has become faster, easier, more efficient, and more reliable than ever. In-Motion gives you the power to set your pace; standard time-consuming dispatch is eliminated with your full shipping information, including turn-by-turn directions at the touch of your fingers – when you are ready for it!
"Check-ins are as easy as a snap of the fingers, and with GPS technology, it's more simple than ever to relay your location without having to be awoken or bothered by pesky status calls," says Taylor. "Additionally, all shipping documents can be uploaded directly to the app upon completion of your trip."
Don't worry though, our top-rated customer service team is always here, at your service - when you need us. Despite all of our advances in technology, you will never receive a voice mail, and you'll always receive a live person eager to assist you in any way.
These are just a few benefits of utilizing In-Motion to change the way you haul. Give us a call today so we can help get "In-Motion" installed on your smartphone device.