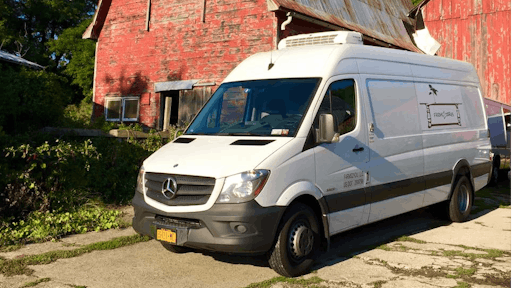 Grass fed, organic, all-natural, raised without antibiotics. These are just a handful of the many labels consumers are forced to sift through on a typical visit to the grocery store. What they mean and how they differ continues to be a huge question mark—one that has fueled a consumer desire for more transparency.
In their quest to learn more about where their food is coming from, today's consumers have ignited a growing farm-to-table movement. While this means more demand for fresh goods, it also introduces an onslaught of logical challenges for farmers.
Here enters technology.
A Work in Progress
Amazon's recent acquisition of the organic, health foods chain Whole Foods sent a wave of panic throughout many industries, including the logistics sector who wondered, "Is Amazon now a huge step closer to solving the online food delivery puzzle so many startups have wrestled with?" They key some say may lie in Whole Foods distribution network, but one thing is for sure: the technology required to deliver fresh food directly to the consumer's door is still a work in progress.
One industry that is close to a solution, is the farming industry, which relies on a variety of online and mobile technologies to get fresh meat and produce in the hands of not only consumers, but into restaurants, public and private schools and institutions, grocery stores, nursing homes and even corporate dining facilities.
Farms2Tables (F2T), which co-founder Patricia Wind describes as a cross between EBay, PayPal and FedEx, but specific to local food distribution, is one of the thousands of mobile apps working to solve the challenge many farmers face when distributing fresh goods to their customers. The edge they have in the oversaturated market, however, is their own logistics network.
"I believe we're the only (app) that offers an all-inclusive system, where we handle the transaction, the delivery and the payment processing. Most of the apps that are out there on the market don't actually deliver," Wind explains. "That's the huge difference; our system is completely seamless. We do everything from start to finish."
The platform works by allowing farmers and sellers to list the products that they have available. They have total control of the listings, such as availability, pictures, descriptions and price. Then, a captive market of almost 400 wholesale buyers on the service can browse and purchase items from the more than 100 farms participating.
"It's very convenient for (the wholesalers) to specifically shop from a certain farm," Wind says. "They're able to put in an order that is comprised from 50 different farms, but to them it just feels like putting in one order."
The next step is the FedEx portion of the app. Each product is packaged and labeled with a special barcode by the seller and then picked up and delivered by F2T. F2T provides each seller with a bar code printer, allowing for an efficient system to track each package from when the driver scans the label to when it is dropped off at the wholesaler.
The timeline between harvest and delivery is about 20 hours. F2T will turn everything over in under 24 hours and then handle all of the paperwork, such as invoicing and payment, on behalf of the farmers. That's the PayPal aspect of it.
"We're basically a for-hire trucking company, but we handle everything in a manner that makes the buyer feel like they're buying from a traditional wholesale distributor," Wind adds.
Today, F2T services more than 90 farms and 300+ wholesale buyers, and offer more than 4,000 products. They have delivered more than 800,000 pounds of local food, with a rate of fulfillment of 99 percent.
Keeping Your Cool
F2T's platform seems easy enough: List it, sell it, package it, deliver it. But as we know all too well, the transportation of temperature-sensitive perishable goods is far from simple.
Luckily for F2T, not only has technology come a long way in the last few decades, so has the transportation industry. F2T relies on refrigerated cargo vans, which allow for the easy division of a variety of goods, from ice cream to honey to lettuce. In addition they are easy to maneuver in urban environments, where many of F2T's deliveries are made; can be driven by anyone with a valid driver's license; are relatively affordable. And for F2T it was all about cost savings. Not only are the upfront costs for cargo vans much less than a box truck, but the maintenance also is more expensive on large trucks.
"Once we kind of worked out the average product mix and how many stops a driver could make, we decided to go with cargo vans versus box trucks. The size needed wasn't enough to merit going with the box truck and the extra maintenance, regulations and all that goes along with heavier trucks," explains Wind.
F2T currently has three Mercedes Sprinter Cargo Van with refrigerated, insulated units, and two more on order for the New Year.
And while F2T transports many different types of produce and perishable goods, so far, the cargo vans have addressed all of the mobile apps temperature related challenges, with one exception: tomatoes.
"All of our buyers and farmers would love for their tomatoes to be at 55 to 60 degrees, but we just don't have a separate temperature control for areas of the truck to be able to do that. Unfortunately, tomatoes do get transported at 35 or 36 degrees," Wind explains.
Other specialty items, such as honey and flour, which shouldn't be refrigerated, can be stored in a separate portion of the truck that's not refrigerated. Frozen products, like ice cream and artisan gelato, are transported in special coolers on the truck that keep the items frozen.
As for the delivery aspect, Wind says "it's all pretty simple, straight forward trucking."
"Our app is not only a sales platform for the farmers and buyers, but provides all of our logistics for routing and deliveries, and our pickups are also processed through the app. The part that the farmer or the buyer sees is probably not even 50 percent of what the app actually does. Our drivers have individual logins that give them an entirely different section of data that F2T can then use to efficiently plan the routes and provide the drivers with GPS directions."
Prior to pick up all products must be packaged by the seller and stored in a refrigerated space. F2T will not work with sellers who do not have appropriate refrigeration storage for their products to be held prior to pick up, as quality control is significant challenge with this format.
"In a warehouse, you know there's somebody who can visually inspect everything as it's going out. You can set a standard and have a quality control. Because everything comes directly off the farm and (the delivery drivers) can't open the boxes, the farmer is our only form of quality control," Wind explains.
In the beginning, F2T brought on any farm interested in the service. Since then, a waiting list has been created, which allows them to pick and choose those who understand selling wholesale orders online and the quality needed.
"Now we're able to control quality at a very early stage by only bringing on farms that we've already really inspected their operations, or who have already been working in wholesale and filling orders for local restaurants. They understand the attention to detail and the quality that's needed to be successful in this model," she adds.
A Break from Tradition
Heather and Jason Kading, owners of JSK Cattle Company, are one of the many farmers breaking from tradition in search of new opportunities to sell their products.
Located in Millbrook, New York, just 90 miles north of New York City and centered in growing Dutchess County, JSK Cattle Company is known for its pasture-raised meats, which include beef, chicken and most recently turkey for the Thanksgiving season.
In 2016, the couple opened a farm store to give consumers easier access to their locally-grown meat. Heather, whose background is in massage therapy and wellness, had many clients, especially new moms, interested in learning more about truly organic and locally-raised food. The store located directly on their farm gave those interested consumers somewhere to learn more about, see firsthand and try the Kading's meats.
And while the brick-and-mortar location has been a success, its rural address poses a problem with customers unfamiliar with the area and its owners are well aware of the reach the internet can provide. JSK Cattle has tried a few different options in the past, including F2T, but recently found success with GrazeCart.
GrazeCart is an online platform built by farmers for farmers. Seven Sons Farms of Indiana created the platform after struggling to find a website and shopping cart software that would allow them sell products by weight, take payment after an order was packed, and allow customers to order for pickup locations. There were services out there might address one or two of these needs, but nothing that provided a complete solution.
"Right now there really isn't a way to sell meat (direct to the consumer) unless you develop your own program," notes Heather. "Even with Square (a mobile payment company), you can't do pricing by the pound.
"That's been the hardest thing for me, because right now I have to calculate all the weights and then put it on all the products, or do it when people are checking out, which takes a long time to do. So with GrazeCart, I can put in my price per pound, I can put in my inventory, I can put in the average weights of the packages. Now people can order online and it gives them an estimated total, and then I get their order and I would go through and put it together and then send them what the actual total is. But they had already agreed to put in their credit card information. I think it uses Stripe, is the processing part of it. So it's close to what their estimated total is but then I go through and put in what the actual weights are. And then they get their total and it gets charged to their card."
All About Logistics
GrazeCart solves one piece of the puzzle for producers like Heather and Jason Kading, but ultimately placing the product in the consumer's hand is still a challenge. F2T works wells for large farms who can keep up with the demand and control the quality required by a restaurant or wholesale buyer, but smaller operations depend on a more piecemeal approach.
"We've run into some growing pains, so right now, working with the consumers is kind of where we fall into based on what our supply is and what we're getting back from the butcher," Heather says.
"The issue we're running into with restaurants is working with the butcher to portion meat cuts to the exact same size," Heather explains. "It's also hard to work with the restaurants with the supply that we have right now. We don't have enough to supply them on a regular basis yet, so that's why I haven't been doing quite so much with Farms2Tables.
"It would be a lot easier to do that, but unless they can take it fresh and portion it themselves, then what comes back from the butcher isn't within an acceptable portion size for them," she adds.
For the time being JSK Cattle plans to rely on the idea of a "buying club." So instead of people coming to the farm to pick up the product, they would commit to a specific pickup location. The details are still in the works, but Heather has plans for four-week cycle, where for example, the customer would meet at Location A on the third Saturday of the month a 9 a.m. They would have a half hour window, where all they would have to do is come and pick up their order, which is already paid for through GrazeCart.
"It could literally be somebody's driveway," says Heather. "We might meet 10 to 15 people in someone's driveway or place of business or whatever. And they all come pick up their orders that they've already ordered online."
For now Heather would be the delivery driver, but she hopes someday they will be able to hire a designated driver.
"Everyone I've talked to about the program is really interested in it. One, because you don't have to spend the time looking for it in a grocery store or driving to different places to get locally-raised meats. And two, they can have it delivered some place close to them, and know exactly where it's coming from and what they're eating."