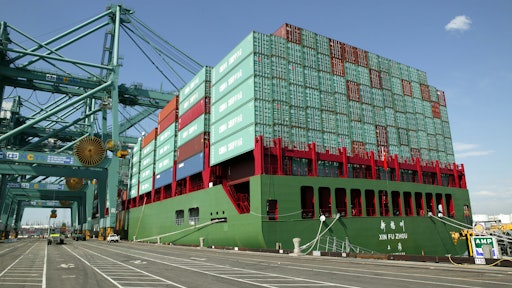 For years, the maritime shipping sector has been hamstrung by processes that remained highly manual. But today that is changing with digitization.
There are many reasons why digitization—the turning of data into truly useful, actionable information—is critical for the maritime supply chain. One excellent example is confusion that occurred last year with the bankruptcy of Hanjin Shipping Company, which left its giant container ships marooned and hundreds of thousands of containers adrift on Hanjin ships. Shippers could not track their cargo and worried whether or not hundreds of tonnes of goods would reach their clients. In the case of perishables, the likelihood of spoilage was a real possibility.
Connectedness and visibility in the ocean supply chain is a real concern. A survey from BPI Network entitled "Competitive Gain in the Ocean Supply Chain" published in June 2017, found that 82 percent of those surveyed felt these aspects need to be improved. Twelve percent indicated that there is currently no visibility at all. The survey found that among the biggest perceived challenges plaguing the industry are poor coordination between partners (57 percent); too little transparency and visibility (50 percent), and inefficiencies within the supply chain (37 percent).
Despite hurdles, 99 percent of those surveyed agreed that real-time access and sharing of information is vital. Fifty-nine percent of those felt it's extremely important. The areas identified as having the greatest need for improvement were: carrier to terminal coordination and planning (35 percent); supply chain visibility and information sharing (35 percent); terminal operations (24 percent); cargo flow visibility and predictability (24 percent); and coordination across carrier and shipper alliances (24 percent).
Today, significant strides are underway to digitize these processes to help the industry collaborate and share data between different entities and applications in the global maritime supply chain. With digitization, all entities involved in the supply chain are on the same page with real time information, meaning they can adapt and react faster when disruptions and unforeseen events like the Hanjin example occurs.
Moreover, a number of entities are paving the way for digitization. These developments bode well for reefer cargoes that rely on a tightly integrated cold.
Steamship Line Efforts
CMA CGM, for one, announced in September a strategic seven-year partnership with Infosys, an Indian multinational specializing in next-generation technology, to simplify and transform its IT applications and improve customer service.
"Our ambition is to create a competitive advantage by offering our customers state-of-the-art technologies," said CMA CGM's CEO Radolphe Saade.
The effort involves using Infosys Nia's artificial intelligence platform and its scalable automation platform, AssistEdge, to revamp CMA CGM's customer service, improve process execution and enhance internal performance. These new systems will allow CMA CGM to leapfrog to the next generation of software-lead business innovation that is customer friendly, cost effective and flexible.
The partnership calls for opening a Delivery Center (DC) in Marseille, France that will become a key hub that will attract and enhance local expertise. Infosys will acquire CMA CGM's Innovation and Delivery Center in Dubai and expand its footprint to the Middle East.
Answers for No Shows
A company called 300 Cubits is offering an initiative to help relieve situations where customers do not bear the consequences for "no show" bookings and "rollings," thereby resulting in lost trust between shipping lines and customers.
"Many shippers express discontents regarding rollings," comments Johnson Leung, Co-Founder, 300 Cubits. While reefer shippers may suffer fewer rollings, he sees even 0.5 percent chance of rollings as painful for reefer customers given the sensitive shelf life of the reefer cargoes.
Consequently, 300 Cubits is working to transform container shipping by introducing a bitcoin called TEU token for container shipping. "The TEU tokens may be used as shipment booking collateral, which hopefully could solve the so-called 'no show' bookings and 'rollings' in the container shipping industry," explains Leung. "Use of TEU tokens can assure that a booking confirmation is a real confirmation i.e. no rolling. Or, if rolling happens, the shippers can get compensated. The size of compensation is decided by the size of collateral a shipper puts in. So a reefer shipper could put in collateral comparable to its financial exposure in event of rollings to ensure its shipment get loaded."
The solution involves three steps: (1) creating TEU tokens with limited supply through computer programming; (2) selling and listing a portion of the TEU tokens in the crypto exchange so that all the tokens carry a market value; and (3) distributing a portion of TEU tokens to the industry, i.e. liners and shippers for free for their use as booking collateral.
"When using the TEU tokens as booking collateral, both the shipper and the liner involved in the booking will put in equal amount of TEU tokens, which will be returned to the original owner if he/she fulfills his/her obligation," Johnson explains. "We hope that the TEU tokens can become the smarter and more economical solution than the booking bank guarantee for the container shipping market."
Leung suggests that reefer customers may like features such as assurance in the delivery instead of loading, for which Cubits 300's TEU Ecosystem can technically provide. In essence, he says, the TEU tokens bring the agreement element back to the booking process. "Process execution at both sides will be improved in the way that a liner does not need to guess if a booking is real and a shipper does not need to guess if a booking confirmation is true, which is usually the reason both build so much buffer into their operation," he says. "Bringing back the agreement element into the booking process restores trust between the liners and shippers."
In the near term, however, TEU tokens will not change the challenges such as different cut off times, different EDI standards, transmission of stowage requirement messages, and the sharing of data. "But the use of TEU tokens will help introduce the container shipping industry to the blockchain," Leung says. "If use of TEU tokens manage to, in the long run, consolidate many container shipping processes onto one blockchain, we may have a common platform for the sharing of data inside the shipping industry."
Bird's Eye View
The Port of Los Angeles and GE Transportation are working on an information portal that will essentially give all stakeholders a bird's eye view of the maritime supply chain. It is the first of its kind ever launched.
Essentially, the portal plans to raise visibility among all stakeholders in the Port's supply chain by providing information while cargo is in transit rather just days before it arrives at port. Stakeholders can, therefore, plan in advance for container movements in advance.
Launched in November 2016, the digital solution keeps cargo flowing efficiently through the Port of Los Angeles, the largest container port in North America.
Chris Chase, marketing manager at the port, explains that currently the focus on the portal is on the import side of the supply chain. "We will expand to exports at a future time," he says.
Essentially, users would be able to access information from one site on their computer and be able to relay information to their chassis, provider, trucking company, railroad, etc. "The assigned trucking company, for instance, would know when to pick up a box. They would know a week out that they have a certain number of boxes coming."
The beauty is the portal does not concentrate on only one part of the supply chain, but all parts. "Today, terminal operators do not know what truckers are going to pick up that container," Chase explains. "If they know one week out, they can make operations more efficient. It gives them a more holistic view."
The genesis of the portal stems from the fact that cargo data goes dormant while in transit, especially for shipments coming from Asia. "No one does anything with that data until a few days before the ship arrives port," Chase says. "Our thinking is, why not take advantage of that time while the ship is on the water to make planning for when it comes landside."
The portal won early success during a pilot between May and July at APM Terminals with one string of vessels operated by Maersk and MSC. Consequently, the Port and GE Transportation have agreed to new commercial agreements worth up to nearly $12 million and extended their relationship for at least five years. They plan to get the balance of the port and all shipping lines and terminals on line with the project.
"We expect to have a broader portal and more complete picture to put in the hands of users by mid-year 2018," Chase says. "Right now, we are on the data acquisition side of things, so we are trying to on board terminals and shipping companies. This involves completing data hook ups, understanding what data is being sent and how to display it, and updating systems."
It's a huge job. The Port's fiscal year, which ended July 1, resulted in the port handling over 9 million TEUs. "The estimate is that 9 million TEUs will generate over a billion pieces of data the system will have to capture," Chase remarks.
Akin to a venture capitalist, the Port is working to perfect the portal. "From there GE has the opportunity to market it elsewhere around the world," Chase says.
Karen E. Thuermer is an Alexandria, Virginia-based journalist who has been writing about logistics for several decades.