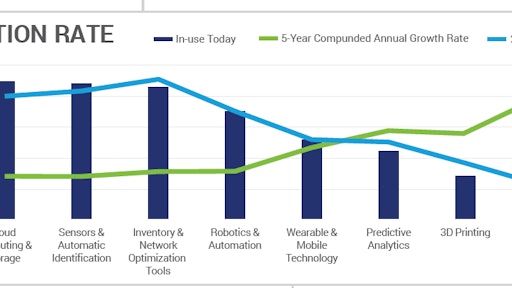 The "always on" supply chain has become a reality. Enhanced computing power has improved predictive analytics and supplemental tools–such as automation and wearables. Sensors have empowered data collection. These enhancements are creating digital, continuously operating supply chains and interconnected networks of supply chain workers.
The Material Handling Institute's (MHI's) 2016 Annual Report defines the "always on" supply chain as:
"An integrated set of supply networks characterized by a continuous, high-velocity flow of information and analytics, creating predictive, actionable decisions that better serve the customer."
The report provides an update on eight technologies that are enabling these always-on supply chains and the impact they are having on these supply chains. These technologies include:
Predictive analytics
Robotics and automation
Sensors and automatic identification
Wearable and mobile technology
Driverless vehicles and drones
Inventory and network optimization tools
Cloud computing and storage
3D printing
The MHI report was developed in collaboration with Deloitte Consulting LLP and reflects the views of nearly 900 industry insiders–nearly double that of last year's survey. Respondents included manufacturers, distributors, service providers and others–more than half with senior executive, general manager or department head titles.
The transformation to a digital supply chain alters the characteristics of traditional models. For example, automated equipment and sensors enable faster and more accurate data collection. Increased computing power has led to the greater use of predictive analytics.
Supply Chain Characteristics
Characteristics of "always on" supply chains include:
Geophysical space becomes less relevant
Managing availability versus managing scarcity
Two-way flow of data and information versus one-way flow of physical goods (see Figure 4)
Consumers/customers become data creators (for example, through crowdsourcing)
Physical assets are exchanged for information
Cross-ecosystem collaborative networks (see Figure 5)
The shift to always-on supply chains has accelerated the scale, scope and depth of data they generate. This data generates value only when it is used to modify future action in helpful ways. The modified action provides new information, allowing the learning process to continue and creating a value loop that moves from hindsight to insight to foresight. The steps within the value loop are envisioned as follows (see Figure 6):
Action creates information communicated from point of generation to point of processing.
Information is aggregated, creating data sets for analysis and generation of prescriptive actions.
These prescriptions guide modified actions.
New action is then sensed, creating new information and the cycle repeats itself.
Delving into specific industries, sensors and automatic identification is an enabling technology in the cold chain, delivering the ability to manage and monitor quality remotely.
Predictive analytics and drones are enabling technologies in agriculture, providing smarter irrigation and targeted application of chemicals.
Inventory and network optimization tools are enabling technologies in direct-to-consumer industries, bestowing anticipatory shipping based on predicted demand, and alternate shipping modes and ship-to locations using drones and drop boxes.
Inventory and network optimization adoption will more than double to 90 percent over the next six to 10 years. Route planning, product flow path analysis and asset optimization help companies streamline operations, improve inventory control, gain visibility, manage risk and reduce costs.
Competitive Advantages Arise
More respondents this year indicated these technologies will be a source of competitive advantage or a source of supply chain disruption in the next decade: 83 percent believed this in the recent survey compared to 75 percent last year. Respondents considered each of them to be an even greater source of competitive advantage and disruption than just one year ago.
The pace of change is changing the way supply chains are managed.
The technologies that respondents say can be a source of either disruption or competitive advantage are:
Robotics and automation (51 percent, up from 39 percent last year)
Inventory and network optimization tools (48 percent, up from 45 percent last year)
Sensors and automatic identification (47 percent, up from 42 percent last year)
Predictive analytics (44 percent, up from 38 percent last year)
Robotics and automation, and driverless vehicles/drones, both led in their perceived ability to create either supply chain disruption or competitive advantage, with a 12 percent growth since last year.
Cloud computing and storage leads in adoption rates at 45 percent, followed by sensors and automatic identification at 44 percent.
Six of the eight technologies have predicted adoption rates of 74 percent or higher over the next six to 10 years. Driverless vehicles and drones and 3D printing have predicted adoption rates of 50 percent and 48 percent, respectively, over the same period.
Innovations Transform Expectations
Technology innovations are improving integration across platforms, transforming industries and changing consumer expectations. Some examples include:
Predictive analytics: A foodservice data provider sources menus for taste preferences in order to help consumer product companies predict what products to create, how much and where they need to be shipped, and what types of raw materials will need to be sourced.
Streamlined ordering: A retailer's locations order supplies through an online catalog. From there, the smart system pulls inventory from the company's warehouses or distribution centers. It can also send a purchase order to an external vendor for fulfillment.
Anticipatory shipments: An e-commerce retailer patents a technique to determine where to box and ship products based on a predictive model of customers in a specific region, with a positive impact on planning, sourcing and delivery.
Forty-three percent (up from 36 percent last year) of respondents see the lack of a clear business case as the major barrier to investment in supply chain innovation, followed by lack of adequate talent to utilize technologies effectively (38 percent), and cultural aversion to risk (35 percent).
Fifty-eight percent of respondents say they face a significant challenge in hiring and retaining a skilled supply chain workforce (see Figure 2). Additionally, 56 percent (up from 53 percent last year) say that training their workforce to use new technologies is a top priority.
Other challenges include customer demand for faster response times (57 percent, up from 50 percent last year) and customer demand for lower delivery cost (56 percent, up from 51 percent last year).
Barriers to Adoption
Cost continues to be cited as a barrier to technology adoption. Costs include deployment of automation and sensors, plus maintenance of networks and storage space required to collect and communicate the data generated. There is also the cost of investing in analytic tools and skills.
Despite the challenges, more respondents cite a faster return on investment as technology costs decrease. The cost of sensors has declined. The cost of moving data over networks and securing storage space has fallen.
Predictive analytics is a critical enabler of always-on supply chains. It is changing how people interact with machines. Predictive analytics is the modeling of data to identify patterns that help predict behaviors and events, from inventory depletions, to machinery breakdowns, to consumer trends. It relies on the ability to crunch through enormous amounts of data, and it has truly come into its own with the exponential increase in computer processing power. Some of the most effective applications focus on predicting patterns associated with consumer behavior.
In the supply chain arena, predictive modeling enables managers to better control inventory, plan more reliable transportation networks, and minimize lead time variability. This can improve service levels, reduce costs and boost the bottom line.
One of the main objectives of supply chain management has been to minimize variation, the enemy of efficiency. In traditional supply chains, by the time variation is identified, it is too late to avoid disruption. The information provided by the Internet of Things (IoT), on the other hand, allows supply chains to invest less in eliminating variation since timely and effective responses become possible.
IoT refers to a suite of technologies–sensors, communication devices, servers, analytics engines, devices that automatically identify items, and decision-making aids–that can link the physical and information worlds more closely together. The IoT creates non-linear ways to manage traditionally linear steps, expanding ways to generate value.
The more sensors are put in place, the greater the volume of data produced to support the always-on supply chain. The analysis of this data can drive not only operational improvements, but also decisions of workers, customers and trading partners.
The declining cost of sensors and scanning devices makes it possible to install them in more locations, which means additional tracking of materials.
Sensors Enable Higher Volumes
"Sensor technology is especially applicable in logistics because the volume of shipments is going up significantly," says Scott Sopher, principal and leader at Deloitte's global supply chain practice. "Sensors have also increased the shipment of fresh goods, due to visibility, and of pharmaceuticals and other sensitive goods, due to great security."
Two-thirds of survey respondents identify wearables and mobile as a critical, high or moderate priority. One reason is that as wearables become more robust, and specialized technology is developed for enterprise applications, the potential to transform operations across the value chain will increase. In addition to enhanced employee oversight and assistance, wearables can reduce operating costs. Wearables can also provide employees with hands-free access to information such as:
Assigned tasks and completed activities
Interactive instructions for tasks
Connectivity with remote team members for continuous improvement in back office activities
Cloud Computing And Storage
Cloud computing and storage are also playing a role in the improvement of supply chain management by supporting an enterprise's efforts to share data with multiple, geographically dispersed partners.
Cloud computing did not rank as high as other technologies in either competitive advantage or disruptive dimensions. Only 25 percent of the respondents believe there could be a competitive advantage, while a mere 4 percent thought it might be disruptive.
However, in contrast, over 70 percent said it is having some impact. Almost half (45 percent) say that they already have cloud computing in place and another 22 percent expect to within the next one to two years. Adoption rates of cloud computing are expected to surge to 86 percent over the next six to 10 years.
The benefits of cloud computing include improved collaboration among supply chain partners, cost-effective use of staff resources, and being able to adapt to changing business needs quickly. However, many organizations first migrate to the cloud through focused, task-oriented solutions as opposed to enterprise-wide solutions.
For more information about the report, visit mhi.org.