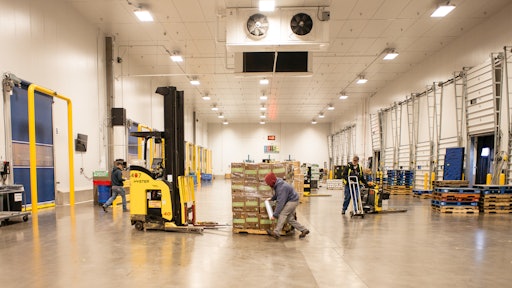 As the food and beverage (f&b) supply chain tasks itself with managing inventory with greater speed and accuracy for a host of reasons, warehouse managers need to use the management software that best suits their specific needs. The need is even more pressing for companies looking to expand.
Market changes such as growing safety concerns, an SKU explosion, expanding regulations and the rise of e-commerce all make the warehouse more critical to f&b supply chain performance. And as service providers become more specialized in their disciplines in an increasingly complex industry, warehouse performance remains one of the biggest factors in a company's competitive position.
Management software has long played an important role in a company's ability to efficiently manage warehouse operations. The right software enables a company to deploy structural changes in the warehouse operation as it grows or if it wants to change its strategy. Such changes can include introducing warehouse automation, adding new services (such as refrigerated inventory handling) or consolidating facilities.
Warehouse management software includes warehouse management systems (WMS), warehouse control systems (WCS) and warehouse execution systems (WES).
A comprehensive view makes sense
Before examining the features of these systems, it is important to recognize the warehouse does not exist in isolation from other business operations. Just as warehouse software capabilities have evolved, the same is true for enterprise resource planning, demand planning and fulfillment applications, transportation management systems and supply chain management software. Software providers encourage customers to take a comprehensive view of their operations when evaluating their software needs.
A recent review of current warehouse software features and how users are determining which systems best fit their needs indicates there is significant innovation taking place to meet an increasingly diverse set of user needs.
Omni-channel fulfillment, driven by ecommerce, is one of the latest and most challenging demands, even though it is expanding slower in the f&b industry than other industries. Omni-channel order fulfillment requires a more robust warehouse since it brings a greater need for single-order fulfillment. The omni-channel also strengthens the case for automated material handling equipment, which creates yet another set of software needs.
Safety regulations weigh heavily
For the f&b industry, a more pressing need is for greater visibility of inventory throughout the supply chain on account of food safety regulations which are hardly keeping pace with public concerns about product contamination and recalls. WMS is imperative in order to provide this visibility and to reduce delivery time in response to a more demanding customer.
Hunt Brothers Pizza, a Nashville, Tenn.-based wholesale pizza distributor to 7,300 accounts in 30 states, deployed its first WMS system two years ago in one of its three master distributor DCs. The system has saved thousands of dollars per month in reduced shrinkage costs in its largest DC, says Randy Dunn, vice president of operations. The DC has over 99.9 percent inventory accuracy, turning the warehouse up to seven times a month with an inventory of $1.5 million to $2 million. "With the WMS, we balance the books very quickly and effectively," Dunn says.
But more importantly, the WMS from Minneapolis, Minn.-based HighJump Software has provided inventory visibility that will enable the company to respond to recalls should they occur at any point in the company's six-step distribution process from foodservice suppliers to convenience stores. This would not have been possible using the previous manual inventory management system, Dunn says. With HighJump's WMS, the company has deployed bar code scanners to provide real-time traceability of inventory.
Hunt Brothers Pizza looked at 18 different WMS vendors. The top concern was real-time inventory control. Because the company had a significant investment in its ERP system, management wanted a WMS that would integrate with the Great Plains ERP. Hunt Brothers selected High Jump's AccellosOne WMS.
Had the company not already deployed an ERP system, Dunn says they would have considered an ERP with a WMS subset. ERP vendors have added WMS modules along with other modules, which has expanded the WMS market. Dunn sees the single-software-vendor approach as having some advantages from a maintenance and ease-of-use perspective, although he can't say for certain that they would have chosen this option. There have been no issues with the High Jump WMS as they have seen zero downtime since implementing.
HighJump also recently extended its e-commerce supply chain capabilities, although Hunt Brothers has not expanded into e-commerce.
But whether or not a company is fulfilling e-commerce orders, the AccellosOne batch picks by item proximity, providing an important feature since it reduces picker travel time, according to Carl Marin, HighJump's general manager for AccellosOne WMS.
Produce Distributor Improves Inventory Accuracy
Organically Grown Co., a Eugene, Ore.-based organic produce distributor serving the Northwest, deployed a dedicated WMS system when it wanted more inventory accuracy than its ERP system provided, says Paul Wogan, chief information officer. The company deployed the WMS from Phoenix, Ariz.-based AFS Technologies three years ago in the largest of its two DCs. The WMS integrates well with Organically Grown's ERP, which handles order, inventory and financial management.
Like Hunt Brothers Pizza, Organically Grown found that a tier 1 WMS offered the depth of features it needed. This would not have been possible using the ERP's WMS module. "We found that the depth of the (ERP's) WMS was not comparable," Wogan says. The AFS WMS provides inventory visibility and more granular data.
The AFS WMS offers single-scan traceability with GS1, GTIN and Produce Tracking Initiative (PTI) SKU tracking schemes in addition to supporting processes for receiving goods, put-away/flow-through, inventory management, order processing, replenishment, pick/pack, loading and shipping.
The granular data has also improved labor efficiency, Wogan says.
Organically Grown initially expected a two- to three-year ROI on the WMS. But after tripling the size of the 40,000-square-foot warehouse shortly after deploying the WMS, they have added one more year to the ROI, Wogan says. The company still uses the ERP WMS in its smaller warehouse.
WMS Key For Dot Foods LTL Deliveries
Dot Foods, the Mt. Vernon, Ill.-based redistributor, deployed a tier 1 WMS from Scottsdale, Ariz.-based JDA Software at DCs over the course of five years after launching a test at its Modesto, Calif. facility. The redistributor manages a huge number of SKUs which it consolidates into LTL shipments from nine DCs, including a three-warehouse campus.
Because of the large number of SKUs and wide product assortments in limited quantities, the company uses a semi-automated, hybrid picking system, says Troy Schenk, Dot Foods warehouse systems manager.
A hybrid picking system requires units to be sent to the staging area as they are picked, as opposed to the wave system that is more common in food distribution. "It's not 'pallet-in and-out,'" Shenk says. A hybrid system usually requires a more automated picking process. Dot Foods' hybrid (semi-automated) picking system uses Vocollect voice technology.
Dot Foods uses this picking system for dry, refrigerated and frozen food. The WMS also directs receiving, put-away, replenishment, shipping and packing.
Dot Foods realized they needed an WMS in order to grow, Schenk says. He says JDA was selected partially because of its dominance in the food market. The system is customizable, which is also important. The company has a "home-grown" ERP.
Tom Kozenski, vice president of solutions strategy at JDA, says waveless picking, which releases work in a steady stream, is a relatively new WMS concept. This will support the unpredictability of omni-channel fulfillment. An optimum waveless environment is one that is often highly-automated and has a large number of pick zones, he says.
Kozenski sees food safety regulatory compliance as a bigger driver for automation in the food industry than e-commerce. Automated material handling equipment and system-directed moves will allow warehouses to process inventory faster and reduce the time it takes to get it to the customer.
"We (WMS) are the system of record for where inventory lot codes are stored and shipped," Kozenski says. "We've got a real-time view of everything going on in the facility."
Automation Brings New Choices
Automation has been slow to expand in the food industry compared to other industries. This is expected to change as e-commerce expands. The need for more visibility driven by safety regulations could also strengthen the case for warehouse automation.
Norman Leonhardt, business development manager at WITRON Integrated Logistics, an Arlington Heights, Ill.-based logistics solutions provider, says automation is increasing in all types of warehouses as the cost of labor rises. In the food industry, automation is most prevalent in larger retail DCs. Big retail warehouses and manufacturing warehouses are also expanding automation, he says, with foodservice distributors investing at a slower rate.
As automation increases, warehouses will have more need for WCS and WES systems in addition to WMS.
WCS manages the movement of material in near real-time, says Gene Billings, director of software products at Intelligrated, a Cincinnati, Ohio-based manufacturer of material handling solutions. A WES takes the WMS functionality and moves it to near real-time while orchestrating outbound order management in the most efficient manner, also in near real-time.
"A well-executed WES brings together a heterogeneous blend of equipment and software, able to provide and optimize a blend of real-time 'deterministic' processing capability featuring a rich set of warehouse control/warehouse management functions for a broad range of applications and clients," Billings says. "Deterministic" processing means that a task or action will reliably occur within a specific period of time (typically measured in milliseconds). "This ensures that time critical functions are executed in a flawless fashion."
Additional WES advantages include the removal of multi-vendor integration silos, harmonized metrics and business analytics, efficient automation management through optimization, real-time labor management and tracking, as well as real-time adaptability to changing facility conditions.
H-E-B, the San Antonio, Texas-based supermarket serving Texas and Mexico, has found WCS critical to managing its heavily-automated DCs, notes Paul Linkins, one of the company's IT support managers. There are automated storage and retrieval systems, conveyors, carousels, cranes, palletizers and pick-to-light systems in one of the company's 25 DCs. There are a variety of vendors' systems in use, including Daifuku, Automotion and Hytrol.
H-E-B uses WCS from Fortna, the Reading, Pa.-based distribution systems provider, to manage conveyor controls, machine controls and server support. During the deployment, Fortna subcontracted a second WCS system from Vargo Material Handling, the Hilliard, Ohio-based hardware and software provider for the pick-to-light system.
The WCS interfaces with the company's WMS from Chicago-based Infor, Linkins says. The WMS sends picking and shipping information to the WCS.
In H-E-B's case, expansion into e-commerce is not driving warehouse automation. H-E-B's e-commerce fulfillment is handled separately from the in-store fulfillment.
Waveless Picking Brings New Options
One of the most important emerging features of WES systems is they support waveless picking, says Art Eldred, client executive for systems engineering at Vargo Material Handling, the Hilliard, Ohio-based material handling manufacturer. He looks for waveless picking to expand as companies become more active in e-commerce. He refers to WES as the "automation control cop."
Faster order fulfillment was a factor in Atlanta, Ga.-based Dematic's recent decision to acquire Reddwerks Corp., an Austin, Texas-based WES provider. "The only way to effectively achieve responsive order fulfillment is through an automated supply chain, powered by comprehensive real-time software," says Ulf Henriksson, Dematic's president and CEO. "Traditional batch processing cannot sufficiently respond to either the operational variability or the speed required."
"There is going to be a blurring of the lines between WMS, WCS and WES," adds Pete Devenyi, vice president of software research and development at Dematic. Faster order fulfillment demands that retailers replenish inventory more frequently and with less inventory on hand, he adds.
The demand for automation will increase as e-commerce expands, adds Jim Stollberg, Dematic's executive vice president of research and development. "E-commerce is driving the necessity to move to a waveless (picking) model," he says. "That's going to permeate through all the industries."
WMS, WES And WCS: All 3 Needed?
As automation expands and WES evolves, there are situations in which an WMS becomes less important, says Tom Rentschler, vice president of marketing and business development at Forte, the Mason, Ohio-based systems integrator. WMS helps manage people and as automation increases, there may be fewer people. "It really depends on the degree of automation," Rentschler says. "You are less dependent on WMS if you have a lot of automation, but you can't say you don't need WMS. You simply don't need it as much."
Gaurang Patel, senior IT manager at WITRON Integrated Logistics, says there are not a lot of scenarios where automation is deployed and a WMS is not needed. "We are not ready to decouple WMS," he says.
Eric Lamphier, senior director of product management at Manhattan Associates, the Atlanta, Ga.-based software provider, says that an efficient order fulfillment operation requires a broad view of all warehouse activity. This is especially important in making the best use of labor, which is the highest cost factor.
H-E-B's Linkins does not see automation completely replacing manual functions in food warehouses. "There are a lot of items that are not conveyable," he says. He says about 30 percent of food packages are too light or not shaped properly for conveyors. In addition, scalability of automation is highly capital intensive compared to manual activities.
ERPs Offer WMS Modules
None of the user cases presented in this article opted for an ERP WMS module. But as Randy Dunn of Hunts Brothers Pizza notes, the integrated approach on an ERP-WMS can have some advantages, even though his company did not opt for this choice.
ERP providers point out that the integration their WMS modules spare users from potential integration issues.
In response to this argument, dedicated WMS vendors note that integrating with ERPs has become a focus that they have already mastered. "There was a time 15 years ago when it (the integration) was less proven, says Manhattan Associates' Lanphier.
"ERP isn't concerned with where the different boxes are and why they are where they are" in the warehouse, says Dan Waters, U.S. sales director at MADE4NET, a Hackensack, N.J.-based WMS provider. WMS, unlike ERP, focuses on inventory details, which in food are highly complex. "It (WMS) is a product that's made to manage just what's going on in the warehouse. ERP supports the management of inventory in the warehouse whereas WMS drives optimization and efficiency of resources."
This is not to say that the integration will always be a snap.
"I've been involved with WMS implementation for over 19 years, and no matter how robust the WMS is, there are always systemic constraints resulting from the integration challenges and limitations with the clients host systems that present challenges for the WMS to work as per its design," says Frank Camean, president and CEO of 4SIGHT, an integrator that assisted Dot Foods with its WMS implementation.
Non-complex operations that are running a tier-1 ERP can most certainly leverage the ERP's WMS module to run their warehouse, Camean says.
"That being said, the more complex the operation, the more challenging their (ERP) WMS offering becomes," he continues. "Complex operations for these vendors include multi-channel fulfillment under the same roof with the same WMS; highly-mechanized operations; many customized processes in your DC; many unique customer requirements that can't be carried over from customer to customer; large daily volumes in terms of receipts, putaways, picks and inventory moves within a warehouse measured in order lines per day, or units per day; large numbers of concurrent users that require labor management performance monitoring; managing multiple facilities that have different operations with the same WMS under one instance; and integration requirements with external solutions like TMS, LMS, DOM, etc."
In many low- to-medium volume, low-SKU-count, low-complexity manual warehouses, using an extended WMS module from the client's ERP supplier may be the right choice, agrees Intelligrated's Billings. "Much of this is governed by the types and levels of inventory tracking accuracy, labeling demands and accountability the client and their trading partners have established," he says.
As the SKU levels rise, volumes increase or complexity expands, the client should re-evaluate their needs in order to determine if a best of breed, tiered WMS solution is right for them, Billings adds. "Moving up to dedicated WMS solutions typically provides greater order and inventory tracking controls, increased cycle-counting strategies, configurable labeling and printing, a degree of configurable warehouse functions and enables technology choices, such as voice or RF-enablement versus traditional paper picking."
Ron Myers, executive vice president at Linkfresh, a U.S./U.K.-based ERP provider, points out that as product data increases, the ERP plays an increasingly important role as the information holder of record. WMS and other software silos have to refer to the ERP for product information such as packing specs and country of origin. "All that data lives in the ERP back office," Myers says.
And as information management becomes increasingly mobile, the data residing in the ERP system becomes a more powerful management tool, he adds.
"There's something for everybody out there in the market," Myers says.
SIDEBAR
Retrotech Enables Grocery Chain To Boost WCS Functionality With Layered WCS Approach
Retrotech Inc. has taken a layered approach to providing solutions tailored to manage existing systems to fit customers' specific business needs. This includes an extensive software library to augment or fully replace proprietary OEM WCS applications.
One grocery chain client using Retrotech's Base WCS (basic crane movement taking order processing and replenishment direction from the WMS) added some additional functionality that is normally part of the Enhanced WCS, such as some highly specialized put-away logic.
"Our software architecture allows a great deal of flexibility to deploy highly tailored solutions for our clients, without the boundaries and restrictions associated with pre-packaged software," says Ray Grifa, director of software.
Retrotech first deployed an "Enhanced WCS" in 1997 to manage a box system at a beef plant. The existing WCS it replaced was strictly managing equipment movement, and took order pick and put-away instructions from a higher-level system (WMS or ERP). "Our Enhanced WCS brought all the inventory and order management decision-making down to the WCS level, allowing the system to make much quicker decisions on product storage/retrieval and order fulfillment," Grifa says. "The plant no longer required a dedicated WMS and it increased plant throughput substantially."
The Enhanced WCS evolve from the company's base WCS software, and came about as warehouse systems were called upon to make faster, more accurate decisions. "Traditional WCS applications are good at managing equipment," Grifa explains. "WMS applications are good planning tools, but have trouble managing and reacting to real-time product movement information. The WCS knows the status of all equipment in real time and can make instantaneous decisions on what product to pull, in what order, and how best to transport it throughout the warehouse."
WMS and ERP systems are considered enterprise applications, and thus tend to take considerable time and money to adapt to changing business requirements, Grifa notes. "Because our Enhanced WCS is managed at the warehouse level, changes can be made quicker and much more efficiently," he says.
"We continue to see growth in the food and beverage sector," Gifa continues. "This includes companies with existing systems in need of an upgrade (a 'retrofit'), as well as those commissioning brand-new facilities (a 'greenfield)."
Retrotech provides initial needs assessments by working in conjunction with the customer to identify both near- and long-term material handling needs and objectives. "Once we have identified and refined functional requirements, we design and implement a solution based on a software core with more than 25 years of development behind it," Grifa says. "We execute "live" retrofits without disrupting order-fulfillment operations."
Retrotech solutions range from providing very simple equipment control, valuable to companies that already have an existing inventory management system and simply need equipment control. "On the other end, we can offer a WCS with very sophisticated inventory and warehouse operations management capabilities that rival many dedicated warehouse management systems (WMS)," Grifa says. "This capability is of particular benefit to organizations that need a solution that doesn't require a lot of internal IT support (both time and money) to deploy."
Retrotech has been providing WCS applications to our customers since 1986. The software has evolved from simple machine control to very sophisticated systems that can fully manage all product movement operations within the four walls of the warehouse. "In many cases, our Enhanced WCS can actually eliminate the need for a separate WMS application. Our WCS is designed to interface with a very broad range of automated material handling equipment - regardless of the OEM," Grifa says.
SIDEBAR
Most Important WMS Features For Food Warehouses
The WMS features of particular importance to food warehouses are:
- Manufacture and Date Sensitive Functionality: Lot Control, Expiration Date (FEFO), Manufacture Date, Sell-By Date, Quality Control, Global Recall Functionality, Traceability (FSMA requirements), Food Safety Inspections and Audits
- Storage Functionality: Temperature Control, Freezer Requirements, Ripening Requirements, Food Segregation/Non-Comingling, Item Flooding (configurable storage rules), Space Utilization, Stock Rotation (FEFO support), etc.
- Receiving Functionality: ASN Receipt support (pallet level, and sometimes case level), Cross-Docking, Real-Time Replenishments, GTIN/UPC support, Pallet Build Functionality, 1-step receiving/putaway with no handoffs
- Picking Functionality: Catch Weight, Stackability, Pallet Build Requirements, Layer Picking, Voice Picking, Put-to-Store for Grocers, GTIN/UPC functionality, Pick across 2 pallets for different orders
- Shipping Functionality: Collaboration with Co-Packers, support Multi-Building Campus, Cubed Load Planning, Item Stackability, Pallet Stackability, Load by temperature control, 3rd Party Billing, Traceability by user from items Receipt all the way through shipping
Source: Frank Camean, president and CEO of 4SIGHT.
For more information:
AFS Technologies, afsi.com
Dematic, dematic.com
Daifuku, daifukuwebb.com
Forte Industries, forte-industries.com
Great Plains, Microsoft.com
HighJump Software, highjump.com
Intelligrated, intelligrated.com
JDA Software, jda.com
Linkfresh, linkfresh.com
MADE4NET, made4net.us
Manhattan Associates
Reddwerks Corp., manh.com
Retrotech Inc., retrotech.com
Vargo Material Handling, vargosolutions.com
WITRON Integrated Logistics, witron.de*