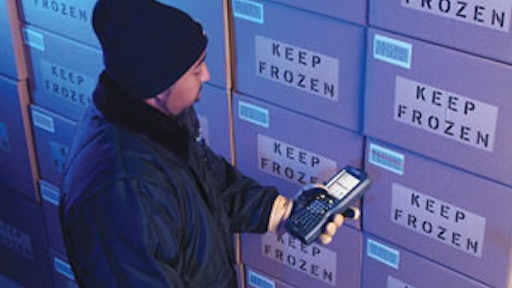 Warehouse Management Systems (WMS) have been around for over a decade and are well-entrenched as the workhorses of the warehouse.
However, industry experts say that the industry is in the midst of a new cycle that is seeing major changes occurring to WMS and what they're used for.
"One thing that's happening is an expansion of WMS into other areas of the organization, primarily around manufacturing and traceability of raw materials into finished goods," says Michael Farlekas, vice president of sales for the Americas for RedPrairie Corp., Waukesha WI.
Farlekas says that today's food companies need WMS systems that are more flexible than ever and are able to understand the entire scope of the production process, from production and manufacturing, down to the lot level itself.
Inventory Tracking
"We're seeing a trend toward the adoption of WMS. It's being driven on the beverage side by increased levels of SKUs as marketing departments are introducing new kinds of energy drinks and different flavors," notes Chad Collins, vice president of global strategy for HighJump Software, Eden Prairie, MN. "The beverage companies are now looking to WMS to deal with this added complexity."
One example is City Brewing Co. LLC, a La Crosse, WI-based maker of tea, energy drinks and beer.
"We have up to 60,000 inventory transactions a month. We have 700 finished product SKUs and we have contracts with 35 beverage companies that each handle things a little bit differently," says Pat Sake, the brewer's warehouse manager.
With this challenge going on daily, the company needed a way to make sense of it all and at the same time keep a tight rein on costs, due to the low margins in the industry.
The company introduced a warehouse management system from HighJump Software, which features a bar code scanning system, with onboard computers on its lift fork trucks that are used for scanning finished product.
"Once the products are made, put into the bottles, palletized and sent into the warehouse area, we apply a pallet tag with a bar code on it," explains Sake.
When the forklift operators scan the tag, the WMS automatically removes the components that went into product on the pallet-the cartons, cans, ingredients, labels, caps, crowns-all of these are removed from warehouse inventory by a simple scan. The pallet is also put into City Brewing's full goods inventory. The company ends up with real-time records that reflect raw material used and finished product produced.
"Not only do we track all that inventory, but it allows us to adhere to a strict FIFO (first in first out) process and also allows us to meet our customers' reporting and recording requirements," says Sake. "All of the required reports for the FDA, for federal tax requirements and more, are all easily tracked and met with our system."
In addition, customer audits were also made easier. With the prior system, City Brewing's customers would have to come in on a monthly, quarterly and year-end basis and do physical count audits. "Now the bulk of them don't even come in," Sake says. "They know our counts are accurate."
Supply Chain Optimization
"More companies are trying to optimize their supply chains. As they become more familiar with what a WMS does and how it can optimize what's going on within their four walls, they're looking out across the ecosystem of the food supply chain and how they touch the different pieces of it," notes Scott Gillies, account executive, food industry, for Manhattan Associates Inc., Atlanta.
Geest PLC, one of the leading fresh prepared foods and produce manufacturers in the UK, has multiple production sites. Over the past few years, Geest has had great success in marketing its products, which has resulted in stellar growth for the company, going from sales of 664 million pounds to a projected 1 billion pounds in just a few short years.
However, rapid growth was presenting a challenge to the company's systems and network of facilities, which included six companies that fed into seven different warehouses.
Part of the solution involved constructing a distribution center in Spalding, Lincolnshire, UK, which rolled all of its DC activities into one structure. The company also approached Manhattan Associates about providing a new WMS. In addition to installing its Warehouse Management for Open Systems, Manhattan replaced the company's paper-based system with a paperless RF-driven operation that would be managed directly by the WMS.
Workers at the facility are also using LXE MX2 hand-held and truck-mounted scanners. The LXE mobile computers incorporate bar code scanning technology for accurate inventory identification and are used for a variety of tasks including order picking and stock control. The information from the PDAs is integrated with the WMS and provides real-time data communications within the operation.
The WMS handles the huge amount of orders that run through the system-which often provide less than a day between ordering and subsequent distribution-by running the order fulfillment process on a perpetual seven-day cycle.
It is also flexible enough to be able to ramp up for massive demand peaks in the summer and Christmas.
"Our operation runs around the clock and with our new warehouse management system, anyone can see what is happening in the business and that information is in real time," says Terry Moore, logistics general manager for Geest.
Slotting Optimization
"Slotting optimization is one of the trends we see going on in the warehouse space. Some of the advanced modules, like slotting optimization, make sure you get the right items in the right slot," explains Manhattan Associates' Gillies.
Spartan Stores Inc., Grand Rapids, MI, distributes food to 450 independent retail groceries as well as its own retail locations throughout Michigan, Indiana and Ohio.
Because of the incredible volume of inventory flowing through its distribution centers, the company needs to keep tight control over its distribution system. With this in mind, Spartan is currently rolling out a warehouse management system in its Grand Rapids distribution center.
"We're using the WMS for two primary purposes right now," notes Lochlan R. McKinnon, director of supply chain support for Spartan. "The first is for the day-to-day slotting activities."
Spartan's freshware warehouse in Grand Rapids, contains several different rooms in it-grocery, general merchandise and fresh commodities-each of these are managed separately within the system.
"The way we structure it is that the inventory control supervisors in each building are responsible for the installation of the WMS and maintaining the rules that actually drive it," says McKinnon.
Through the WMS' slotting optimization software, the system allows the supervisors to evaluate where things are slotted in the warehouse by providing them with an evaluation of all the items in the DC, analyzing the velocity of each of them and then forecasting their movements.
The WMS then provides a score for each time, anywhere from "good" down to "poor." It then recommends locations for the items, allowing Spartan to re-profile the warehouse.
Using the system, Spartan's inventory control supervisors go through their inventory on a daily basis and decide where they want to slot new items as they come in or where they want to move existing items, thereby keeping the optimum slotting order for their areas.
Thanks to its WMS, Spartan has optimized its picking and replenishment activities.
"We save on selection time and the distance our pickers must travel when we're running the orders everyday, because we have product in the right slots now," McKinnon says.
Click here to view the top WMS vendors in the Industry
Use It...And The Savings Will Follow
"A lot of companies are moving away from legacy, customized solutions that were put in during the 1993 to 2000 era and we're seeing more packaged solutions," says Waukesha, WI-based Red Prairie Corp.'s Michael Farlekas, vice president of sales for the Americas.
The warehouse management systems of the past were 50 to 60 percent customized, this meant they were not only more complex, but also more expensive to deploy. Only the larger food companies-the Krafts of the world, could comfortably afford them.
"Today's solutions are three to five percent customized," notes Farlekas.
According to the experts, companies are looking for more flexibility and functionality, yet they don't want to tie up their IT department's resources in order to get it. Today's packaged warehouse management systems call for much less of a demand for IT resources.
"Our task is to eliminate modifications and get more into a vertical segment of code," says Bob Morgenroth, director of WMS solutions for Retalix USA Inc., Plano, TX. "In other words, we want to provide our customers with what they had in the old days, eliminate their modifications and custom library and continue to move forward from that perspective. The real challenge is to see if we can pare it down and deliver something of value to the smaller DCs.
"We've shown we can improve the things in our base software packages and make them more user-friendly and also increase productivity as far as managing the systems in general."
Part of making software more user-friendly involves the inclusion of layers of adaptability tools in the systems that will allow customers to make some changes to their business processes in the systems.
"It reduces their overall cost of ownership, because they're not reliant on us to come back and make changes to source code modifications every time there's a change in their business processes," explains Chad Collins, vice president of global strategy for HighJump Software, Eden Prairie, MN. -B.S.