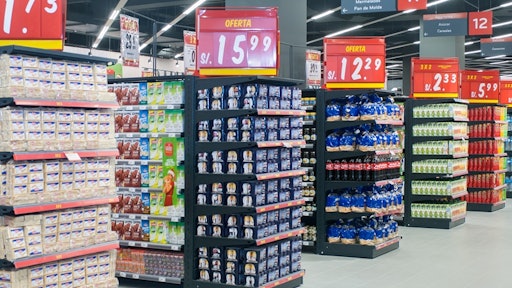 With technology offering new ways to make warehouse operations more efficient, the warehouse can become a competitive advantage for a company that manages food and beverage inventory. While automation offers advantages in the areas of dock management, put-away, sortation, picking and tracking, deploying such tools requires a warehouse control system (WCS). In order to synchronize the automated functions with other warehouse tasks, many companies also find it necessary to have a warehouse management system (WMS), which can be viewed as the "brains" of the warehouse.
While this article focuses on warehouse management, software providers encourage users to take a comprehensive view of business management software. Just as WCS and WMS have evolved over time, so have transportation management systems and demand planning and fulfillment applications. Each solution has the ability to react and respond to supply chain disruptions as they occur. But each also traditionally operates within a "silo" and does not take into account the constraints across the different application areas.
As warehouse managers consider management systems for these different "silos," they will find it easier to manage the different functions if they can easily interface with each other.
According to Material Handling Institute (MHI) 2014 Industry Report, material handling executives' top three challenges are: 1) Controlling cost-to-serve; 2) Optimizing the distribution network footprint; and 3) Integrating technology solutions and systems across functions and channels.
The MHI report identifies two major strategic priorities for the supply chain: supply chain analytics and multi-channel fulfillment. These two priorities are closely interrelated.
Analytics provides new options
Analytic tools harness data from both internal and external sources to produce insights that can reduce costs while improving service quality, the MHI report notes. These tools have become more important as companies need to fulfill orders from multiple customer types.
"You have these different channels of orders coming in; different service requirements," says Shyam Kirshna, executive vice president at Softeon, the Reston, Va.-based software provider. Retail and wholesale customers, and even individual consumers (through web stores), have different order fulfillment preferences and constraints. "What are the best transportation strategies; should I use UPS or LTL? Or how should I use my own fleet more optimally? How do I decide what's the best DC to drop an order?" Krishna asks rhetorically. "You improve customer service based on these order fulfillment preferences or DC rules that you define through the distributed order management solution."
The solution, he says, is not only to effectively address multi-channel fulfillment, but also provide real-time visibility across the entire DC landscape.
"We have new automated data flows that allows us to make sure we always have real-time business analytics and full control, so customers can change direction fast – in the face of consumer demand," says Dan Sanker, president and CEO of CaseStack Inc., the North Fayetteville, Ark.-based 3PL.
Multi-channel fulfillment raises costs
Order fulfillment is especially critical in a multi-channel setting compared to a traditional brick and mortar setting because it represents significantly higher costs: up to 20 percent of online-order revenue, which is about four times the proportion for traditional channels, according to Chuck Fuerst, director of product strategy at HighJump Software.
An adaptable WMS can provide all the tools needed to set up an in-store fulfillment operation, including order capture, store mapping, work queue management, wave planning and real-time inventory tracking.
Fuerst says it can enforce the exact supply chain execution capabilities that are required to meet customer demand.
A retailer, wholesaler or manufacturer can create new offerings and workflows to provide value-added services to their respective customers, Fuerst says. These services include greater inventory visibility; the flexibility to dynamically schedule deliveries and select shipment methods; manage delivery directly to the customer along with back-end tracking and reporting; and seamless management of online orders and returns alongside existing retail channels.
Manhattan Associates has rolled out a system specifically designed to help retailers identify the most profitable order fulfillment option. Called Available to Commerce, it gives retailers the ability to offer specific units of inventory available for sale in the most appropriate channel (online, store, same-day delivery, etc.) and then optimize how the order is fulfilled, based on various strategic planning and daily operational variables.
"There are many factors to consider in constructing the perfect omni-channel order: when you sell it, where you sell and to whom you sell it," says Brian Kinsella, Manhattan Associates vice president, order management. "The ability to match inventory to demand without bleeding one channel to feed another is an essential element in today's retail environment."
"Available to Commerce offers a game-changing capability for retailers as they can now differentiate between simple inventory visibility and a more thoughtful view of inventory availability," says Kinsella. "Through our order management application, retailers can gain a comprehensive view of their inventory across channels, determine how much of it should be offered across various delivery methods and channels and identify the best path to profitable fulfillment."
Wave Versus Wave-less Fulfillment
Multi-channel order fulfillment has caused some supply chain decision makers to take interest in "waveless" fulfillment strategies.
Companies with large numbers of SKUs of uniform size and shape have traditionally not sorted down into individual orders when they are being picked, enabling more orders to be picked during a pick cycle. Instead, the WMS creates order waves to see how much labor and how much time it will take to complete each wave. This is known as "wave" picking. As the wave works its way through the DC, the WMS allocates how many downstream operators will be needed to pack orders once the picking process is completed. Once the items for the wave have been picked, they then have to be sorted into orders.
The wave strategy makes sense when working with a large volume of uniform products, but it creates issues when orders for different SKUs are received simultaneously. "You can't release the next wave until you reach a clear point," says Dave Simpson, executive sales manager at SSI Schaefer, the Germany-based logistics provider. Hence, some WMS systems have introduced "waveless" algorithms that update the order management system every time an order is assembled. Simpson notes that the "waveless" strategy can apply to either a goods-to-person or person-to-goods picking system, Simpson says.
Integrate More Functions
Several software vendors noted the importance of interfacing WMS with order management software. "The (order) configurations are being driven by the (order) event triggers," says Eric Lamphier, senior director of product management at Manhattan Associates.
Pacific Star, a Guadalajara, Mexico-based food distributor, recently deployed a new set of fulfillment software solutions provided by its WMS provider, JDA Software, to establish a full view of inventory and ensure that the company's clients receive products on time and in optimal condition. The company previously used a customized fulfillment plan that utilized information from the ERP system, the WMS and Excel spreadsheets.
The new intelligent fulfillment platform enables Pacific Star to ensure more accurate inventory levels through improved supply chain planning and more efficient product replenishment. "JDA Intelligent Fulfillment platform integrates with the WMS, TMS, supply chain planning and distributed order management," says Sahi Camacho, JDA Software's customer executive for Latin America. "PacificStar chose this as the ideal solution to help strengthen and streamline their supply chain, which runs over 6 million miles per year and receives more than 11,000 orders each month."
Traditional forecasting systems generally do not account for execution level constraints in the warehouse or as part of the transportation network or overall labor capacity, says Prashant Bhatia, JDA Software's vice president of product marketing. By using intelligent fulfillment, companies know true inventory availability across the supply chain allowing them to profitably fulfill customer orders.
Pittsburgh, Pa.-based Giant Eagle Inc., one of the largest food retailers and distributors in the U.S., has expanded its relationship with Manhattan Associates and will implement its transportation management, distributed order management and store fulfillment solutions as part of its existing use of the Manhattan SCOPE platform. This new agreement is part of Giant Eagle's technology strategy to simplify and consolidate its IT infrastructure, reducing the number of disparate supply chain vendors and systems from eight to one, according to Giant Eagle.
Giant Eagle chose Manhattan Associates based on its successful implementation of the company's WMS and the value of its supply chain commerce platform. The platform will now serve as the company's single system for driving operational efficiencies and allowing easier implementation of new, complementary solutions, such as TMS.
Allan Brothers, a Naches, Wash.-based fruit grower, packer and shipper, streamlined its functions and enhanced its tracing capability with the HighJump Supply Chain Advantage Suite. The software package unites fruit packing lines, shipping and receiving docks, a refrigerated DC for packed fruit storage, as well as regular and controlled-atmosphere storage warehouses. Allan Brothers reports that programmer time for adding search fields to pages has been reduced with the new filter features. In addition, the company can now handle more information faster, thanks to a nearly 75 percent reduction in network bandwidth and the ability of the application server and web server components to run on 64-bit versions of Windows servers.
"We needed to make some infrastructure changes to keep up with our growth," says Autumn Bernier, CIO and systems manager, Allan Brothers. "The enhanced graphing capabilities have given us greater visibility into our inventory and customer trends."
Supermercados Peruanos, Peru's second largest supermarket and hypermarket chain, gained more control over its supply chain by deploying an WMS rather than relying on 3PLs for its distribution, notes Eduardo Gonzalez de Boada, supply chain director for the Lima-based company. The cloud-based WMS from Atlanta, Ga.-based LogFire improved inventory replenishment and customer service, helping the company expand to 30 more stores in Peru in the last three years.
Improved inventory visibility has been helpful replenishing inventory both within stores and between stores and company-owned distribution centers, Gonzalez de Boada says. Deliveries to stores are now 97 to 99 percent accurate. Inventory visibility is especially important as the company's supply chain now covers larger distances; deliveries can take close to three days for some stores. The latest development with LogFire is a workforce management system which will increase the productivity in the DC.
LogFire is also working with Supermercados on a store management system that sits on the same platform as the WMS. Both systems could be implemented as stand-along solutions.
The WMS will also support Supermercados future plans to introduce grocery e-commerce.
Dietz and Watson, the Philadelphia, Pa.-based meat and cheese manufacturer/distributor, realized back in 2006 that its home-grown WMS was not doing a good job managing serialized data, says Mike Wiese, system administrator and technical program manager. Different products had different code dates and customers had different delivery expectations.
Dietz and Watson also wanted more control over its distribution. The company was using as many as seven 3PLs, each of which required Dietz and Watson to adhere to their own data requirements. The company decided to centralize its distribution operations in one DC. To gain more control over the order fulfillment and delivery functions, they invested in freezers, automatic conveyor and sortation systems in a new 300,000-square-foot facility.
The company deployed a WCS for the conveyor and sortation systems, but to ensure they would optimize the benefits, they sent a request for proposal to 20 software providers for a new WMS. Westerville, Ohio-based Transtech Consulting evaluated the WMS proposals. They eventually selected the Softeon suite that includes order management, labor management, transportation and slotting.
Dietz and Watson decided on a phased approach of implementing one product line at a time over a period of four months. Now, product is received from the manufacturing facilities in Philadelphia, Pa. Baltimore, Md. and Corfu, N.Y. Softeon developed an interface with the corporate operating system to achieve complete real-time order and inventory synchronization.
In 2013, Dietz and Watson's plans were temporarily scuttled by a fire that destroyed the DC in Delanco, N.J. Wiese says the company wasted no time designing a new facility with even more automation, including picking, sorting, labeling and robotic palletizing. Wiese says this would not have been possible if the company didn't have confidence in the WMS system. "Direct pick to belt will speed up the process," Wiese says.
Tracking units in shorter time intervals
As order fulfillment becomes faster thanks to new technology, management software will have to also be capable of tracking individual products. Shippers need to be able to track products as government and trade organizations will have stricter product tracing requirements.
Knapp Logistics Automation Inc. has already developed solutions capable of capturing package codes and trace this information throughout the entire supply chain, notes Robert Engelmayer, business area manager.
Prism Logistics has deployed the AFS Technologies' WMS platform with functionality and integration with GS1 standards to provide single-scan traceability, says Jere Van Puffelen, president of Stockton, Sacramento, Livermore and Hayward, Calif.-based Prism Logistics. Distributors can rely on a single WMS tool to gain better visibility into food traceability and automate data throughout the warehouse with a single scan.
Prism Logistics has had the ability to scan UPC codes for years, but the AFS Technologies upgrade now allows customers to scan a GS1 label once, extract multiple data elements including GTIN, lot and quantity. Prior to the GS1, lot codes typically had to be logged into the system manually.
Van Puffelen says GS1 is especially important in light of the new food safety rules. In the meantime, he expects more of his customers' customers to be mandating scannable lot codes. "The whole chain of custody will become more of an issue; who has it when," he says. The fact that the GS1 is an international standard makes it all the more attractive to companies in the supply chain.
WMS and WCS: Do you need both?
WMS and WCS systems both continue to evolve. Some WCS providers argue that new WCS systems are capable of handling enough management functions that a WMS, which is more expensive, is not necessary.
A WCS controls automated equipment that can interface with a WMS. The WCS is the "middleware" between the WMS and the warehouse floor to manage all real time communications, observes Richard Lanpheare, director of business development at Retrotech Inc., the Rochester, N.Y.-based system engineering and integration firm. The WCS can manage and control the material handling equipment, data collection systems, order planning and processing, and the pick, pack and ship processes. It is the single interface for a stable, flexible control of warehouse operations, Lanpheare says.
The WCS can instruct a diverter on a conveyor to direct a case down a specific chute, or instruct voice-directed picking, or signal an automatic packaging system to place a label on a package traveling along a conveyor belt in an effort to streamline the process.
Some WCS software can also perform put-away, inventory transactions, replenishment, order processing (based on WMS rules) and labor management. A labor management component in a WCS can provide a real-time view of operations as a dashboard, with the ability to identify performance problems, bottlenecks and other obstacles to productivity to give supervisors a view into their operations so they can take corrective action immediately.
Power Automation Systems, the Lathrop, Calif.-based storage system provider, has added a WMS module to its WCS software that can manage outbound orders, says Cory Hypes, executive vice president. "We see it as a 'mid-level WMS' for food and beverage manufacturers," he says.
Viastore Systems, the Grand Rapids, Mich.-based international intralogistics systems integrator, has upgraded its software solution for AS/RSs to include the ability to pick orders as they are received, says John Clark, marketing manager. "We do a waveless picking approach," he says of the company's software. "We've combined a warehouse control and warehouse management solution into a warehouse execution system that can talk to automation and can talk to conventional (picking) as well," he says.
Forte Industries, the Mason, Ohio-based software provider, has developed its Smart Warehouse Suite of Warehouse Execution Software (WES) designed to provide WMS-like capabilities in lieu of a full-fledged WMS, says Tom Rentschler, vice president of sales and marketing. The software offers functions typically found only in WMS packages. This can include receiving, put away, replenishment, inventory tracking and cycle counting, waving. "We can handle anything relating to fulfilling the order once it has been released to us from an ERP or order management system."
Some clients have deployed Forte's WES warehouse director module in place of an WMS. "It's getting its execution from an ERP," Rentschler says. In many cases, the WES can supplement existing legacy WMS or enterprise resource planning warehouse modules and eliminates the need to invest in a new WMS package, he says.
"A lot of companies don't need all the functionality a tier 1 WMS provides," Rentschler says. "Fully implemented, it (tier 1 WMS) is certainly more than a million dollars for most companies and could be quite a bit more than that."
Specific concerns building interest in both WMS and WCS solutions are: food safety regulations, a need to replace legacy software, and the dynamics associated with order fulfillment in a multi-channel distribution world.
For companies to deploy new technologies successfully, they need to have a technology implementation plan, according to logistics consultant Tony Vercillo, Ph.D. Dr, Vercillo notes that half of warehouse technology implementations fail, usually due to poor planning.
At many companies, the supply chain function lags the commercial side of the business when it comes to capitalizing on the power of analytics, the MHI report notes. As technology evolves, the supply chain will play a bigger role in determining a company's success.
Supply Chain Analytics Moves Forward
The Materials Handling Institute notes the following convergence of forces is helping to expand the possibilities for supply chain analytics:
Data proliferation. The amount of data available for analysis — especially supply chain data — is growing quickly.
Cheaper data storage. From 2000 to 2008, storing a MB of data became 100 times less expensive.
Faster processing power. Processing speed has increased 256 times since 2000.
Anywhere, anytime connectivity. Mobile data is now available almost everywhere.
Better tools. Innovative tools make sophisticated analysis simpler and more cost effective.
Advanced visualization. New tools and techniques help show patterns in huge volumes of data.
WMS Tiers 1, 2 and 3; Cost and Functionality
WMS Type Cost Range Functionality
Tier 3 $20k-$150k PC based, Create work orders, print shipping labels, zone picking, inventory control
Tier 2 $150k-$500k PC/mainframe, automated wave picking, cross docking, system directed replenishment,
load planning, real time data, partial integration
Tier 1 $500k-$2.5M Mainframe or web based, voice activated, RFID tagging, wireless communication, Full
integration with ERP
SOURCE: IFMC, Inc.,Yorba Linda, Calif.
For more information, contact:
AFS Technologies, 877-821-3007, afs.com
CaseStack, 866-828-7120,ww2.casestack.com
Forte Industries, 513-398-2800, forte-industries.com
HighJump Software, 800-328-3271, highjump.com
JDA Software, 888-441-1532, jda.com
Knapp Logistics Automation Inc. 678-388-2880, knapp.com
LogFire, 678-261-9000, logfire.com
Manhattan Associates, 877-596-9208, manh.com
Material Handling Institute, 704-676-1190, mhi.org
Power Automation Systems, 209-249-1616, powerautomationsystems.com
Prism Logistics, 925-838-1691, prismlogistics.com
Retrotech Inc., 585-924-6333, retrotech.com
Softeon, 703-793-0005, softeon.com
SSI Schaefer, 800-876-6000, ssi-schaefer.us
Transtech Consulting, 614-751-0575, transtechconsulting.com
Viastore Systems, 616-977-3950,viastore.com