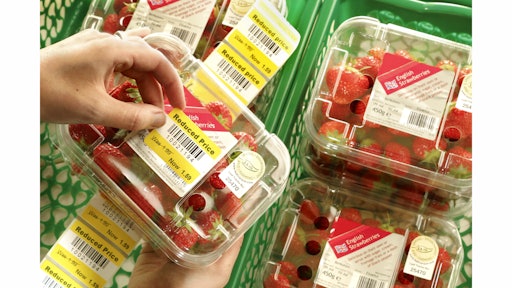 Keeping track of all the regulations for food and beverage labels has become a bigger challenge for f&b supply chain managers in recent years. Changes have been announced to the Nutrition Facts labels. Companies that export to Europe have to comply with a new European Union regulation concerning allergens. Produce shippers are facing requirements to meet the new Produce Traceability Initiative. Some retailers are requiring vendors to comply with GS1 standards. 
With all of the new and pending regulations, f&b supply chain decision makers need to know their label software systems will allow them to provide the necessary information on product labels.
In addition to helping f&b supply chains comply with label information requirements, label printing solutions continue to offer automatic identification and data capture capabilities for inventory management. Most label printing software used in f&b warehouses integrates label printing with inventory tracking operations.
By giving f&b companies easier access to more accurate inventory data, users in turn can respond to customer needs faster.
Companies can print labels for almost any application, including shipping and receiving, order and price sheets, packing lists, and compliance labels.
Gate Gourmet, which provides meals for airlines and railways, recently found a way to provide special meals more efficiently in response to increasing customer requests for such meals.
Based on NiceLabel PowerForms desktop, its Swiss partner Labeltech AG developed a data-entry form for Gate Gourmet that shows all the product database entries and allows quick printing in any given quantity. The solution includes a thermal transfer printer, a POS touch-screen PC and heat-resistant labels. The solution has proved more efficient than the pre-printed stickers that required a chef to check off boxes.
Printer considerations
Label printers are available as small mobile devices or stationary tabletop industrial printers. Ken Boyd, marketing director at Supply Chain Services, an Oakdale, Minn.-based reseller of label solutions, cites the following factors as important in selecting a printer: durability, power, speed and adaptability.
The best printers also feature open architecture, which allows for printers to advance with the speed of technology and be customized for a business, Boyd notes. In addition, some printers are able to connect with the cloud for printing and device management. Some also have built-in connections to educational resources and on-demand product support.
By reducing paperwork, these solutions also lessen an operation's carbon footprint and improve sustainability.
Companies that use automatic identification and data capture solutions – such as bar codes and RFID tags – can fulfill and replenish orders faster and more accurately. Such tools also allow companies to trace products in response to safety recalls. In addition, companies use these solutions to track assets such as pallets, cases, bins and racks. 
Labels integrate with business software 
Dean Jackson, global partner manager for manufacturing at Zebra Technologies, a provider of label printers and software, identifies two of the most popular ways label printers integrate with Enterprise Resource Planning (ERP) software:
Direct XML: XML (Extensible Markup Language), a set of rules for encoding documents electronically, offers a universal way of exchanging documents and data across applications and platforms. With Direct XML, a label design tool designs the label and loads the label templates in the printer's memory. ERP data streams are sent out as XML directly to the printer for label printing and/or RFID encoding.
Middleware: ERP output is directed to "middleware" software installed on a server instead of going directly from the ERP to the printer. The middleware translates the ERP output into a format the printer can recognize. Examples of middleware include Teklynx, Loftware, Bartender, Niceware and Adobe Interactive Forms. 
McLain Farms, a Lyons, Ga.-based onion grower, recently installed a barcode label system in its packing facility to comply with the Produce Traceability Initiative, an industry-wide effort to improve track and trace procedures through the food manufacturing supply chain. McLain Farms installed a Dynamic Systems barcode printer. The Dynamic Systems barcode tracks, labels and ships an unlimited number of products and records their specific characteristics (type, size, grade, weight, etc). The system automatically generates bills of lading and verifies shipments which eliminate charge-backs.
McLain Farms has three label printers cart from one touchscreen on the packing floor. From that screen, the printers print the bin label, the case label or the pallet label. The equipment is housed on a rolling cart on the packing floor that can be moved to whichever production line is active.
A simple touch of the screen determines the contents of the label and how many labels to print. The software automatically collects production information—lot numbers, product attributes, weight and quantity of cartons packed—and provides inventory and traceability reports. The label information is then stored in the inventory database which provides data for inventory management, traceability and shipping. The cartons may be accumulated onto a pallet and tracked with a single pallet identifier.
Randy McLain, owner of the farm, says the system increased production speed. He says it delivered real-time, accurate production reports; fulfilled traceability requirements; provided accurate real time inventory; printed professional looking carton and pallet labels; and expedited van loading.
The PTI is one of several standards that food handling companies need to pay attention to, notes Jenna Wagner, global marketing director at TEKLNX, a label software solution provider. Companies handling exports to Europe have to comply with allergen regulations, she notes. 
New software integrates processes 
Sartori Co., a cheese manufacturer based in Plymouth, Wis., selected a label software solution from TEKLYNX last year in response to the need to manage more products. The company produces limited edition cheeses in addition to classic offerings. Multiple custom labels are required which vary in size, type and weight. The company also creates labels for both internal and external use. Pallet tags are used in the warehouse to track inventory quantity and location, while one-off labels are created to communicate specific information to different teams. Various customer-facing labels are also used on cases of product and individual items to provide detailed information including item weight.
Sartori's previous labeling process was not integrated with its ERP system and used two different labeling software systems to generate labels within the facility. Using multiple applications with local workstation installations resulted in difficulties for label design and template coordination and complications in the upgrade and maintenance process, according to a TEKLYNX case study. While Sartori's quality control team was entering information for use on over 1,000 label templates, users were printing directly from the design application. This enabled print users to modify label designs on an ad hoc basis, resulting in increased errors and administrative overhead.
Sartori worked with Waukesha, Wis.-based reseller Miles Data Technologies and TEKLYNX to help Sartori reconstruct its labeling process and developed new ways to incorporate business data from their ERP system into their label designs.
A user now simply has to scan a barcode on the work order and all relevant information is pulled into the label design. This process, which previously took up to a minute per job, has been reduced to seconds, according to Teklynx. Integration has increased productivity on the lines while improving communication between the quality control and warehousing teams. 
Barcodes versus RFID tags 
While barcodes allow companies to manage inventory efficiently, RFID offers an alternative data capture and identification technology. RFID uses radio waves to transfer data from an electronic tag, called an RFID tag, through a reader to identify and track the object. RFID tags can be read from several meters away and beyond the line of sight of the reader and can hold more information than a barcode.
RFID can uniquely identify each item or asset tagged, while most barcodes only identify the type of item (i.e. via the UPC code), but not uniquely. With barcodes, the scanner must scan one item at a time and the scanner must be right in front of the barcode. With RFID, there is no line of sight and scanning can be done much faster.
To encode RFID tags, a user needs: 1) the tags themselves, 2) RFID encoding software, and 3) a printer capable of encoding the code onto the RFID tags. Companies using RFID tags for managing their own inventory also require RFID readers, notes David Kane, TEKLYNX's product manager for label design solutions.
While RFID tags bring new capabilities to managing and controlling inventory, the technology is more expensive. Many f&b supply chain managers believe that barcodes provide the necessary functionality.
To date, RFID tags are primarily used by retailers, TEKLYNX's Kane says. He says retailers that have embraced RFID have experienced between 5 percent and 15 percent sales gains, due to faster and more accurate inventory management.
According to VDC Research Group, while there is overlap in functionality and capabilities of barcodes and RFID, the combination of the two solutions provides the best of both worlds: more actionable business intelligence with little disruption to existing solutions and processes from a robust technology platform.
Many of the newer barcode printers have the ability to also print RFID tags.
From a functional point of view, there are three principal drivers of using both barcode and RFID, according to Datamax-Oneil, a provider of label printers and software: 1) When the environment requires both visual and encoded data; 2) When more memory and/or greater security is needed; 3) When non line-of-sight tracking and visual data tracking are both needed. 
Tools for temperature monitoring 
RFID tags are playing a bigger role in managing the transport of temperature-sensitive products. While RFID began as an inventory control technology, the electronic tag's ability to gather more information than other tools has given it a role as way to control foodborne illness. RFID tracking can be managed by many existing software systems.
The sanitary transport rules under the Food Safety Modernization Act (FSMA), which have not yet been finalized, could impact the use of RFID tags in food handling.
Infratab Inc., which provides temperature monitoring sensors, allows users to track temperatures using both barcodes and RFID tags. Infratab sensors can track temperature by case and even item level. Infratab's data collection software covers a wide range of functions from temperature mapping of rooms and transport vehicles to fine-tuning best-used-by dates, monitoring shelf life, and correlating product life with quality assessments. The company's predictive analytic reports enable analysis of data, budgeting and forecasting, matching sales to inventory freshness, and score carding suppliers and processes.
Infratab is currently introducing near-field communication (NFC) RFID tags that will allow mobile phones to act as RFID readers. "The ability to afford a reader goes down to being able to have a smart phone," says Terry Myers, company president.
As f&b supply chains encounter more regulations to comply with, f&b decision makers are finding label software specialist a key ally, not only in staying abreast of regulations but in finding more efficient ways to manage inventory.
For more information, contact: 
Datamax-Oneil, 800-816-9649, datamax-oneil.com
Dynamic Systems Inc., 800-342-1662, dynamic-systemsinc.com
Infratab Inc., 805-986-8880, infratab.com
Miles Data Technologies, 800-272-9013, milesdata.com
NiceLabel, 888-894-6423, nicelabel.com
Supply Chain Services, 888-231-9452, supplychainservices.com
TEKLYNX, 888-629-4444, teklynx.com
VDC Research Group, 508-653-9836, vdcresearch.com
Zebra Technologies, 866-230-9494, zebra.com
Companies in this article