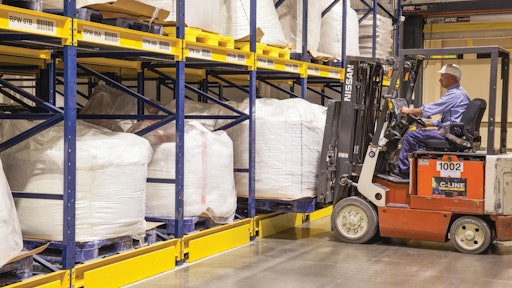 Food manufacturers can improve warehouse efficiency by expanding package sizes where possible. In order to accommodate larger packages, General Mills Inc. reconfigured its warehouse in Cedar Rapids, Iowa, a project that required the assistance of a material handling equipment distributor and a pallet rack manufacturer.
By switching from 50-lbs bags of ingredients to 2,500-pound bulk super sacks, the company enhanced efficiency and minimized material handling, according to Scott Ladwig, an inventory analyst at the plant.
Ladwig turned to RMH Systems, a Bellevue, Neb.-based material handling equipment distributor, and Steel King, a flow storage system and pallet rack manufacturer in Stevens Point, Wis. After consultation with General Mills and Steel King engineers, RMH Systems sales engineer Marty Frangenberg recommended an integrated SK 3400 flow storage and SK 3600 pushback rack system.
In a flow storage system, dynamic flow rails are inclined in a static rack structure, allowing loads placed on one end to move by gravity on rollers to the unloading end, with speed controllers acting as gentle brakes. As a load is removed, the loads behind it move forward automatically.
Once loaded, FIFO product rotation is automatic and the rack eliminates labor and fork truck operation to arrange loads. Forklifts are required only for the initial and final unloading. Since only two aisles are necessary, aisle space can be reduced by 75 percent and up to 100 percent more product can be stored than with traditional selective pallet racking.
Unlike static, single-pallet deep selective racks, a dynamic pushback rack system allows storing pallets two to five deep while providing access to a variety of different SKUs. Pallets are stored behind each other in a series of nested carts and are loaded from the same side of the system, eliminating separate aisles for each function. Composed of a stable rack along with a series of inclined carts and rails, when one pallet is pulled, the one behind it rolls forward.
To enhance rack longevity, General Mills chose SK3400 and SK3600 rack systems by Steel King; both feature a bolted beam connection to structural channel columns.
"With our new integrated pallet flow and pushback rack system, our General Mills plant is operating more safely and efficiently than ever," says Ladwig. "We're ready for continued growth for the next 15 years and beyond."