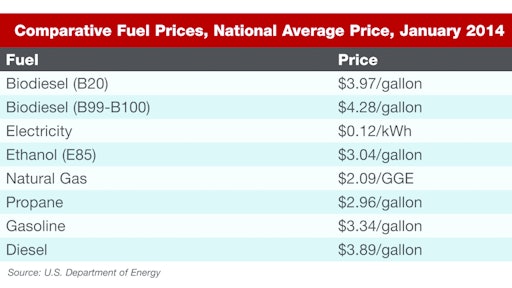 Fleet managers have more options for alternative fuels today as the fueling infrastructure continues to evolve. Yet, the promise of enhanced sustainability from the use of alternative fuel-powered vehicles bears heavily on fleet managers trying to stay up to speed on all the different options. In addition to the benefits offered by some alternative fuels such as lower costs, smaller carbon footprints and reduced emissions, fleet operators have to consider the upfront costs, including the need to train drivers and maintenance technicians about new technologies.
In trying to decide between ethanol, propane, biodiesel, electric vehicles and electric hybrids, a fleet manager needs to consider several factors, noted Brian Tabel, director of marketing at Isuzu Commercial Truck of America. In addition to the investment needed to convert engines to alternative fuels, Tabel said fleet managers have to consider the available fueling infrastructure, tax credits and incentives, all of which can vary significantly among geographic regions.
In some cases, companies opt to build their own fueling stations for their fleets.
Schwan Food Co., the Marshall, Minn.-based frozen food manufacturer, acquired Eagan, Minn.-based Bi-Phase Technologies, LLC in 1999 to design and build propane conversion systems for its own fleet as well as others.
Fleet operators must also consider their fueling frequency since some biofuels have shorter shelf life than gasoline or diesel fuel, Tabel said.
Tabel, whose company makes engines that run on a variety of fuels, said propane fueling is more available than CNG fueling in some areas, while in other areas, the reverse is true. He sees CNG is growing fastest at present.
Clean Energy Fuels Corp., a CNG provider, recently announced fueling and station construction agreements with Cincinnati, Ohio-based Kroger Co. and Ontario, Calif.-based Cardenas Markets. Both retailers expect the move to help reduce greenhouse gas emissions.
"This is the first step in Kroger's effort to transition our fleet to alternative fuels," said Kevin Dougherty, Kroger's group vice president and chief supply chain officer.
Meanwhile, Schwan's Home Service Inc., a subsidiary of The Schwan Food Co., began converting its home delivery fleet to propane gas back in the oil embargoes of the 1970s. The company now operates 4,500 medium and light duty trucks, of which 70 percent run on propane. Propane costs less than gasoline or diesel and reduces Schwan's consumption of gas and diesel by 18 million gallons a year, according to company spokesman Chuck Blomberg.
Schwan continuously evaluates other options, Blomberg said, but remains committed to propane. The company has stayed with diesel fuel for its heavy duty vehicles. In 2013, Schwan added 25 electric plug-in stations at its distribution center in Salina, Kan. to allow its refrigerated trailers to run on electric power when parked. The trailers can be plugged into an electrical power source to avoid burning diesel fuel. It estimates one gallon of diesel fuel per hour is saved when an electrical power source is available.
At the same time, truck manufacturers are making engines more versatile, noted Isuzu's Tabel. He said the gas N-Series that Schwan Food Co. uses runs on propane. Other gas N-Series can run on either gasoline or CNG, while diesel N-Series can run on both diesel and up to B20 biodiesel fuel.
The largest Isuzu vehicles that can run on alternative fuel are Class 4, with GVW 14,500 pounds, Tabel said.
Heavy duty vehicles, meanwhile, have also been forging ahead in the journey, encountering their own issues.
Foodliner Inc., the Dubuque, Ia.-based food trucking company serving 48 states, purchased six CNG-powered tractor trailers for the Chicago market in 2010, noted Pat O'Malley, the area sales manager. He said the company wanted a "greener" footprint, but had to consider the available infrastructure. Prior to 2010, he said only California offered sufficient infrastructure.
So far, Foodliner has only purchased tractors to service bulk liquids, not dry goods. O'Malley said customers currently need to have their own pumps to get liquid from his company's tankers when delivered with the CNG-fueled tankers. Foodliner hopes to find an engine and transmission that in combination will allow them to put a power takeoff and hydraulic pump on the tractor.
"That way, we'll be able to deliver (liquid) to anyone," he said.
O'Malley said the engines using CNG require more maintenance than the diesel engines. The company is waiting for the next generation of engines before expanding its CNG fleet.
"We are looking at the next generation tractors," he said. He doesn't see a lot of tractor trailers using CNG on the road yet.
In addition to reducing its carbon footprint and cutting its fuel costs, O'Malley notes sustainability improves the company's image with customers.
"Running green is a theme we'd like to see some notoriety for," he said.
CHART:
Comparative Fuel Prices, National Average Price January 2014

Fuel

Price

Biodiesel (B20)

$3.97/gallon

Biodiesel (B99-B100)

$4.28/gallon

Electricity

$0.12/kWh

Ethanol (E85)

$3.04/gallon

Natural Gas (CNG)

$2.09/GGE

Propane

$2.96/gallon

Gasoline

$3.34/gallon

Diesel

$3.89/gallon
Source: U.S. Department of Energy