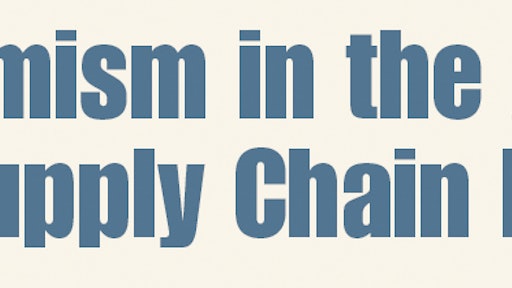 The buzz at the recent MODEX 2012 show in Atlanta was decidedly upbeat with exhibitors and attendees alike expressing optimism that this year would be the turning point for many businesses.
Indeed, warehouse automation in general has remained fairly healthy these past few years despite the global recession. While many companies were putting discretionary spending on hold, they also realized that making prudent investments in warehouse-related equipment and software during the downturn would ultimately improve the bottom line.
Meanwhile, the food and beverage sector continues to operate on thin margins, yet overall growth prospects are strong not only in the U.S. but globally as well. Furthermore, companies in this sector are prime candidates for tools that allow them to do more with less.
Cloud computing gains traction
Now that cloud computing has established a proven track record, more companies are comfortable with opting for a hosted pay-as-you-go model over an on-site installation. Specifically when it comes to cloud-based warehouse management systems (WMS), the segment has shown more promise for larger organizations in particular, which have been mostly left out because the technology couldn't meet their demands. That has begun to change as cloud-based WMS has become more capable.
"Cloud computing is definitely generating more interest from people," confirmed Diego Pantoja-Navajas, President and Chief Executive Officer of LogFire LLC, an exhibitor at MODEX 2012. Without a doubt, the reduced investment and total cost of ownership, especially in the present economy, is a big plus, he said. And, companies can immediately gain access to robust functionality and subsequent upgrades and advancements.
Several months ago, one of Peru's largest supermarket chains, Supermercados Peruanos S.A. (SPSA), implemented LogFire Cloud-based SaaS WMS at their new distribution center in Lima. Compared to on-site installations that can take months— at times even over a year—the implementation of LogFire WMS took only four months from start to finish and provides SPSA with complete, Tier 1 capabilities.
"The selection of LogFire's WMS for SPSA was the right fit for us as they exceeded our expectations in three major areas of importance: performance, security and pricing," said Fernando De Los Rios, Chief Information Officer for the supermarket chain. "LogFire provided us a mature, robust solution with the right scalability for our future growth."
In addition, SPSA runs LogFire's WMS on mobile tablets that are used throughout the warehouse, which boosted the quality of communication and the elimination of work stations.
"LogFire was able to meet the tight timeline required to complete SPSA's project; this challenge allowed us to demonstrate our determination and the aspects that make us different from traditional companies in these industries," added Pantoja-Navajas. "Benefits in decreased start-up costs, reduced implementation timelines, continuous system upgrades at no additional cost and quality customer service are evident."
During a meeting with HighJump Software at the MODEX show, Chuck Fuerst, Director of Product Strategy, confirmed the upbeat business outlook, citing that 2011 "was a banner year for us," he said. Looking ahead, the company expects to see a lot of activity from the food and beverage space.
In November, Horizon Beverage, a distributor of wine, beer and spirits in the New England region, chose
HighJump's WMS to manage its 500,000 square-foot distribution center in Norton, Mass., largely due to the "flexibility and configurability" of HighJump's WMS, said Michael Epstein, Vice President of Operations and General Counsel at Horizon Beverage.
For its part, Accellos will continue to target the food and beverage sector too, stated Chad Collins, Chief Marketing Officer. "We're seeing promising growth with certain segments such as craft brewers," he pointed out. The company's WMS offering, Accellos One Warehouse, combines radio frequency and barcode technology with a robust, three-tiered, Internet-based architecture.
Cloud-based WMS is a hot topic that shows no signs of letting up. An ARC Advisory Group study forecasts continued growth for WMS through 2015.
Companies in this article