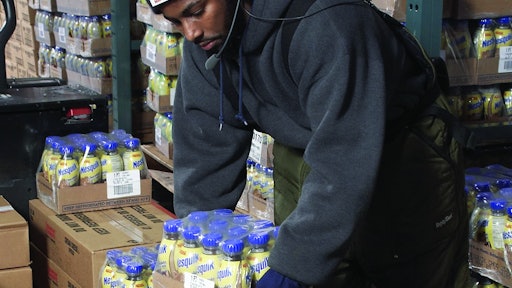 STATUS REPORT: TECHNOLOGY
Voice Recognition
As voice software technology continues to evolve, warehouse managers witness ever-increasing levels of productivity and return on investment. Accuracies are increasing as error incidence decreases, and the time required to train new workers is decreasing thanks to the new software technologies. Hands- and eyes-free voice systems allow operators to focus on completing a particular activity with greater accuracy and timelines—leading to increased customer satisfaction.
Whether speaker-dependent or speaker-independent, voice-directed systems simplify, facilitate, and confirm warehouse activities, particularly picking applications. These systems are easy to implement and are cost-effective options, even for smaller companies. The software solutions integrate with rugged mobile devices from major manufacturers like Intermec, LXE, Motorola and others.
Warehouses can expect ROIs in under a year, in general, after deploying voice to their picking operations. Of course, significantly higher ROIs are achievable when voice is implemented in manual operations. Voice technology providers also offer solutions for replenishment, put-away and cycle-counting functions.
Natural-Voice Solutions
Barrington, IL-based TopVOX offers a speaker-independent as well as a speaker-dependent solution and is the only provider in the industry offering both options. TopVOX uses a natural voice, rather than the digitized voices some competitive solutions offer, reports Marceline Absil, vice president of marketing and sales. "Speaker-independent solutions recognize the language, meaning there is no training required because the solution 'learns' and quickly adjusts to any idiosyncrasies of a particular worker," says Absil. Speaker-dependent solutions require training each worker so the software technology can become familiar with a particular worker's voice.
"Workers can be up and running within minutes using the speaker-independent solution," Absil explains. "This is especially important during peak periods when warehouses might use temporary personnel. It used to be that companies would not put temps on voice because of the lengthy training involved."
The company's flagship product, topSPEECH-Lydia, is compatible with most leading hardware devices on the market—such as LXE, Intermec, and Motorola. "The choice is up to the customer," Absil says. "We will make suggestions—such as using LXE for picking and Motorola for put-away. But at the end of the day, the customer decides which hardware to use." The system uses a headset with cable, but a wireless Bluetooth headset—topSPEECH-BlueMaster—is also available for customers wanting to eliminate cables.
The VOXter is a cost-effective solution designed with small and mid-sized companies in mind. "The VOXter is a standard PDA device that does not use proprietary technology," explains Absil. This device can also be used with VOXter-S, a scanner device facilitating barcode scanning for additional data recording capabilities.
Customers without a WMS or other management system can implement the TopVOX control center, which assigns orders and provides supervisors with an easy overview showing who is picking what, where and when. It is also helpful in identifying workers who might need additional training.
A brand-new feature in the company's latest release—topSpeech-Lydia 6.0—is the wireless telephony, a globally unique function, notes Absil. This product enables direct voice communication between manager and picker and greatly reduces walking time. This is particularly helpful to managers working in their offices, who can interact with and help workers on the floor who might need additional guidance.
Eliminating Pain Points
At Pittsburgh-based Vocollect, the approach is consultative, explains Mike Miller, senior director of consulting services. "We look at a customer's business, their metrics, and their pain points," he says. "We never lead with a technology or with a commodity mindset, choosing instead to lead by eliminating pain points. We want to provide the right tool our customers need for their unique requirements so they can maximize their ROI."
Every warehouse receives, stores, selects and ships product, regardless of the size of the organization, says Miller. "The dynamics associated with an operation really directs whether we would suggest a screen as part of the solution, or if we would suggest a voice-only solution. For instance, if someone is doing research for an inventory control function and wants to see a reserve list of all products, putting that information on a screen would have value. But in a typical selection environment, it is really a matter of directing a worker to a location and validating he is in the right location and then telling him what to pick and having that validated."
Vocollect's new voice-centric solution set represents significant new software offerings, allowing workers to increase the workflow pace dramatically, reports Miller. "Voice recognition is very critical because you want to make sure the system knows exactly what the user is saying and he needs to understand what the system is directing. Even a one-second delay in understanding on the part of either party can result in cumulative losses in time that can amount to anywhere from $400 to $2,500 a year per each worker just because of those minor delays."
When we caught up with Miller, his company was demonstrating a receiving application at a user conference. "We have an individual working with our new A500 voice appliance and a Bluetooth headset, our SRX unit. He has a display on his arm and a ring scanner on his hand. So he is prepared for the receiving environment, where there could be a lot of exceptions that might occur. For example, there might be SKUs on the truck that shouldn't be there—or there could be an overage in the quantity. Having a screen in cases like these could make the workers more comfortable because they can see the entire purchase order and all of the SKUs involved in an order."
Cost of ownership should also be considered, Miller advises. "We don't focus solely on accuracy and productivity gains. We also consider the reduction of training time and the reduction of safety issues and workers compensation issues. From this broader perspective, there could be savings in clerical and administrative costs. Implementing a solution could also impact a reduction in cycle counting and the timing between replenishment and selection could improve. The delivery process might be faster because there is a reduction in the check-in process at the store level."
Multi-Modal Capabilities
Atlanta-based Aldata offers a speaker-independent voice-directed warehousing solution using the Nuance speech-recognition engine. "We have taken voice to the next level, which is speaker adaptive," says Mark Engemann, national accounts manager for voice-directed warehousing. "Once a person logs onto the system, it listens to the person's voice and adapts to their voice and to their annunciation, getting better and better as it works with the person. Aldata works effectively right out of the box without training."
Aldata's multi-modal capabilities enhance the user experience as workers use a screen, keyboard, and barcode reader. "Operators need to learn how to use the one device in order to perform multiple levels of voice-directed operations," says Engemann. "Associates can now adapt to all of the intricacies of warehouse operations. For instance, as a pallet comes into receiving, instead of having to read the pallet license plate code, the worker just has to scan the license plate and the system takes over, recognizing the license plate and directing the associate where to put the pallet."
Engemann says that Aldata's approach is to meet the market head-on by offering adaptive solutions. "We offer multiple ways to perform warehouse activities and to inform warehouse managers and operations managers that products are being traced, tracked, and controlled consistently."
ROI should consider soft costs associated with voice-directed systems, suggests Engemann. "The three main drivers folks look to for ROI include productivity, accuracy, and training time. But look at the soft costs. For instance, as a picker arrives at an empty picking location, he has the option with Aldata's Voice Directed Warehousing (VDW) product to optimize the situation by shorting the order or skipping that item. The system will ask why he is chooses to do either option. If the worker reports zero quantity in the picking location, a true enterprise voice application like Aldata's VDW will alert the WMS to replenish. Then the picker will only be sent back to that location to pick the required number of product when the bin has been replenished. Now you are getting into the true efficiency of a real-time information exchange between the WMS and the end VDW voice user; because in the past, another order fulfiller would have to complete the order. This is an example of how soft costs can help you build on your ROI."
Off-the-Shelf Packaged Software
What makes Voxware unique in the industry is that it offers an off-the-shelf packaged software product, reports Scott Yetter, CEO of the Hamilton, NJ-based company. "We used to ask what customers wanted and then we went and wrote the solution for them. But we have invested a significant amount of money building an off-the-shelf solution that gives customers the ability to configure it and make minor changes quickly, according to their requirements. We deliver the same set of code to everyone in our flagship Voxware 3 product. This reduces implementation time and also reduces the implementation risk."
Some competitors require customers to operate a particular version of their software to interface with the WMS or other management system. "We made our product standard across all different operating environments, multiple workflows, applications, and devices," explains Yetter. "Having this capability from one packaged set of code provides tremendous economies of scale for us and for our customers."
The system allows customers the option to use voice or scanning when receiving a pallet, for example. "Some companies prefer to use voice, while others prefer to scan the pallet. Customers can do either without having to change the code, so anything you can voice you can also scan."
The food industry is a relatively low-margin business, reminds Yetter. "So anything you can do to increase productivity goes right to your bottom line. We see productivity gains anywhere from 10 percent to 20 percent and errors are reduced by 50 percent. If I can help customers with 99.2 percent accuracy take that to 99.8 percent or 99.9 percent accuracy—given the number of picks they have in the warehouse—that amounts to a significant amount of money. If an error costs you $70 a pop and you go from making six or seven per 1,000 to just two or three per 1,000, this is significant."
Process Optimization
For Wexford, PA-based Lucas Systems, the approach to helping customers discover the best voice-directed solution is through process optimization, says Chris Sweeney, senior vice president. "We examine opportunities to leverage second-generation technologies like multi-modal capabilities in the devices we sell from companies like LXE and Motorola. So customers don't have to use a special-purpose piece of hardware, which in the early days was expensive. Instead, customers can leverage an open platform, typically running Windows mobile."
Sweeney believes customers can achieve higher ROIs through process optimization. "The question becomes how can customers make changes to their processes; can they do something different in batching orders to dramatically reduce travel time in the warehouse, for example. Are there activities they can interleave like cycle counting with picking—and put-away with replenishment—to increase the associate's efficiencies. We look at these things as ROI drivers."
Process optimization and a lower cost of ownership results in the greatest gain for customers using versatile hardware devices which are getting more cost-effective, Sweeney says. "In addition to voice-recognition capabilities, they have a built-in scanner, screen, and keypad. Down the road, these devices will probably add things like RFID read capability. So these devices allow users to optimize the voice application, which can include the use of scanning or screen, while providing multi-use functionality. This means companies can use the same hardware device for a traditional RF scan for shift one and a voice application for shift two. This multi-use offers companies a lower cost of ownership."
The good news for smaller companies is that this summer Lucas will be launching a special version of software specifically tailored to the foodservice industry. "It is an adaptation of our base software which we deployed in a number of foodservice and grocery accounts," Sweeney reports. "It accounts for some of the subtle things that matter—such as the ability to scan a catch weight." This will be a plug-in capability.
This new low-cost product will be easy to deploy for foodservice-specific configuration options, reports Sweeney. "It is configurable in the sense that the customer can control a variety of parameters around how they want things to work. But if they have a unique process or workflow, it may not work for that kind of operation. So it's evident that you have to constantly balance the difference between a pre-packaged software program and the more robust version deployed in some larger environments."
Companies in this article