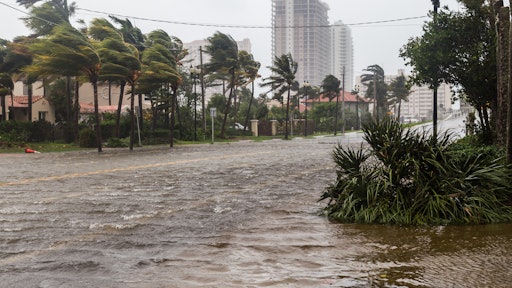 SatoshiKina/stock.adobe.com
A quiet hurricane season often sparks worry in those who prep for them. As the unpredictability looms, the network of supply chain support watches closely to react to an ever changing environment with uncertain outcomes. From June 1-Nov. 30, reporters and meteorologists track weather disturbances for evolution into threatening storms. Storms may vary in size and strength, reaching hurricane status when the maximum sustained winds of a tropical storm hit 74 miles per hour, according to the National Oceanic and Atmospheric Association (NOAA).
"Landfalls are largely governed by short-term weather patterns that are currently only predictable within about one week of a storm potentially reaching a coastline," reports NOAA, "And an average hurricane season produces 14 named storms, of which seven become hurricanes, including three major hurricanes."
The National Hurricane Center has released updates on a storm-turned-hurricane, Ian, heading over Cuba and threatening the Florida coast. The current estimate is of life-threatening storm surge, hurricane-force winds, flash floods and possible mudslides, today, for western Cuba, with similar expectations this week for the west coast of Florida, where a state of emergency has already been declared.
The effects of hurricanes on the supply chain is largely known. From delivery delays and supply and demand for goods, supporting both human necessity and clean up efforts, the supply chain remains an integral component to catastrophic events. Aid comes in many forms, with many disaster relief organizations leaning on the logistics community for help. The American Logistics Aid Network (ALAN) activates in these crisis moments to provide information, offer resources and logistical specifics, and through working closely with government and industry officials to share critical disaster and supply chain information. In preparation for hurricane Ian, ALAN has urged Florida and Gulf Coast residents to be ready.
"Most of our requests for assistance arrive after a hurricane or tropical storm has hit," says Kathy Fulton, ALAN's executive director. "That's because each storm winds up having very different outcomes and pain points. And you really can't predict what those will be – and where relief organizations will require supply chain assistance the most – until after the storm has moved through."
"Over the years we've seen some potentially catastrophic hurricanes that have turned into relatively minor events while others have morphed into far more deadly and destructive events than expected," says Fulton. "We are praying that Hurricane Ian will turn out to be the former. However if it isn't, we want people to remember that ALAN is here to help – and to do everything in their power to keep themselves and their loved ones safe."
Through active preparedness, awareness and help, the hope for the supply chain and the people affected by storms, like Ian, is safety above all else. This is an ongoing situation, stay tuned for further updates.