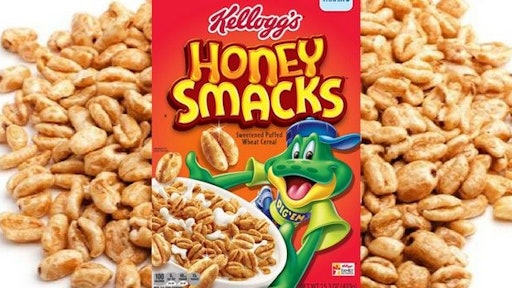 The salmonella outbreak that sickened 135 people in 36 states linked to Kellogg's Honey Smacks cereal was tracked back to a plant where salmonella had been found multiple times within the last two years, the Miami Herald reports.
The Gridley, Illinois plant, run by Wisconsin-based Kerry Inc., reportedly received violation letters from the FDA regarding their cereal, however, the company didn't do enough to protect to product from being contaminated with salmonella.
In a letter dated July 26, 2018, the FDA detailed that the plant had serious violations of Current Good Manufacturing Practice, Hazard Analysis and Risk-Based Preventive Controls for Human Food regulation. The agency first inspect the facility on June 14, the first day of the initial recall, the Miami Herald reports.
The letter continues, "The failure of your sanitation controls to significantly minimize or prevent the environmental hazard of Salmonella is reflected in three FDA environmental samples that were positive for the same strain of salmonella. The failure is further evidenced by your 81 positive salmonella environmental samples and 32 positive salmonella vector samples (samples taken in response to finding a positive on routine testing) between Sept. 29, 2016 and May 16, 2018."
According to the Miami Herald, among the positive samples were four from the cereal coating room and repeated findings of the salmonella species on production lines.
The letter continues to accuse the Kerry facility of not taking the corrective steps once it found the contamination.
"Your facility completed an 'Environmental Investigation Report' for each positive pathogen sample you found. However, there is no documentation that you formed a response team to determine the root cause and corrective actions necessary to prevent the routine recurrence of salmonella throughout your facility during the time period of Sept. 29, 2016 to May 16, 2018.
In a statement, Kerry said "As a result of the FDA findings, we developed a comprehensive corrective action plan for the facility. We have now thoroughly reviewed our preventive controls and compliance measures at this site and have taken corrective measures including:
▪ Performed a full review of the facility and implemented changes to our hygienic zoning and traffic control programs.
▪ Updated our environmental monitoring program.
▪ Reengineered certain equipment to improve its sanitary design.
▪ Enhanced training and auditing to ensure programs are implemented as written."
To read the full original article, please click here.