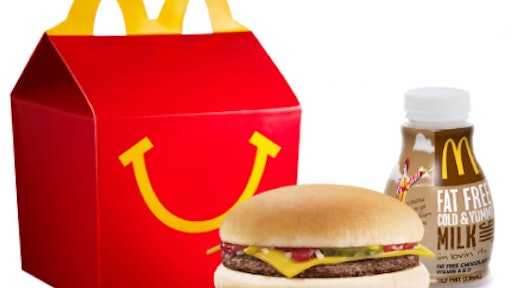 McDonald's will be removing cheeseburgers and chocolate milk from its happy meal menus to cut down on the calories, sodium, saturated fats and sugars that children consume in their restaurants. Diners can still specifically ask for each item to be included with the meal. The fast-food chain says that that not having the items listed will reduce the amount that they are ordered. Four years ago McDonald's soda off the happy meal menus, and the amount of times that it was ordered with the meal dropped 14 percent.
 McDonald's has been trying to make their meals healthier as critics often link them to the rise in childhood obesity. Recently, the restaurant chain swapped out its apple juice for one that contained less sugar.
McDonald's is known for getting business from families with children. Something that competitors like Burger King and Wendy's miss out on. Currently, 30 percent of all visits come from families.
To read the full original article, please click here.