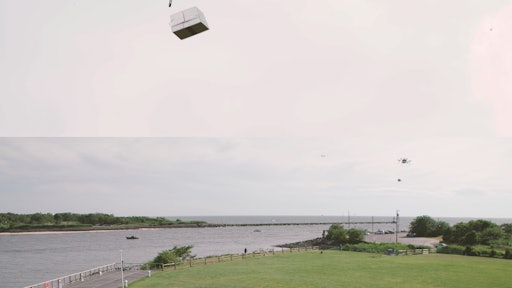 Independent drone delivery service Flirtey and Dr. Timothy Amukele, assistant professor of pathology at Johns Hopkins University School of Medicine, successfully conducted the first ship-to-shore drone delivery in the U.S. on the New Jersey coastline.
"Imagine a future where in the event of a natural disaster like Hurricane Sandy, Flirtey drones rapidly deliver emergency medical supplies, food and water," said Flirtey CEO Matt Sweeny. "During Hurricane Sandy more than 1.4 million liters of water, 1.6 million meals, and 1 million fliers were delivered by first responders. Imagine how much faster and further these life saving resources could be delivered by drone. This demonstration is helping to make that future a reality, and taking us one step closer to Flirtey's mission to save lives and change lifestyles."
The joint mission demonstrated how unmanned aircraft can provide life-saving aid to victims of a disaster, such as a hurricane or system-wide failure of electrical or communications infrastructure. Dr. Amukele has previously led successful research on the viability of using medical drones to transport blood samples and blood products.
Flirtey and Dr. Amukele conducted the successful flights at the invitation of disaster preparedness non-profit Field Innovation Team (FIT), which also hosted guests from the United Nations Office for the Coordination of Humanitarian Assistance (UNOCHA), as part of the Drones in Disasters 'Do Tank.' FIT's Do Tanks enable experts from a variety of fields to come together and collaborate to develop solutions to humanitarian disaster scenarios. Goals of the event include educating the private sector on humanitarian response and aeronautical research into the integration of drones into the national air space. Research was done in partnership with the New Jersey Institute of Technology.
Flirtey drones carrying medical samples for emergency testing flew between an onshore medical relief camp at Cape May and a test facility on a vessel stationed off the coast. In a round trip, Flirtey drones then delivered medical supplies from the vessel to the onshore medical camp. Flirtey's ability to rapidly deliver vital medical supplies along a coastline when road systems may be damaged is a leap forward in humanitarian logistics and response.
"This is an unprecedented opportunity to provide urgent aid and advanced diagnosis tools into a disaster zone with interoperability with key government relief assets," said Flirtey Co-founder Tom Bass. "Today would not have been possible without Mark and Kyle from Ryan Media Lab. Flirtey has been the beneficiary of their amazing ability to build coalitions here in Cape May, and also when we conducted the first FAA-approved drone delivery last year in Wise, Virginia."
The purpose of the Do Tank, and FIT's mission statement, is to empower humans to create cutting-edge disaster solutions. "It's pivotal that in disaster and crisis we look to support our relief efforts with technology," said Founder Desiree Matel-Anderson. "This event is an incredible opportunity to develop these solutions hand-in-hand with the United Nations, American Red Cross, Flirtey, Luftronix, Southern Alberta Institute of Technology, Splunk, Inc., Simulyze and, of course, the New Jersey community."
Additional support for the event comes from New Jersey Innovation Institute (NJII), the Delaware River and Bay Authority, the County of Cape May, Rutgers Center for Advanced Infrastructure and Transportation, and Atlantic Cape Community College. Five UN agencies will participate in the Do Tank, including UNOCHA, UNOICT, UNDP, UNFPA and UNICEF.
The demonstration had large implications for global humanitarian efforts. Eight of the 10 largest cities in the world are coastal cities, and more than three billion people, or 44 percent of the world's population, live within 95 miles of the coast, according to the United Nations.
"We recognize the opportunity for us to engage with drone developers and operators in ensuring the principled application of game-changing technologies in response to humanitarian crises around the world," said UNOCHA Humanitarian Affairs Officer Andrew Billo. "Participating in this event supports the mission of the UN Office for the Coordination of Humanitarian Affairs (OCHA) to mobilize and coordinate effective humanitarian action with a broad range of partners."
Ship-to-shore aid and medical deliveries by drone require a technical precision that Flirtey has been rapidly developing and refining. Flirtey was the first company to conduct an FAA-approved delivery in the United States, and the first company to perform a fully autonomous drone delivery to a home in the U.S. Flirtey's landmark achievements have been recognized by the Smithsonian Institution for display at its Air and Space Museum, which accepted the Flirtey drone to join iconic American aircraft, including the Space Shuttle Discovery and the Wright Flyer, on display at the museum.
Learn more at www.flirtey.com.