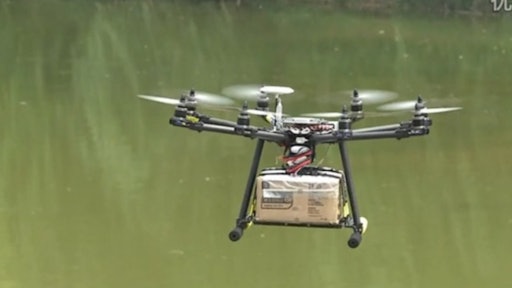 Jeff Bezos, Amazon's chief executive, announced on Twitter Wednesday that the online retail giant made its first commercial drone delivery, on Dec. 7, to an Amazon shopper in Cambridgeshire, England—a major step forward in its experiments with automated shipments.
The flight—to deliver an Amazon Fire streaming device and popcorn to a customer identified only as Richard B.—took off from a nearby Amazon warehouse and lasted 13 minutes, covering about two miles.
Amazon said it now would test drone deliveries with two more customers near Cambridge, an English city where the company has a large drone-testing plant. If the tests are successful, the company says it wants to expand the number of consumers who could participate in the trial to dozens in the coming months, eventually allowing hundreds to use the drone service.
The start of customer trials for the drone delivery service, which Amazon calls Prime Air, is a milestone for a technology that could eventually automate an important part of Amazon's business as the company looks to cement its position as the world's dominant online retailer.
For more information about Amazon's first drone delivery, view the original article at www.nytimes.com/2016/12/14/technology/amazon-drone-england-delivery.html?smid=fb-nytimes&smtyp=cur.