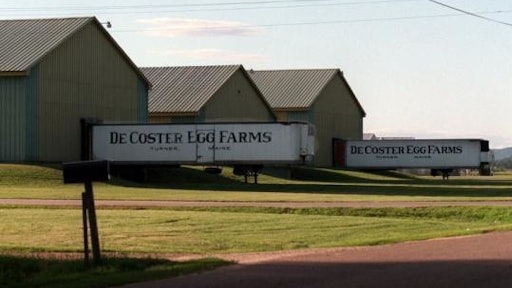 The 8th U.S. Circuit Court of Appeals denied petitions from Austin "Jack" DeCoster and son Peter DeCoster, who were both seeking a rehearing en banc or a rehearing by a three-judge panel. The judgement upheld U.S. District Court Judge Mark W. Bennett's decision to sentence each of the DeCosters to three months in federal prison.
The two men agreed to plead guilty to one federal count each of introducing adulterated food into instate commerce and agreed to pay fines of $100,000. Under their objections, Judge Bennett imposed the three-month jail terms.
The 82-year old Jack DeCoster was at one point considered to be America's largest egg producer. His son Peter was chief operating officer for the family's Quality Egg LLC, an egg business that covered most of the states from Iowa to Maine.
Then came the 2010 nationwide Salmonella outbreak that sickened as many as 56,000 Americans and two Iowa egg farms owned by the DeCosters were found to be the source of the illnesses. A federal investigation lasting more than four years finally resulted in a three-way plea agreement between the U.S. District Attorney for Northern Iowa and Quality Egg LLC, and the DeCosters.
Quality Egg LLC also pleaded guilty to one felony count of bribing a USDA egg inspector — there was no evidence either of the DeCosters knew about the bribe. And the corporate entity was fined $6.8 million. By the time of sentencing, Quality Egg had also divested its egg operations and made large contributions to charity.
Judge Bennett said that unless either the federal sentencing guidelines or the Congress had adopted any language preventing it, he was sentencing the former egg producers to some jail time, and he finally sentenced the two men to three months each. Bennett's recommendation to the federal Bureau of Prisons is to allow the DeCosters to serve their sentences at the Yankton federal prison. Bennett will allow the DeCosters to serve their sentences one after the other to minimize the impact on their continuing business activity.
To read more, click here.