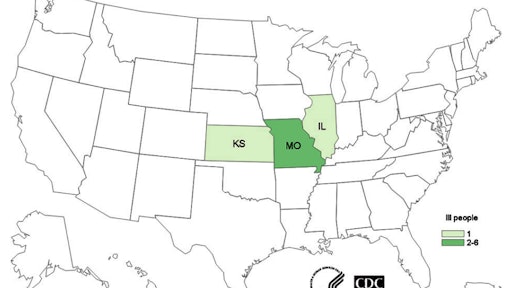 Good Earth Egg Company, LLC of Bonne Terre, Missouri, has announced a voluntary recall of its shell eggs because they have the potential to be contaminated with Salmonella, an organism which can cause serious and sometimes fatal infections in young children, frail or elderly people, and others with weakened immune systems. This is the second time in 10 months Good Earth Egg Company, a cage-free egg production operation, has been closed by health officials as this latest outbreak has sickened at least eight people in three states.
The Food and Drug Administration has notified Good Earth Egg that a link has been established between eggs distributed by our facility to cases of Salmonella illnesses in Missouri and surrounding states.
In light of this investigation, and with an abundance of caution, Good Earth Egg Company has initiated a voluntary recall of all shell eggs. Various sizes of shell eggs are packaged in the following ways:6-count cartons, 10-count cartons, 12-count cartons, 18-count cartons, 15 dozen cases, and 30 dozen cases. The dates and codes on the cartons and cases will include everything prior to and including date code 252 – Sell By 10/08/2016, with "Packed for" or "Produced for Good Earth Egg Company"
The Good Earth Egg Company recalled products were distributed throughout the Midwest, including Missouri, Illinois and Kansas, at the retail and wholesale level, institutions, restaurants and to walk-in customers. Good Earth eggs were sold at Dierbergs, Straubs, Midtowne Market and Price Chopper in the metropolitan St. Louis area.
Good Earth Egg Company is working with distributors and retailers to remove these products from wholesale suppliers and retail shelves. Consumers do not need to return the product to the store where it was purchased. Instead, consumers should discard any product and its container. Good Earth Egg Company will work directly with each consumer to manage replacement of its product.
Good Earth Egg Company has released the following statement, "We are taking these steps because consumer safety is our top priority. As a third-generation family operated farm, we are solely focused on providing fresh, quality, healthy eggs to local consumers. Although no Good Earth Egg Company eggs have tested positive for Salmonella, we feel strongly that issuing a voluntary recall is the right thing to do. Good Earth Egg Company is working closely with the FDA to determine the root cause of the potential contamination."
To read more, click here.