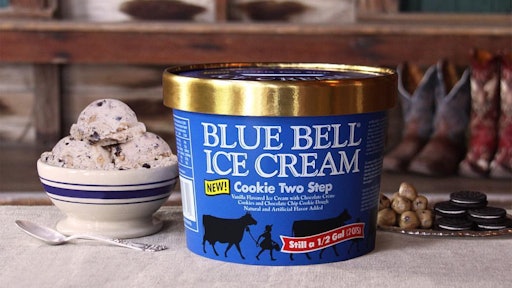 Blue Bell Ice Cream is voluntarily recalling select products produced in its Sylacauga, Ala., plant because they were made with a chocolate chip cookie dough ingredient supplied by a third party supplier Aspen Hills, Inc., due to the potential for it to contain Listeria monocytogenes.
Recalled products include: half gallon Blue Bell Chocolate Cookie Dough, code date 082618226; half gallon Blue Bell Cookie Two Step, code dates 080418222 and 081818224; and Pint size Blue Bell Chocolate Chip Cookie Dough, code dates 081518242 and 082418242.
The products were distributed in Alabama, Florida, Georgia, Kentucky, Louisiana, Mississippi, North Carolina, South Carolina, Tennessee and Virginia.
No illnesses have been reported to date. Blue Bell identified a potential problem through intensified internal testing and notified Aspen Hills. Aspen Hills then issued a voluntary recall of the products supplied to Blue Bell.
Last year, Blue Bell had to halt production and issue a massive recall for all of its products on account of a listeria outbreak. The shutdown forced the company to lay off employees for the first time in its 100-year history.
Editor's Insight: Given Blue Bell's experience with having to close the company last year and lay off employees for the first time in its more than 100-year history, this news unfortunately affects more than one company's reputation. It contributes to the perception that today's food industry faces a safety crisis.
Chipotle, meanwhile, has embarked on a nationwide media campaign about its safety initiatives as it tries to recover from food poisoning episodes.
While food companies are responding to food safety problems with corrective action, these incidents nonetheless raise questions about food safety. The food industry, the government and academia are working tirelessly on improving food safety as problems continue.
The industry is working to develop safety protocols as overall food production has increased in recent years. The supply chain will play a critical role in delivering a safer industry. 9-22-16 By Elliot Maras