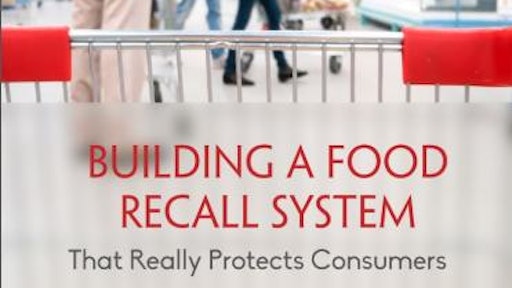 The Center for Science in the Public Interest (CSPI) has called on the Food and Drug Administration (FDA) to finalize regulations for in-store recall notifications which CSPI claims is required under the Food Safety Modernization Act (FSMA).
In a letter to FDA Deputy Commissioner Stephen Ostroff, CSPI wrote that it is concerned by the agency's lack of progress on this particular provision of the FSMA.
"There's no fool-proof approach, but in-store notification of recalled foods should be one of several overlapping systems aimed at helping Americans reduce their risk of eating contaminated food," said CSPI senior food safety attorney David W. Plunkett. "Supermarkets are clearly doing an uneven job, and the FDA is taking far too long to implement the notification system that the law requires."
CSPI's report, "Building a Food Recall System that Really Protects Consumers," also surveyed supermarkets about whether they use the data collected by their bonus card or other programs to directly notify consumers who have purchased recalled foods. Walmart, Kroger, and Costco, the biggest three grocers, all do notify consumers directly. Some stores like Publix, H-E-B, and Whole Foods, don't have loyalty programs that collect data. Of the chains that do collect data, Food Lion, Cub Foods, and Winn-Dixie, didn't disclose whether they use it to notify consumers about recalls.
CSPI recommends that consumers keep an eye out for recall notices in supermarkets and safely dispose of or return recalled products. Consumers should also ensure that grocery stores with membership cards or customer loyalty programs have their accurate contact information.
To read more, click here.