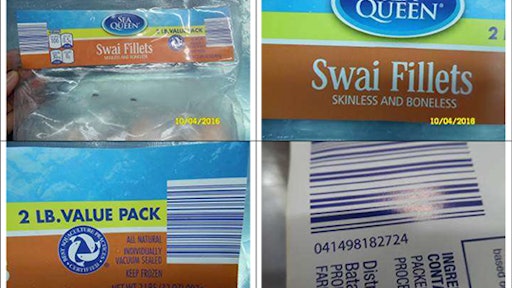 Almost 26,000 pounds of Sea Queen brand Swai fillets from Vietnam are being recalled because they were distributed in the U.S. without having met federal inspection requirements for residues, according to Food Safety News.
Importer U.S. Cado Holdings Inc. of Santa Anna, Calif., is cooperating with the U.S. Department of Agriculture's Food Safety Inspection Service (FSIS) on the recall, which was announced Monday.
This is a health hazard situation where there is a reasonable probability that the use of the product will cause serious, adverse health consequences or death, according to the recall notice.
"The problem was discovered when the customer and import establishment notified FSIS personnel of Swai products entering U.S. commerce without meeting FSIS regulatory requirements for imported Siluriformes," according to the recall notice.
"The products were imported from Vietnam and failed to comply with FSIS requirements concerning residue sampling and testing prior to entry into United States commerce. There have been no confirmed reports of adverse reactions due to consumption of these products. Anyone concerned about a reaction should contact a healthcare provider."
To read more, click here.