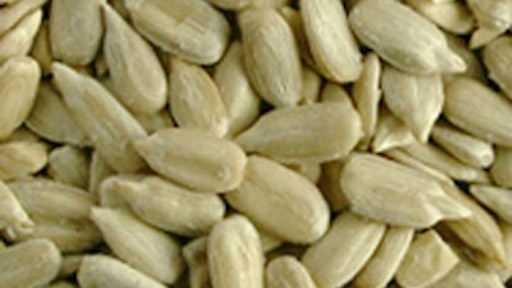 SunOpta has further expanded its voluntary recall of certain sunflower kernel products due to the potential to be contaminated with Listeria monocytogenes, an organism which can cause serious and sometimes fatal infections in young children, frail or elderly people, and others with weakened immune systems. Although healthy individuals may suffer only short-term symptoms such as high fever, severe headache, stiffness, nausea, abdominal pain and diarrhea, listeria infection can cause miscarriages and stillbirths among pregnant women.
This further expanded recall includes certain sunflower kernel products originating from SunOpta's facility in Crookston, Minn., between May 31, 2015, and Jan. 31, 2016. No illnesses related to the consumption of these products have been confirmed.
Recalled retail sunflower kernel items were sold in clear printed plastic packages and are marked with "Best By Dates" located on the front or back of the packages. Recalled snack bars were sold in boxes of 12 units.
The recalled products were distributed to distribution centers in California, Colorado, Connecticut, Florida, Illinois, Iowa, Indiana, Kansas, Kentucky, Louisiana, Massachusetts, Maryland, Michigan, Minnesota, Montana, New Hampshire, New Jersey, New York, North Dakota, Ohio, Oklahoma, Pennsylvania, Texas, Virginia, Wisconsin, Canada and may have been redistributed to other states.
Consumers are urged not to consume these products. Consumers who purchased these products may take them back to the store where they purchased them for a refund or simply discard them. Consumers seeking information may email [email protected] or call 1-888-886-4428 Monday through Friday, 8 a.m. to 5 p.m. Central Daylight Time.
Retailers and wholesale customers should check their inventories and shelves to confirm that none of the recalled products are present or available for purchase by consumers or in warehouse inventories. Contact SunOpta at [email protected] to arrange for disposal or return of the product.
This recall is being conducted with the knowledge of the U.S. Food and Drug Administration (FDA).
"SunOpta is fully committed to ensuring the safety of consumers and integrity of the products we make for our customers," said Rik Jacobs, SunOpta president and CEO. "In an abundance of caution, we are expanding the recall period to include sunflower kernel products originating from our Crookston facility that have any potential to be contaminated.
"We have put into place corrective and preventative actions to ensure the safety, quality and integrity of the consumer goods and ingredients we manufacture," Jacobs added. "We have resumed production of roasted sunflower kernel products at our facility in Crookston after conducting a comprehensive review of our manufacturing processes. We have also enhanced our active testing activities prior to all customer shipments."