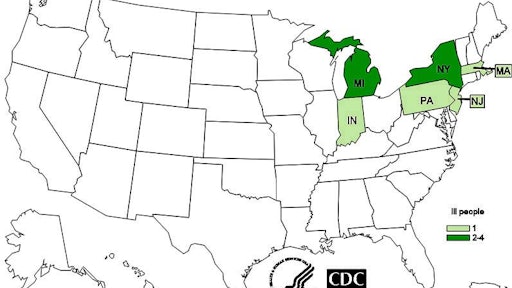 One person has died and 12 have been hospitalized in a Listeriosis outbreak linked to Dole packaged salads, according to Food Safety News. Officials from Centers for Disease Control and Prevention (CDC) announced they have been investigating the six-state outbreak since September 2015.
"Epidemiologic and laboratory evidence available to date indicate that packaged salads produced at the Dole processing facility in Springfield, Ohio, and sold under various brand names are the likely source of this outbreak," according to the Jan. 22 investigation announcement from the CDC.
The CDC announcement came a day after the Public Health Agency of Canada reported that seven people have been hospitalized in a Listeria outbreak affecting five provinces. The agency believes there is a link with the U.S. outbreak, but is awaiting final lab results, according to media reports.
The Canadian health agency said there were three cases in Ontario and one each in Quebec, New Brunswick, Prince Edward Island, and Newfoundland and Labrador. Most of them were women with an average age of 81.
They became sick between September 2015 and early January and one of them died. It has not been determined if Listeria contributed to the death.
Dole Food Co. issued a voluntary market withdrawal of packaged salads from 23 states and three Canadian provinces a few hours after the CDC announcement.
"Retailers and consumers who have any remaining product with an 'A' code should not consume it, and are urged to discard it," according to the withdrawal notice on the Food and Drug Administration website.
"Retailer and consumer questions about the voluntary withdrawal should be directed to the Dole Food Co. Consumer Response Center at 800-356-3111."
Dole Fresh Vegetables' customer service representatives have been contacting retailers and are in the process of confirming that the withdrawn product has been removed from the supply chain, company officials said in the withdrawal notice.
To read more, click here.