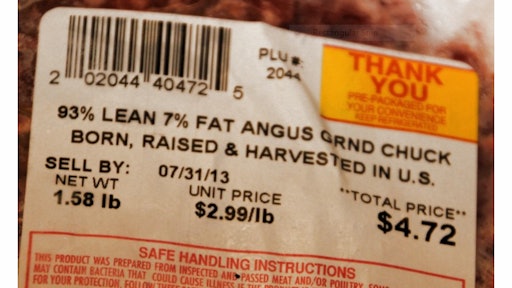 The North American Meat Institute has applauded the federal government for repealing the country of origin label (COOL) requirements for muscle cuts of beef and pork, and ground beef and pork products. The U.S. Congress approved a spending bill that includes the repeal of federal laws mandating meatpackers identify where animals are raised and slaughtered.
The U.S. Department of Agriculture will not enforce COOL requirements for muscle cuts of beef and pork, and ground beef and pork products, USDA Secretary Tom Vilsack announced on Friday. "The omnibus bill repealed the country of origin labeling (COOL) requirements for muscle cuts of beef and pork, and ground beef and pork. Effective immediately, USDA is not enforcing the COOL requirements for muscle cut and ground beef and pork outlined in the January 2009 and May 2013 final rules," Vilsack said.
"We are enormously grateful that lawmakers have included language in the omnibus bill to repeal mandatory country of origin labeling for certain meat products," said Barry Carpenter, president and CEO of the North American Meat Institute. "Our elected leaders recognize the need for the United States to live up to its international trade obligations. They also know that failing to repeal the provisions that triggered a protracted World Trade Organization (WTO) battle between the U.S. and its two most important trading partners, Canada and Mexico, has invited more than $1 billion in painful retaliatory tariffs. This Congressional action is an important step in avoiding the financial harm so many industries will incur once Canada and Mexico initiate the tariffs sanctioned by the WTO's ruling earlier this month."
Editors Insight: The meat industry sees this label repeal as a victory, as do other industries that worry about prospective COOL requirements. The U.S. government has acted in response to the meat industry's concerns about retaliatory tariffs that would raise costs on U.S. meat exports.
The victory may not be in the industry's best long-term interest.
A near 90 percent majority of U.S. consumers supported COOL for fresh meat products in a 2013 survey by the Consumer Federation of America. Since then, food safety recalls have continued to alarm U.S. consumers, meaning consumers are not likely to favor looser food labeling standards. Today, Food Logistics reports yet another food recall.
The progress that food safety technology has made in recent years makes it possible for the food industry to improve food safety throughout the food supply chain. Tracking and tracing technology is making it easier for supply chain service providers to provide country of origin information on food labels.
The food industry needs to think long-term about how best to assure consumers they are looking out for their safety. 12-21-15 By Elliot Maras