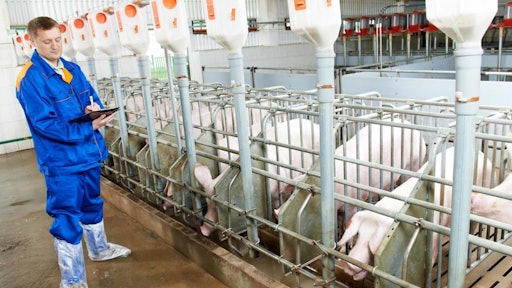 Whole hogs for barbeque, recalled Thursday, have been associated with 32 Salmonella I 4, [5],12:i:- illnesses now being tracked by the Washington State Department of Health and the federal Centers for Disease Control and Prevention (CDC) in Atlanta. And officials say those cases may be part of a larger outbreak, according to Food Safety News.
Graham, Wash.-based Kapowsin Meats has recalled 116,262 pounds of whole hogs that may be contaminated with the outbreak strain. In an announcement from USDA's Food Safety and Inspection Service, the whole hogs were said to bear the establishment number "Est. 1628" inside the mark of inspection. Production occurred between April 18, 2015 and July 27, 2015 for distribution to retailers, institutions, distributors and individuals in Alaska and Washington State.
FSIS learned of the illnesses from Washington State health officials on July 15. The agency worked since then with the state and CDC to determine there is a link between whole hogs for barbeque from Kapowsin Meats and these illnesses. The raceback investigation identified 32 case-patients who consumed whole hogs for barbeque from this establishment prior to illness onset.
These illnesses are part of a larger illness investigation. Based on epidemiological evidence, 134 case-patients have been identified in Washington with illness onset dates ranging from April 25, 2015 to July 29, 2015. FSIS said the state-federal investigating is continuing.
The state's Dr. Scott Lindquist said the source of the outbreak, which began between April 25 and July 29, could be further up the food chain at farms in either Washington State or Montana that supplied pigs to Kapowain Meats. Eight of 11 environmental samples from the slaughterhouse did return positives for the pathogen, which is being seen in Washington State for the first time ever.
To read more, click here.