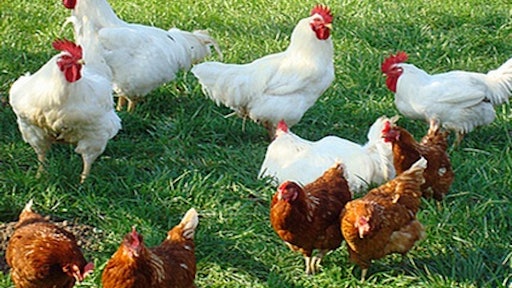 The Kansas Department of Agriculture issued an order recently banning all poultry shows and events in the state throughout 2015 to inhibit the spread of avian influenza, according to The Topeka Capital Journal in Topeka, Kan.
The prohibition includes all types of activities where birds of different flocks would be mingled, including the Kansas State Fair, regional and county fairs, festivals, swap meets and exotic bird auctions.
An agency spokeswoman said the action wouldn't prohibit producers from taking meat birds to market for slaughter.
Action was taken by the state after a positive test for avian influenza was confirmed in Leavenworth County. In March, a backyard flock in the eastern Kansas county tested for highly pathogenic H5N2. Those birds were destroyed.
"This decision to issue movement restrictions regarding poultry and bird events has been made in an effort to protect the poultry industry in Kansas," said Justin Smith, the agency's deputy animal health commissioner. "It is a difficult decision, as I know youth and adults would soon be exhibiting their projects at local fairs."
He said the regulatory step "was not made lightly," but necessary to inhibit spread of avian influenza in Kansas' poultry flock.
The agriculture department's order advised owners, whether commercial operators or backyard enthusiasts, to prevent contact among their birds and other fowl. State officials urged producers to monitor their flocks for symptoms of the virus.
To read more, click HERE.