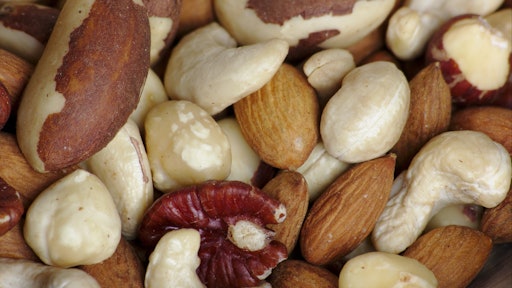 Products made with nuts remain the biggest cause of food-related recalls even though a spate of outbreaks of the infectious bacteria listeria grabbed headlines in the food supply-chain industry over the past month, according to The Wall Street Journal.
The first-quarter Recall Index, produced by Stericycle Expert Solutions, SRCL 0.19 percent found that 19.4 million food units were recalled in the first three months of 2015, a 40 percent increase over the previous quarter, and a 162 percent increase over the quarterly average number of units recalled between 2012 and 2014.
Stericycle, a reverse-logistics firm that helps retailers and manufacturers manage recalls and dispose of tainted goods, attributed the surge in recalls to higher-than-average numbers of "undeclared allergens," meaning trace elements of ingredients that consumers are commonly allergic to that went unreported on a product's packaging. About 95 percent of food recalls in the first quarter were the result of undeclared allergens and 91 percent were nut or peanut-related, the report said.
An ongoing recall of cumin products containing undeclared peanut products that began in December has affected 14 companies, 100 brands and 769 products in different packages, Stericycle found. The company said that illustrates a multiplier effect that plagues many supply chains, in which one recall event expands over time and affects multiple manufacturers, regulatory bodies and geographic locations. In the case of the cumin recall, multiple products including taco kits and Cajun seasoning packets sold at several major retailers.
To read the full article, click HERE.