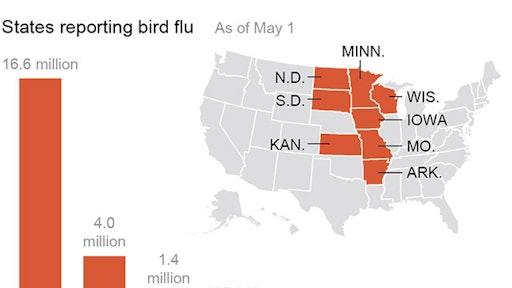 Iowa Governor Terry Branstad declared a state of emergency on Friday due to a rapidly expanding avian flu outbreak, saying the entire state was at risk from the spread of the disease, according to Reuters.
The announcement, which gives authorities powers to enforce preventative measures, was made soon after state agriculture officials announced four new poultry farms had initially tested positive for the virus.
Iowa, the top egg-producing state in the United States, is the third state to declare a state of emergency because of the viral outbreak, which either has led or will lead to the extermination of up to 21 million chickens and turkeys nationwide.
Minnesota and Wisconsin declared states of emergency in April.
Iowa's state of emergency is effective immediately now and will be in force until at least the end of May, depending on developments in the outbreak, Branstad told a news conference.
The measure expands the efforts of the state's emergency response plan, and authorizes various state entities access to additional resources, supplies and equipment to track and contain the influenza outbreak. It also allows for the removal and disposal of infected animals on either public or private lands and lifts weight restrictions on trucks hauling culled flocks, among other things.
To read more, click HERE.