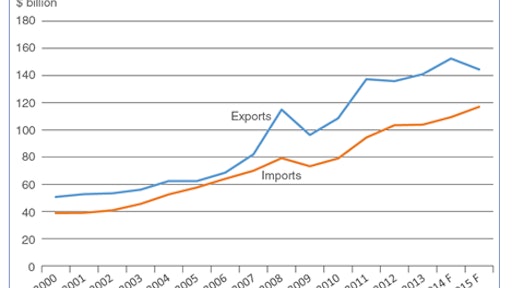 Fiscal 2015 agricultural exports are forecast at $143.5 billion, $9.0 billion below fiscal 2014 and down $1.0 billion from the August forecast for fiscal 2015, according to the U.S. Department of Agriculture. Most of this decline from August is a result of lower prices for bulk commodities. Grain and feed exports are forecast down $1.2 billion mostly due to declines for corn, wheat, and certain feed products. Oilseed exports are unchanged from August as lower prices for soybeans and soybean meal offset a higher expected volumes. Cotton exports are forecast down $400 million as a result of reduced global import demand and lower prices. Horticultural exports are unchanged at a record $37.0 billion.
The forecast for livestock, poultry and dairy is raised $800 million to $33.7 billion on higher meat prices, especially for beef, as well as larger volumes for pork and broiler meat.
U.S. agricultural imports are forecast at a record $116.0 billion, down $1.0 billion from August, but $6.8 billion higher than in fiscal 2014.
The U.S. agricultural trade surplus is forecast at $27.5 billion, down from $43.3 billion in fiscal 2014, and the smallest surplus since fiscal 2009.
World economic growth is expected to accelerate, from 2.6.percent in 2014 to 3.0 percent in 2015, driven by faster growth in North America and continued strong but slowing growth in Asia. The dollar appreciated 1.6 percent in 2014, and is expected to appreciate 2.0 percent in 2015, but will remain low relative to its peak in early 2009.
The events leading to the recent drop in crude oil prices lead most analysts to expect lower energy prices in 2015. In addition, U.S. prices for crude oil and natural gas are expected to remain below world levels in 2015, due to bottlenecks in the U.S. energy refining and transport system.
The U.S. energy situation is expected to provide U.S. oil refiners, farmers, manufacturers, fertilizer producers, and farm product exporters a lower cost environment in 2015. As a result of improved world growth and broadly lower energy and commodity prices, the growth of world trade volume is expected to accelerate to 5.0 percent in 2015, compared with 3.4 percent in 2014. Favorable exchange rates, low U.S. energy costs, expanding international trade, and improved world growth are all supporting U.S. agricultural trade in 2015.