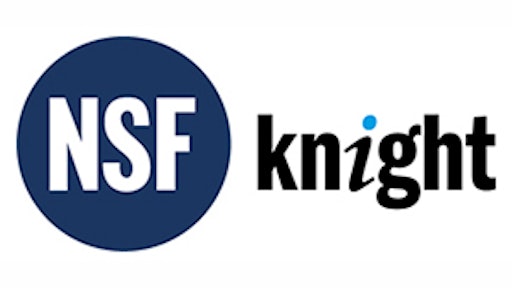 Global public health organization NSF International has acquired Knight International Inspectorate. The acquisition strengthens NSF International's integrated food safety and quality auditing and certification services in the U.K. and Ireland while providing customers in the region access to an enhanced range of auditing and certification services.
Knight International Inspectorate is a UKAS (United Kingdom Accreditation Service)-accredited certification company specializing in a variety of food safety certifications. They include GFSI (Global Food Safety Initiative) and ISO quality management systems certification and specific industry schemes such as RSPO (Round Table Sustainable Palm Oil), FSSC 22000 (food and packaging) and PS 9000 (pharmaceutical standard).
The organization will be known as NSF Knight and the staff and location will remain in Northwich under the leadership of Phillip Knight as managing director of NSF Knight.
NSF Knight customers will continue to benefit from highly integrated food safety and quality certification services including GFSI-benchmarked standards bundled with ISO 9000 (quality management systems), ISO 14000 (environmental management systems), OHSAS 18001 (occupational health and safety) and ISO 50001 (energy management systems). Bundling these programs provides cost and time savings to companies operating in the U.K. and Ireland as well as multinational organizations with operations in this region.
"Because of NSF International's 70 years of excellence in food safety and quality our customers in the U.K. and Ireland now have access to a greater range of auditing and certification services on a global scale," said Phillip Knight, managing director of NSF Knight.
Additionally, Knight customers will gain access to a broad array of food safety testing, auditing, certification and training services as well as specialist knowledge in areas like agriculture, horticulture and seafood.
"For more than 30 years, Knight has built an exceptional team of experts known for their outstanding customer service and technical excellence and together we will provide unmatched farm to fork food safety and quality services that support the growth of our customers locally as well as globally," said David Richardson, vice president for Europe, the Middle East and Africa, NSF International global food division.
To learn more about the NSF Global Food Division, visit the NSF Food Safety website or email foodsafetysolutions@nsf.org or call 877-893-1325.