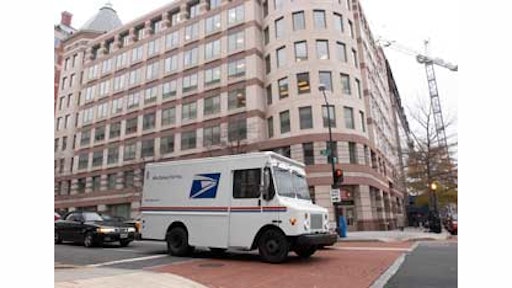 USPS has asked the Postal Regulatory Commission for authority to expand a test with Amazon (which it entered into for Sunday package delivery) into a broader test to include delivery of groceries, the USPS inspector general has said.
Retailers would drop off their grocery orders in color-schemed tote bags at local post offices between 1:30 a.m. and 2:30 a.m., then postal officials would map out the day's deliveries and then city carrier assistants would load the trucks and deliver the totes between 3am and 7am, leaving them at front doors, according to FEDweek.
Carriers would use iPhones to scan for tracking purposes, the IG said, noting that competition is already strong with companies such as FreshDirect and Peapod having a foothold in the grocery delivery market, while others such as Safeway and Walmart are testing grocery delivery from some of their stores. Nonetheless, USPS could potentially compete because of its ability to dynamically route deliveries and it has the fleet and universal delivery coverage already in place. However, the IG notes, it would have to get pricing exactly right and contend with a range of other issues such as the potential for theft in densely populated areas.
To read more, click HERE.