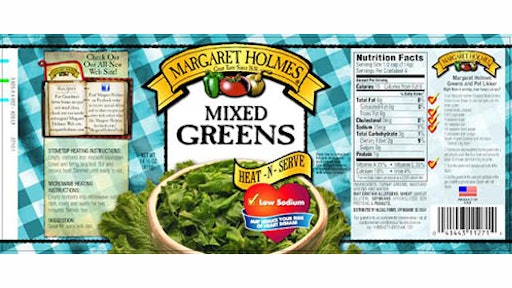 McCall Farms Inc. is initiating a voluntary recall on 14.5-ounce Margaret Holmes Turnip Greens and 14.5-ounce Margaret Holmes Mixed Greens due to the potential of questionable seals. This recall does not impact any other Margaret Holmes vegetables.
The affected product was packaged on the same day and has a five digit production lot code of F13EX. Consumers who may have purchased this product can find the lot code information on the top of the can. The UPC code for the Turnip Greens is 41443 10251 and the Mixed Greens is 41443 11271.
The affected product was distributed to retailers in New Jersey, Pennsylvania, Maryland, Washington D.C., Virginia, North Carolina, South Carolina, Georgia and Tennessee.
McCall Farms has notified the impacted customers of this issue. Consumers who have purchased this product with the affected lot code are asked to dispose of the product. Consumers do not need to return the product to the store where it was purchased. Contact McCall Farms consumer services at 1-800-277-2012 Monday through Friday from 8:00 AM to 5:00 PM EST for a replacement or full refund, and with general inquires.