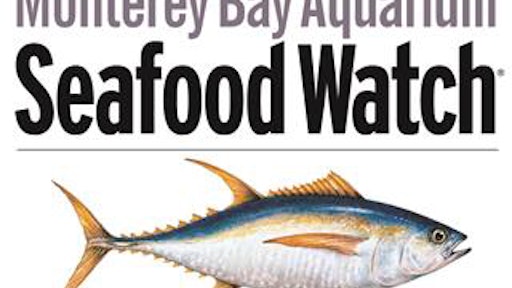 Australis Aquaculture, a producer of barramundi, announced that Australis' Vietnam farm received a Monterey Bay Aquarium Seafood Watch® program "Best Choice" "green" rating for sustainability.
Seafood Watch experts conferred their "Best Choice" rating on Australis' off-shore marine farm after an extensive, multi-year evaluation of the company's operations. This designation represents the first ever "Best Choice" ranking for a fish grown in open marine net-pens. Regarded as one of the most respected seafood assessment systems, Seafood Watch recommendations provide consumers, chefs and wholesale buyers with unbiased science-based guidance about the environmental sustainability of a wide range of farmed and wild-caught seafood products. For farmed fish, the program evaluates a wide range of potential impacts including feed efficiency, habitat and water quality impacts, disease, use of chemicals, and escape risks. For more details on the assessment, visit www.seafoodwatch.org.
Australis Aquaculture was founded in 2004 and has been operating in Central Vietnam since 2007. The company's farming operations draw on a hybrid approach that combines on-shore closed containment tanks with off-shore grow-out cages in the open ocean. Low-density stocking, lack of chemical usage and closely monitored feeding all contributed to the "Best Choice" ranking. Australis' land-based recirculating farm in Massachusetts received a Seafood Watch Best Choice ranking in 2006.
"We have been working toward this 'Best Choice' ranking since the very beginning," said Josh Goldman, Australis CEO. "We received a 'Best Choice' rating for our land-based barramundi farm in 2006 and have always believed that the same level of sustainability was achievable on our marine farms. We are thrilled that Seafood Watch has acknowledged our accomplishments through the 'Best Choice' ranking and look forward to having more consumers and retailers experience the mild flavor, nutrition and sustainability benefits of our barramundi," Goldman added.
Chefs, foodies, bloggers and other food influentials in the local and sustainable food movement have been embracing barramundi and introducing it onto white table cloth menus as a substitute for popular, though endangered species like Grouper, Snapper or Chilean Sea bass.
"To see a business like Australis take the lead in innovating new and sustainable ways to farm a species like barramundi is both exciting and encouraging," said Barton Seaver, Chef and Director, Healthy and Sustainable Food Program at The Center for Health and the Global Environment at Harvard, and a Fellow at the New England Aquarium.