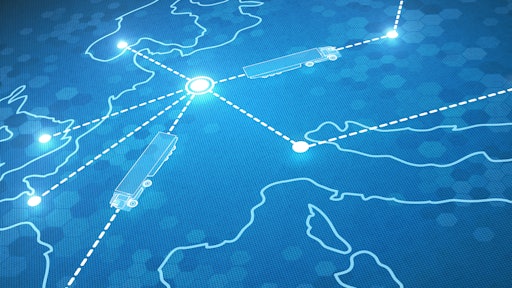 Getty Images
Traceability is the understanding of which path a product took from origin to destination, as well as the product's history. The terms "path" and "product" have nuances that are important to define. Do we need GPS level route information for a truck driving between manufacturing facility to the manufacturers' local third-party distributor? Does "product" mean ingredients, individual serialized consumable products or a client's SKU for a pallet? Determining the specifics of these terms constitutes the scope of traceability, and is the first part of building a strategy for implementation.
The concept of blockchain is the gold standard for the structure of traceability, however, the usability of this structure is only as good as the data going into it. In most cases, traceability can be achieved with lower technological barriers if basic standards of identification and data transmission are adhered to. Standardization can be difficult enough intra-company, but becomes especially important when attempting to have visibility among multiple partners. As globalization continues, the need for standards increases, and GS1, Ewing Township, N.J., has helped create a global standard to identify products (GTIN) and locations (GLN). Having suppliers, distributors, retailers and consumers "speak the same language" for products and locations is an important platform for traceability.
While GS1 is the standard for product and location communication, it is not comprehensive. Users are only required to register their company prefix and sign up for a range of GTINs. The management of assigning, distributing and maintaining GTINs and GLNs is left to the subscriber. Additionally, the definition of a "Lot" is missing from GS1 standards. Best practice suggests that a "Lot" be facility and batch specific. A company should have a master data management framework for GS1 nuances and as a basis for a traceability plan.
Determining scope
The first step to a traceability initiative is determining the level of granularity needed for the industry and products. Ownership of a product at different points in time, the product's value and risk and the partner's ability to meet these requirements are important components to determining scope.
The minimum level of traceability to meet normal recall circumstances would capture the quantity of GTIN and Lot at the final point of delivery. In turn, this enables digital identification of a supplier or brand's affected product at the location that consumption occurs. If there is a high risk of a product becoming contaminated en-route, then additional tracking is needed.
Best practice is to capture the origin and destination of cases with GTIN, Lot and production date at the time the case is closed and then opened. Gathering these details upon change of product ownership or at "critical tracking events" enables a view of products throughout the entire supply chain.
Within today's modern supply chain, many other data points can be gathered, such as purchase order, invoice number, expiration date, etc. After assessing capabilities to capture these data points and determining how to validate and use the traceability data, the scope can be further refined. However, each additional data element and capture point will create more data to absorb and validate, which increases technological/operational complexity.
Technology to identify, capture and share
Traceability data is stored (identified) via a barcode, RFID tag or similar technology on the case or pallet, and then must be extracted (captured) and shared to a central repository. A current state assessment should be completed to analyze feasibility and ROI to implement different technological and operational scenarios at locations where the data is identified. The return on a traceability project is primarily based on the cost avoidance of food safety incidents, reduction in disposal of the non-affected product and ancillary visibility enhancements. While advanced technology is becoming more cost-effective, barcodes (one or two dimensional) have the highest adoption rates, as they are the most reasonably priced technology to implement.
Technology to share and store data represents less of a cost burden than the technology required to identify and capture. There are many transmission methods (CSV, EDI, API, etc.) and options for data repositories. Value Added Networks (VANs) and third-party traceability services are the best option for most data capture strategies, as they consist of experienced onboarding resources, offer standard templates, can handle multiple exchange methods and provide tools for validation and business rules.
After determining the capabilities and future progression of the capture systems, the requirements for identification (labeling, RFID, etc.) should be developed and distributed to upstream partners. The partner's willingness and ability to comply with identification requirements are critical components to understand, as without this, traceability is not possible downstream.
Engaging with partners
Suppliers, distributors, customers and other partners in the supply chain have highly varying levels of traceability knowledge and technological prowess. Onboarding partners to traceability initiatives should consider partners with the furthest to progress. Relationship building and detailed project tracking are vital to completing the transition. Upon engagement, gaining buy-in from upper management and identification of key personnel related to product identification and data exchange will set the project up for success. Providing those individuals with clear requirements and timeline expectations based on the initial assessment will give the partner the information needed to confirm its ability to complete the initiative.
Some partners may find the investment in technology or timelines to meet requirements too steep. As the industry's need for traceability increases and the potential for an FDA mandate heightens, the instances of this argument are likely to decrease.
Tracking adherence to the requirements and timelines and incorporating them into the KPIs used for rating partners is best practice to ensure onboarding and ongoing completeness of traceability.
Validating and using data
Determining the method in which traceability data is to be validated and used is the final pillar of developing a strategy. If data is not complete, accurate and accessible, then the goals of traceability can not be met. Standard systems and processes of data sharing should ensure fundamental structural integrity, but beware, under or over-reporting validation requires additional effort. A comparison of traceability data to invoiced data is one method to ensure completeness, as there are typically robust processes to ensure accurate invoices. Once this comparison becomes the standard, the continued maintenance of validation can be minimal, however, it is not full proof. A mock recall system with deep, statistical-based audits is suggested to confirm the accuracy and usability of the data.
In the event of a food safety or quality incident, the affected product needs to be quickly identified by quantity and location. The greater the detail, the faster the right product can be removed, thus reducing risk to customers and the probability of incorrectly discarded, non-affected inventory. Communication between the parties involved in a food safety issue, as well as those that can access traceability data, should be streamlined and include precise data elements. Operators of the traceability system then need to provide the quantity and location information to the partners with instructions on the action required.
The development of a strategy to approach traceability with these elements in mind will reduce the time and effort required to implement it.
And, the faster these initiatives are implemented, the safer the supply chain.